Community Sunrise Service
The ministers of Crossroads, Presbyterian, and United Methodist churches organized a community sunrise service at 7 AM. Three photos of the day, as I recover this Monday.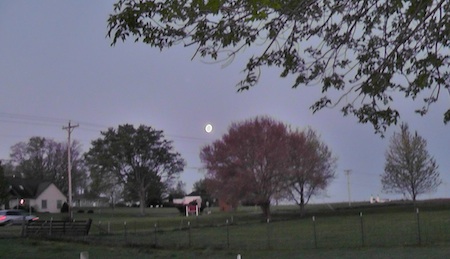 The Elmwood Booster Club
needs to fill two open officer positions for the 2012-2013 school year.

The Elmwood Booster Club is a group of parents, teachers, community members, administrators and coaches who support the Jr. High and High School athletes of Elmwood Community School District 322. The Booster Club has purchased many items over the years for the athletes including uniforms and equipment. Most of the money is raised through the concession stands that are provided for all home games/meets. We rely on volunteers and community involvement to support the concession stand. The Booster Club would not be able to provide for the athletes without the support of our volunteers.

If you are interested in discussing the opportunity to join this exciting organization, please email boosters@elmwood322.com
Thank you for your support!!
Elmwood Booster Club
Peorian Magazine --- Elmwood Article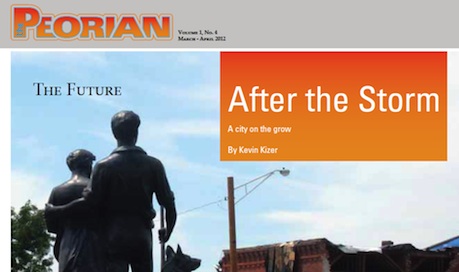 Elmwood is the subject of an article in the current issue of Peorian Magazine. Link to Flip Book Page
Here is a PDF of the Elmwood article written by Kevin Kizer -- After the Storm
Peorian Magazine in Print and Online
Fall Festival Meeting VFW/BYE Ambulance at 7 PM
Tonight April 2, a meeting to determine Fall Festival's Future will be held. 108 Hawthrone ST
Need committee members, volunteers, ideas, and input. Fall Festival Facebook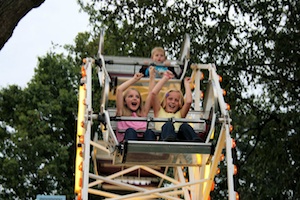 Track Season - Elmwood Brimfield
You too could be a volunteer. A great opportunity to help support our youth.
Tuesday, April 17th
We need three people to help set up at 3:15 PM and eight people to work from 4:00 PM until the end of the meet.

Monday, April 23rd
We need three people to help set up at 3:15 PM and eight people to work from 4:00 PM until the end of the meet.

Jr. High Home Track Meets

Monday, April 9th
We need three people to help set up at 3:00 PM and eight people to work from 3:45 PM until the end of the meet.

Thursday, April 12th
We need three people to help set up at 3:00 PM and eight people to work from 3:45 PM until the end of the meet.

Monday, April 16th
We need three people to help set up at 3:00 PM and eight people to work from 3:45 PM until the end of the meet.

Wednesday, April 18th
We need three people to help set up at 3:00 PM and eight people to work from 3:45 PM until the end of the meet.

Saturday, May 5th
This is the Sectional Track Meet and it will last all day, so we will have a set up shift (9:00 AM-10:00 AM), a morning shift (10:00 AM-12:30 PM) and an afternoon shift (12:30-end of meet).
March 24th
Grand Opening of Every Little Thing downtown, info
Spaghetti Supper Fundraiser for Joplin Mission Trip SaturdayStarting at 4 PM -- Elmwood UMC info
March 17 Organizational Meeting
Pastor Gene Campbell and I have discussed the possibility of pulling together people from the Elmwood community -- including all the churches to send a work team possibly to Joplin Missouri this summer. There will be an initial inquiry meeting this Saturday, March 17, 9 am at the United Methodist Church in which we will look at options that may be available to us. Possible dates for a work trip might be July 29 - August 4, leaving on a Sunday afternoon and returning on a Friday afternoon. If the Joplin trip does not come through, we obviously have some other options we can pursue in Harrisburg, IL or in Indiana. I hope to have more information by Saturday of possible projects for us in Joplin this summer and/or possible projects in Harrisburg if it turns out to be a better fit. I hope you can come and give your input.
Mark Graham
United Methodist Church
(309)258-2258
March 20th Illinois Primary Elections
All Elmwood precincts vote at the Elmwood UMC - Map There is a ballot for Democratic Party - Republican Party -- Non Partisan Ballot The voter must ask one of these choices. The voter may choose any of the three ballots irregardless of previous primary ballot choices. Here are links to the ballots Democratic Party -- Republican Party-- Non Partisan Come out and be a participant. Early Voting is Available click for Info
Peoria March Madness at the Civic Center this Week End
Brimfield Trails Entire Game
attempts to make a desperate 4th quarter comeback. The Indians started the 4th quarter trailing by 18 points. Matt Dwyer shot several 3 pointers. Brimfield cut lead to 5 with 3 minutes left, Dan Dwyer fouled out with 1:41 left. Cluskey had 8 boards in the 58-48 loss. Brimfield ends season 33 and 1. A great year with a disappointing end.
Brimfield Indians take perfect record to Jacksonville
Brimfield Boys Basketball is still undefeated. They will play Carrollton in the 1A super sectional on Tuesday held in Jacksonville. Bracket IHSA Game is at 7:30 PM tonight --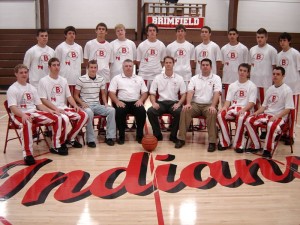 Good Luck it would be great to see them at the Peoria Civic Center this week end.
Tournament note in the 2A bracket is Harrisburg playing in the Carbondale super sectional tonight. Harrisburg devastated by a tornado last week would also like to make a trip to Peoria.
Bill Knight Elmwood Resident and Syndicated Columnist
Bill Knight teaches at Western Illinois University and writes columns that appear in various newspapers. Here is one in the Monmouth Review Atlas on our new national discussion of church and state. Church and State Conflict. However ... You may also hear Bill on radio from time to time. If in the right place at the right time.
Hear Tornado Think Elmwood
Hopefully, our tornado will fade from memory and Elmwood will cease to be thought of as the little Windy City. Elmwood did make the news about storm preparedness. CIproud TV News Item
If you missed feature on new hardware store you can find the link here.
Summer Baseball Coming Soon
Baseball is just around the corner and now the youth Baseball league has a Facebook page.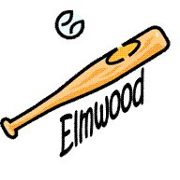 The Non-Facebook types respond, who doesn't? Answer: well not you or my mother; she can not believe how people are willing to lose privacy with computers and online networks. Her baseball days and her father's were in a more classic time. My grandfather loved the White Sox, the Shoeless Joe era White Sox as well as the Nellie Fox era White Sox. I am sure the Black Sox scandal was a great tragedy in his life. Eight Men Out a pretty good movie telling of that event.
City Council -- Subdivision for a Car Wash and Dollar General
There will be a special meeting tonight discussing a sub division proposal at 6 PM. The intent of the subdivision is to allow development of a car wash and a Dollar General store across from the old Gepetto's and Casey General Store. There is an active discussion ongoing on a Better Elmwood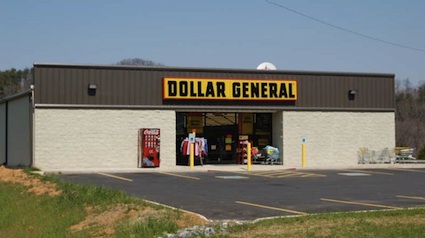 Elmwood UMC opens new Sunday School Addition
The new Sunday School wing has received the occupy permit. On Sunday February 26th during the 9 AM service a ribbon cutting event was held. District Superintendent Jan Griffin offered a prayer at ribbon-cutting. A day to celebrate this milestone was exciting for Sunday School kids who became the charter members. Later a pizza party and youth fund raiser for Imagine No Malaria was held. If you want to help with the Imagine No Malaria campaign please contact Karla Kane, Lori Johnson, or Elmwood UMC -- Imagine No Malaria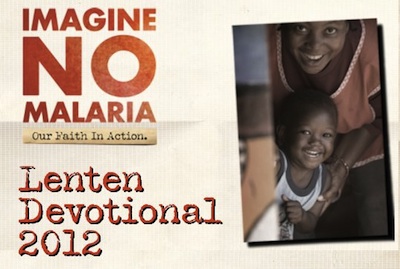 Vaccinations, nets, and education to subdue this horrible killing disease.
After all the pew moving, shuffling events, and hectic ness of the new carpet Pastor Mark Graham wanted to get back to our spiritual core. He really wanted to share this song the Heart of Worship. We did this Sunday Feb. 19th, 2012, I guess it was a celebration of the new carpet in the sanctuary or maybe the pews back in place for several years. Merrick's were remarkable Merrick's Flooring in working with the Elmwood UMC.
Closer to Free minus Leann Lovingood and Steve Johnson plus guest Jackie Diebold
Brimfield wins Regional over Elmwood
The Brimfield Indians and Elmwood Trojans boys basketball teams have both had great seasons. Brimfield remains undefeated (31-0) Elmwood ends at 26 and 5. Basketball the only sport Elmwood and Brimfield do not coop, remains a great rivalry between players who are often teammates in other sports. PJ Star
Camp Big Sky
another local ministry I found this video on YouTube, if you don't know about Camp Big Sky, here is the video embedded.
Watch carefully and see Elmwood resident Gary Fincham
The Nerd a Comedy by Larry Shue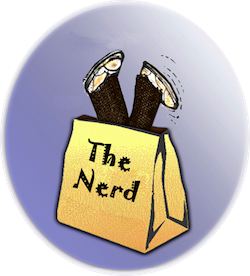 Saturday Feb. 25th at 7 PM and Sunday Feb. 26th at 3 PM
Elmwood High School will present the play in the auditorium. It is a comedy. The play takes place in Terre Haute, Indiana in a "large, friendly room" in the apartment of Willum Cubbert, an architect.
One of the funniest plays ever written, this extraordinarily inventive, side-splitting comedy was first presented by the Milwaukee Repertory Theatre, then produced in Great Britain, then went on to Broadway. The action centers on the hilarious dilemma of a young architect who is visited by a man he's never met but who saved his life in Vietnam—the visitor turning out to be an incredibly inept, hopelessly stupid "nerd" who outstays his welcome with a vengeance. "Shue delivers a neatly crafted package that uses some classic comic forms to bring the audience to its knees, laughing." —The Milwaukee Journal. "…the audience almost never stops laughing—handkerchiefs wiping away tears of merriment…" —Variety. "…a spring tonic of side-bruising laughter…" —The Milwaukee Tribune. attribution
Author Larry Shue "Born in 1946, Larry Shue died in an airplane crash in September, 1985 at the age of 39. A native of New Orleans, Shue graduated in 1968 from Illinois Wesleyan University where he studied theater, and wrote and produced two plays in his senior year. Between 1969 and 1972, Shue served in the United States Army. He remained active in theater during his tour of duty, winning the First Army Entertainment Contest in 1970" attribution
Cathy Reynolds at the Palace
Cathy Reynolds shared her beautiful voice, stories, and her children's book Little Mike Takes a Hike. The story is inspired by her dog's reaction to Sammy the Cat coming to live at their house. Sammy had formerly always lived at the Palace Theater. After the tornado Sammy needed a new home, butLitle Mike didn't think it was his responsibility to share his home.
Saturday February 18 at 2:00 PM
A Gospel Concert Admission $6
Enjoy a good afternoon concert, Drop into the the new hardware store, Have lunch or dinner in Elmwood --- Make a day of it.
Snow Geese Migrate Through Elmwood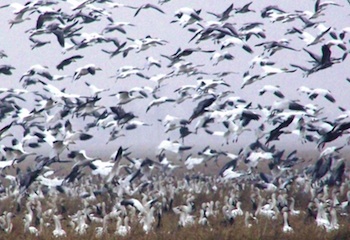 Mark and Dale Kemper took this video Link to Video
A news article about this unusually populous migration. Greg Olson Thousands of Snow Geese ...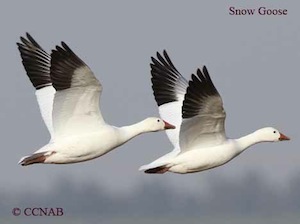 Elmwood 8th Grade Boys Basketball
Elmwood will play in IESA state championship class 2A game on Thursday. Web link to tournament schedule
Elmwood lost to Decatur Robinson 41 - 37 ending with second place. Isaiah Groeper led scoring for the Trojans with 12 points. Friday, February 17, 2012 9:19 AM
Sarah's Friendly True Value -- Now Open

The former Basil Harvest, Dairy Station, and Cisel Gas Station ( I am relying on third hand information for that one) is now Elmwood's Hardware store. It is operated by the same family who runs Ron's True Value in Princeville. It looks like it has a great inventory. It will be open weekdays from 8:30 AM to 6:00 PM and on Saturday from 8:00 AM to 4:00 PM. This week there is a special opening week sale from Wednesday through Saturday. Details will be in the Shopper or drop in and look around. Sarah's Friendly True Value at 119 West Main Street, Elmwood IL 61529 phone number309 742-8100. Sarah is a graduate of Brimfield High School and is looking forward to getting her family more involved in her home community. Her brother ran cross country before the E/B coop and practiced with the Elmwood team. We had a discussion about the advantages of our current sports coop.
The hardware store intends to have bedding plants in the spring, so gardeners can start planning.
Elmwood Outdoor Show March 3rd and 4th

The Outdoor show held at the Elmwood Schools is back again for its third year. Get ready for the great outdoors have a lot of fun. More Info: Click for more details
Support Our Troops Breakfast


Saturday, March 3 from 6-10 a.m.
At Elmwood United Methodist Church
Biscuits and gravy, eggs, sausage, fruit muffins and more!
Cost $6 or $3 for ages 10 and under
Proceeds benefit EEBY Troop Fund
Kiwanis Pancake Day this Saturday
February 11, 2012 at Elmwood High School Cafeteria starting at 6 AM serving until 11AM
--------

Antique Tractor Show at the Sandburg Mall in Galesburg
February 11 and February 12
In case you would like to entertain the family while enjoying a shopping trip.
Rural Women Connections and Communication
Farm Bureau meeting featured local people who are trying to keep connections to those a long ways from any farm. The story is a feature of the Galesburg Register Mail. Read it Here Emily Webel also writes about her adventures as a farm wife and mother in her blog.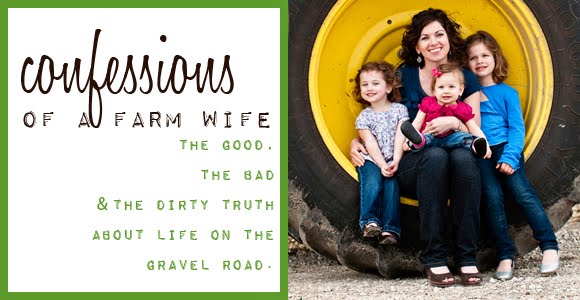 Emily has also been a part of leading the Mom's Squad group in Elmwood, she and her husband Joe are now the parents of four children. Photos are never up to date when you have kids.
Elmwood resident Ted Mottaz retired from his position as Knox County Farm Bureau President, will remain on the Farm Bureau board.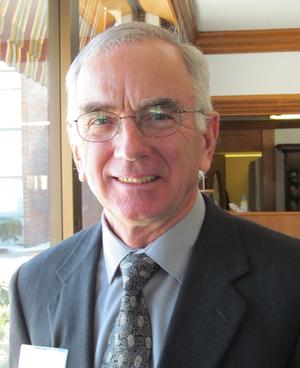 Elmwood History Project Featured in PJ Star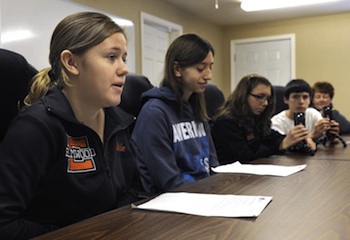 A history project begun with a grant from the Library of Congress. Students are recording people's stories from the Elmwood Community. Read article Scot Hilyard PJ Star
Wikipedia is Dark
Today as a protest over the over reaching in the proposed bill to limit piracy of copyrighted material Wikipedia is offline. A few other sites are joining in this protest. Google has a black tape edit over its logo and a has link to register a protest. Although receiving far less attention than a Karadashian sighting, the possibility of unintended consequences in the acronym SOPA bill is very real. Wednesday, January 18, 2012 9:45 AM
Voices of Spoon River: Elmwood Tornado Relief
Click to read and listen to Elmwood schools in voices and stories following tornado.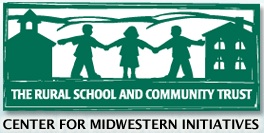 Fall Weather in January soon leaving
Yesterday, West Park was filled with play, laughter, and sunshine. Our unusual spat of days with highs near 60 will be ending today. No one complained about Tuesday, the walkers were all smles as everyone enjoyed a remarkable day in Elmwood.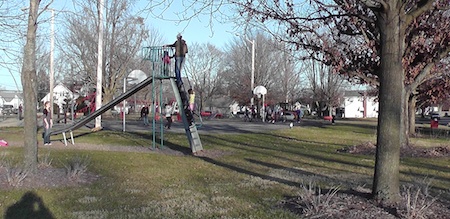 Jan. 10, 2012 West Park with temps in upper 50's
John Hamann makes Front Page
John Hamann worked with Elmwood doing recovery following the tornado. Photo on the opening page was from the time he and Richard Taylor were the voice for Elmwood. They are pictured at the Galesburg Economic Redevelopment Association meeting where they spoke. He was featured in the Sunday edition of the PJ Star. Article Here "Peoria County's Mr. Fix It" John contributed greatly to organizing a coordinated recovery effort.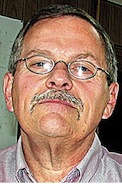 Mr. Hamann made a great effort to plan and utilize all Elmwood's resources and people, but he only had a limited time.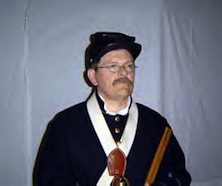 John has also played in a Civil War Reenactors' Band. The Illinois 33rd Volunteer Regiment -- Band's Web Site -- You Tube Video of Performance
The Illinois 33rd Volunteer Regiment formed with many volunteers from the Illinois Normal School (Illinois State University) referred to as the teachers brigade. A web diary of Company C --
Other Civil War links and information on these pages Walks Through History at civil war national parks
Looking for information on some one from Illinois who served in the Civil War. The State of Illinois has a great resource Web Database
Boil Order is Over
Water tests should be back today
assuming they are OK, which would be the most probable result. Boil order will be lifted. City will update on its web site, I check them later today to confirm.
Boil Order in West of Lilac & South of Main
In effect until further notice for SW part of Elmwood.
Water Outage in SW part of Elmwood
Currently information on the City page is information will be posted when available.
Main Street Diner
Remodeling to improve looks and insulation.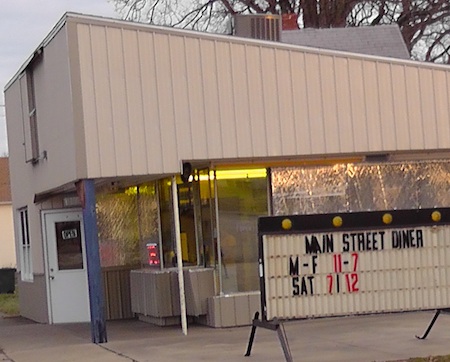 Elmwood UMC Addition Coming Along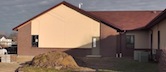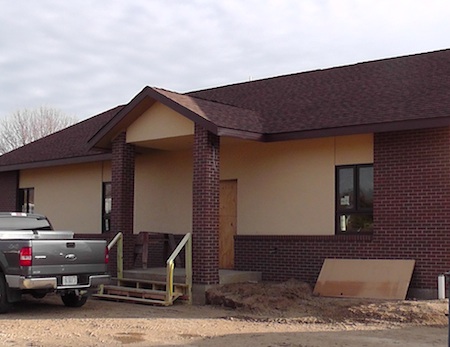 Inside work progressing as the exterior of the new structure mostly complete.
Recycling Containers by Early Next Week
If you signed up for the new city wide recycling plan, the recycling containers will delivered by the end of this week or the first of next week. The first recycling date will be Friday the 13th at two week intervals afterwards.
Sarah's Friendly True Value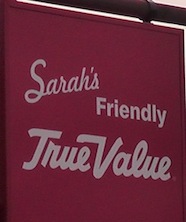 Beginning to look a lot like a hardware store, Sarah's True Value opening soon. Inventory being stocked, the exterior looking completed; open doors should soon follow.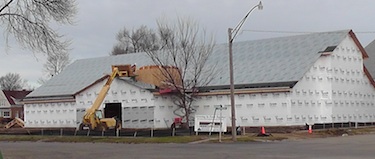 The mild weather is a boon to continuing construction this Fall and now Winter. The Presbyterian church continues apace. A Winter of heavy frosts at least until the New Year. It could then change and rather quickly.
Christmastime
Home for the Holidays a good thought for everyone. My annual Christmas Card letter has become a public moment of levity, irreverence, and meditation. So here is the link
I wish you all a Merry Christmas, even if you are not Christian. Simply for this reason. If we who are Christians are filled with the spirit of Christ in this season, the world will also be filled with a special peace. It should make the world more merry for everyone, believer and non believer.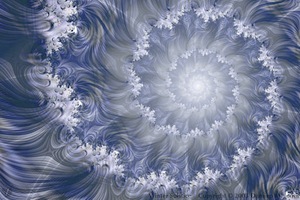 Tonight is the Winter Solstice at 11:30 PM in Elmwood. I will just be getting home from the airport. I am not often asked about times for a Winter Solstice celebration in Elmwood, but often I am asked about Christmas Eve. Elmwood UMC one service at 5 PM Christmas Eve and one service at 10:30AM on Christmas Day.
Contact Info for other Elmwood Churches
Wednesday, December 21, 2011 2:25 PM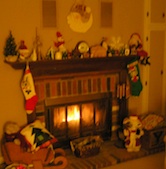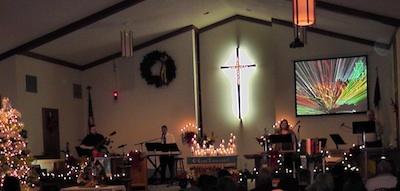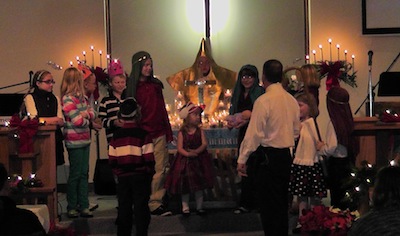 I received this Christmas message from Bishop Gregory Palmer, I thought I would share it with you. It is not as funny as mine, but maybe more to the point.

Dear friends in Christ Jesus,

So here we are -- another Christmas Eve.

There has been a hectic pace that has preceded this day even though in theory we have been in a period of vigilant waiting and patient preparation for the revealing of the incarnate God, Jesus Christ. Throughout this day believers and those yearning to believe along with those who want to believe again will gather for worship. Some will come out of piety and devotion, others still out of custom, duty and habit. Surely there will be those in the midst who are on a spiritual quest for which they do not yet have vocabulary, liturgy or ritual. By God's grace the incarnate God will meet each pilgrim tonight.

There will be singing, candles, communion, generous giving. Oh yes, there will be scripture and preaching. The story will be told.

This reminds me of a story I heard some years ago that describes a family headed to church on Easter Sunday morning. It could easily have described a family headed to Christmas Eve service. Imagine parents in the front seat of the car and a restless, overdressed, precocious and frustrated pre-adolescent youngster in the back seat of the vehicle. Suddenly the child blurts out, "I don't see why we have to go to church today. They're just going to tell the same story again."

He was and is right.
Thank God that the same story will be told in services this day in churches all around the world. It is a timeless story with relentless relevance for every age. Surely our time is no exception.

We are unusually ripe for the message of the Christmas story. None of us can exhaust the meaning, power and relevance of the story but allow me to suggest a few ways the narrative of God's love through the birth of the babe speaks to us and our age.

The human heart and life yearns to be addressed meaningfully. We want and need to know that our lives and the conditions in which we live are taken seriously by God. When we immerse ourselves in the birth narratives found in Matthew and Luke and understand the historical conditions they describe as well as the audiences they were addressing we get a huge heads-up that God meets humanity where we live our lives. So when you hear the "same story" again, listen deeply for all the ways the God we serve, worship and proclaim connects with real people then and now.

Then as now, there is a deep spiritual hunger and thirst that can only be met and satisfied by the God we know in Jesus Christ.
There is despicable poverty in the midst of unbelievable opulence and wealth. There are people living with unwelcome and undeserved shame. Indigenous people find their homelands occupied by foreign powers. People are forced to migrate to simply survive. Amidst all of this and so much more God speaks and comes alongside the hopes, hurts and fears of people. Christmas reminds us God indeed is with us. Jesus the Christ is Emmanuel.

We are not alone. God has pitched tent and made common cause with us. In the Christmas story we are reminded and reassured that God is subverting what is in order that we can live in God's reign.

So indeed we will tell, hear, dramatize and sing the same story again. Let us do so with unembarrassed conviction and without apology. Let us ring it out with joy. Because tonight as on a night long ago in Bethlehem, "The hopes and fears of all the years..."

Your servant in Christ Jesus,

Gregory Vaughn Palmer
Resident Bishop
Saturday, December 24, 2011 9:35 AM
Wednesday, December 24, 2011 8:25 AM


Brimfield 36 Elmwood 34
Brimfield Game Dec. 20th
Elmwood and Brimfield partners in all sports except basketball will meet in a big game at Elmwood. Both the Trojans and the Indians are off to a good start this season. The combined cheers for E/B football will return to their separate camps in the old rivalry. Volunteers always welcome to help with concessions, contact Michelle Armbruster. Friday, December 16, 2011 4:08 PM
Tree Survey
Apparently, the City of Elmwood is conducting a tree survey. People from the Morton Arboretum, looking like meter readers, are doing a tree inventory. The trees between sidewalk and street belong to the city, when the city looks at trees --, well enough on trees.
Thursday, December 22, 2011 11:10 AM
Christmas Season

Dinner and a Movie Dec. 17th

Saturday December 17th at the Hick'ry Stick, their third dinner & a movie night. In honor of the holiday season we'll be showing the classic White Christmas starring Bing Crosby. The dinner buffet will be served from 6 – 6:45, with the movie beginning at 6:30. Come take a break from the hustle and bustle of the holiday season and let us serve you in our beautiful ballroom banquet hall. For more information, check out the Hick'ry Stick Happenings page at hickrystick.com/elmwoodevents
Hick'ry Stick Promotes Elmwood Community Foundation
Hick'ry Stick is donating 10% of Tuesday, December 13th to Elmwood Community Foundation. ECF supports many Elmwood projects. It is a great opportunity to indulge your passion for barbeque or cheescake and help a strong support of the Elmwood community. Tuesday, December 13, 2011 11:56 AM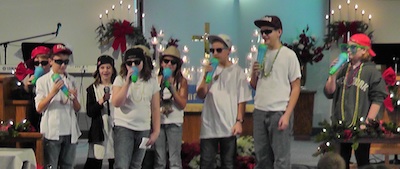 5th and 6th grade Sunday School Elmwood UMC -- Rapping at Christmas in the original beat of the Psalmists
Christmas Choirs of all Vareities
---------------
Galesburg Community Chorus Tim Pahel, Director
Christmas Classics
Saturday December 10, 2011 7:30 pm
First Christian Church -- Broad and North Streets Admission $12 -- Senior 60+ $10 -- Students Free
Preview Communtity Chorus Concert ---- Galesburg Community Community Chorus
A Drive Down Christmas Lane

A tradition during the holiday season is a drive down Christmas Lane. Now Christmas Lane is not the "official" name of the road, but I would bet more people in Elmwood know where Christmas Lane is than McCellan Road. The Wilson's each year starting at Thanksgiving display a collection of lighted figures. Gene makes these figures and you may see some of them in Elmwood and other communities. I notice them during the year as logos or signs. I think I like the tractors he has done best. You can distinguish that it is a John Deere A or International Harvester M. I went out and took a few photos last year. My photos in no way do justice or capture even half of the display. So you will have to drive down Christmas Lane yourself. From Elmwood drive east on Main ST until the tee intersection outside of town turn left drive back to IL 8. Coming down IL 8 just east of the intersection of IL 8 and IL 78; you will see the lights head south down Christmas Lane. If you see Gene and Shirley thank them for this marvelous Elmwood tradition.
Even though bridge repair has closed Tiber Creek RD into Elmwood, go down to East Main and get back to the downtown.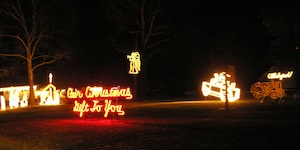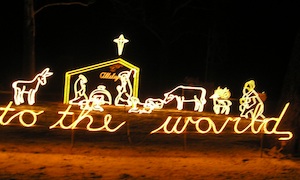 Morisson and Mary Wiley Library Celebrates 60 years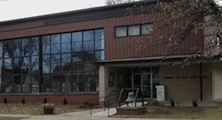 The current library building was built in 1950. An open house from 9 am to 6 pm will be held on Dec. 12th.
Leaf Pick up to End Dec. 9th


City Wide Garbage and Recycling begins In January
So, I hope there are no more windstorms in the next two days. On the topic of pick ups city wide garbage and recycling starts January 1, 2012. So canceling your individual contracts with your current service should start. The service will be a part of the water bill. The cost is $15 per month. Recycling pick up will start Friday January 13, 2012. It will be scheduled in two week intervals after the 13th. Garbage pick up schedule: Wednesday for residents West of Lilac ST, Thursday for those East of Lilac ST.
Wednesday, December 7, 2011 2:43 PM
Monday, December 5, 2011 10:11 AM
Tour of Homes December 4th
Presbyterian Church Hosts the Tour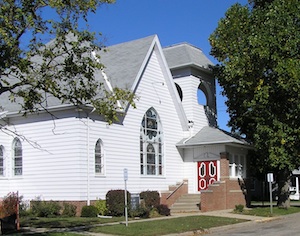 The hours of the Tour of Homes will be from 12:30 PM to 4:30 PM. The Lorado Taft Museum will not be open for this year's Tour of Homes. The Presbyterian Church will be open and acting as the Welcome Center for the Tour of Homes. The Presbyterians will be celebrating memories of the current church during this time and having an open house on December 4th. The current church is scheduled to be torn down after the completion of the new building. Harpist Reva Schoenwetter will be playing at the church from 2 to 4 PM. There is no admission or ticket needed to attend this open house at the Presbyterian church. There are tickets for the tour of homes. These tickets will be available at the church or any of the homes on the tour. Also available in advance at Farmers State Bank and Jordan's Mobil.Tour of Homes tickets are $10. The Elmwood Community Center will also be open during the afternoon, after being recently repaired and reopened. Saturday, November 26, 2011 10:21 AM
Thanksgiving 2011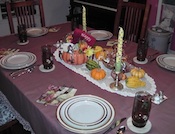 As the photo indicates we are getting ready. Honestly there will only be our sons, our mothers, and us. Not that unusual from a Sunday dinner in our family, but Thanksgiving is something special. It is that time to reflect, because after all a day dedicated to giving thanks by Presdisential decree. I realize the priviledge in my life, and I am grateful. At this point in my life, I can do things to help people. Doing things that help others are the only efforts I've ever found satisfying. As a family we do have many things to be thankful for; we are fortunate; we are grateful. Nancy once told me, she thanked God for her sons, for the good people they had become, and she did it everyday.
Currently we live in nervous times; times when we are less certain of the future. In this holiday season, starting today and ending on New Year's Day, please strengthen your relationships. Think of how difficult the times are for some people. Extend a measure of compassion and empathy; we are far more alike than we differ. I will remember those who struggle on this day and throughout the season of holidays. I encourage all of us to remember we face no problems we can not overcome. We can master our lives by working together, appealing to the best in us, and having faith in the future. Wishing you a happy Thanksgiving and a great New Year. Wednesday, November 23, 2011 6:14 PM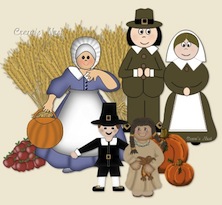 Our conceptions of things past and present are often in error, be open to honestly examining life and history.The image reminded me of Thanksgiving in my grade school, inaccurate history, but still a great American dream.
Every Little Thing Opens

Facebook Page Children's items will be their focus.
The store will be open from 12-7 Nov. 23rd. Every Little Thing will be closed for the Thanksgiving holiday and open again on Black Friday from noon-7pm. Tuesday, November 22, 2011 4:52 PM
One Less Empty Space
Volunteer Experience in Joplin MO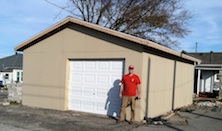 Sunday, November 20, 2011 10:18 PM
Hick'ry Stick BBQ --- Buffet and Music ---- Thanksgiving Eve
Music by
the 42's
Simpsonized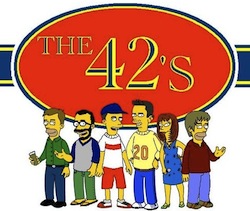 BBQ Buffet from 7 to 8 -- Band from from 8 to 11 -- November 23, 2011
Drink Specials
$10 in advance --- $12 at the door
---------
Joplin Mo Trip, rewarding, exhausting, and appreciated
Full Day Three
Started early and worked past daylight as photos of mission team and project will show. Gabe and Joel stayed over and will finish some things. Heading home at noon on Friday. I rode the seven hour trip to Fairview Center, then to Elmwood got home about 4 AM that would be Friday morning I guess. Tired and sore, but glad I went along. Photos tell the story better than I. Wish I had one of the snow on Wednesday, it was hard to believe.
Joplin Photos Mission Project & Team -- November 17th
Joplin Missouri on November 17th 2011 - Photos, No Comments
An AP Story that we should consider after looking at these photos.
Project Organized by Home Sweet Homes USA Also worked in cooperation with New Creation Church in Joplin
Friday, November 18, 2011 3:34 PM
Full Day Two
Worked hard no photos today; worked during snow storm about 4:30 to 5:00 left site at dark.
Some good things are happening 70 and sunny on Tuesday what a change. November 16, 2011
Photos from First Full Day
Staying at Ozark Camp and Retreat Center
Staying at a nice camp near Joplin. Ozark Retreat Center 10357 Eland Road Neosho, MO 64850
Photos from this morning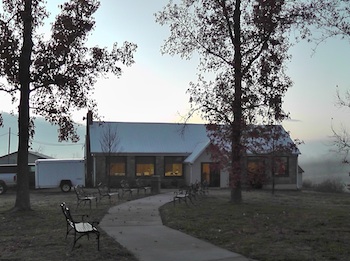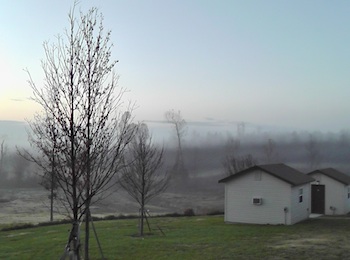 Moon over Neosho MO
Tuesday, November 15, 2011 7:16 AM
Joplin Mission Began
We arrived and an ambitious crew has embarked on building a garage and other projects. A few photos follow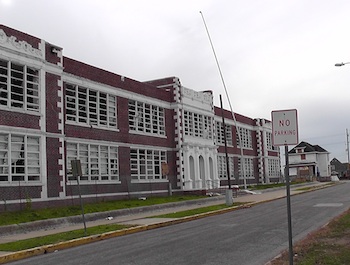 This school across street from garage project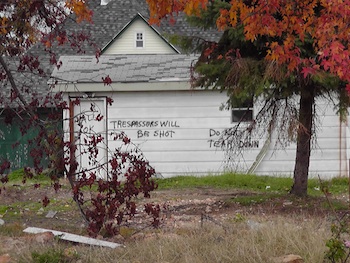 A leave me alone message also across the street East.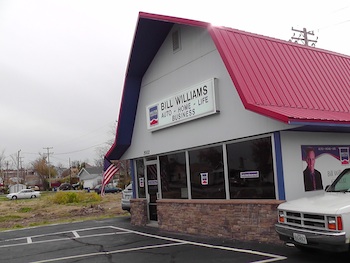 Down the block it pays to have insurance
overseeing the repair projects
Monday, November 14, 2011 6:54 PM
Missouri
Just crossed into Missouri at Louisiana, long drive across the Big MO, today. Will try to get update tonight. Too dark for photos at 5 AM. Monday, November 14, 2011 8:13 AM
Tagging Along on Mission Trip
I will be tagging along on a mission trip to Joplin MO. Assisting in a rebuilding project organized by the Fairview Center United Methodist Church located SE of Monmouth. I should be able to update on the trip daily this coming week. First we are meeting at the church at 6 AM Monday coming back late Thursday. So I will try to post a few photos and relate the events of the trip.

Saturday, November 12, 2011 11:38 AM


ORANGE AND BLACK GAME
EHS GYMNASIUM
MEET YOUR 2011/2012 TROJANS and LADY TROJANS
JV / VARSITY BASKETBALL TEAMS -- CHEERLEADERS & POM SQUAD
WEDNESDAY, NOV. 16TH, 6 PM
Join them for dinner in HS Cafeteria from 5-7 PM
PULLED PORK BBQ SANDWICH, CHIPS, DRINK & DESSERT $5.00
OR
HOT DOG, CHIPS, DRINK & DESSERT $3.00

Thursday, November 10, 2011 2:07 PM
Chicken Noodle Dinner -- Harvest Home Fundraiser
Thursday November 17th (4 PM to 7 PM)
$8.00 Carry Out or Dine IN
Yates City Community Center
Thursday, November 10, 2011 1:53 PM
Elmwood Community Center had Open House on Nov. 5th
Amidst the football playoff and cross country state meet hoopla on Saturday, the Community Center had an open house. Get the months of November and December included in a 2012 membership. contact Kathy Shoop -- (678 - 7146) If you had that burning desire to burn fat, on hold for two years or twenty; now would be the time to get back in the game. Wednesday, November 9, 2011 9:04 AM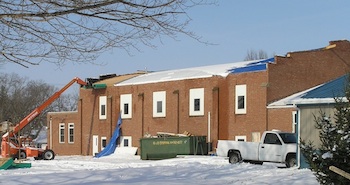 Ashley Bean: The Young Lady plays a Good Guitar and sings with a Haunting Voice
Many of you may know Ashley better than I do. I have heard her play a couple of times. I have often seen her in Elmwood usually accompanied by a guitar case about as big as she is. Young people have a habit of growing up, and sometimes those things almost bigger than they are when starting out, end up being mastered by them. Ashley plays like she is completely attuned to her instrument, a natural fit. You will want listen to her on these songs. In our digital age this is so easily done. Share them on Facebook, or send a link to someone you know will love to hear them. Sunday, November 6, 2011 9:41 PM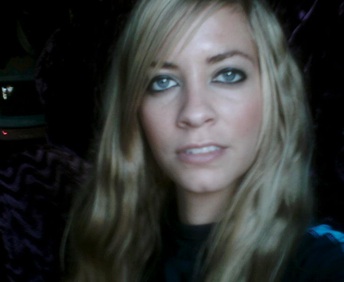 Click to bring up ReverbNation
E/B Trojans Come Up Short
The perfect season ended this afternoon at Whitney Field in Elmwood. The Trojans lost to the Mercer County Golden Eagles now 11 and 0 by a score of 14 to 7. It was a tough game demonstrating there were two great teams on the field. Both teams were offensive power houses and as sometimes happens it was the defenses that shined in this game. E/B had a great effort all day on defense. Ingersoll was a real stand out with his ability to sack and pressure the QB Tanner Matlick. Mercer County has had an explosive passing game, but E/B held them in check most of the game. Westart made a key interception in the early going of the first half. E/B attempted very few passes today when they did the QB McCormick was under a lot of pressure. E/B was able to establish their ground game. Both teams had speed in the backfields. This kept long runs and catches from being touchdowns. All the scoring happened in the first half; E/B went up first 7 to 0. MC came right back down the field on a long drive that tied the game at 7 to 7. It could have been the half time score, but Mercer County had a long punt return triggered by some jaw jarring blocks. The Golden Eagles posted a late score and took a 14 to 7 halftime lead. In the second half E/B brought the ball on two long drives inside the five yard line. Each drive ended on downs giving the ball back to the Golden Eagles. You can't get stopped on opportunities against a good team. The Trojans bow out with a 10 and 1 record. A great season just a half yard short today. Saturday, November 5, 2011 7:02 PM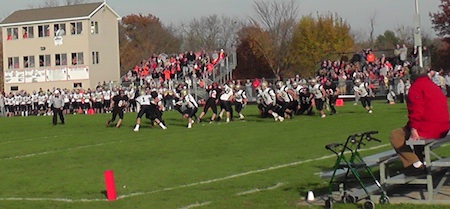 The Trojans are stopped on this play short of goal, their last opportunity to tie.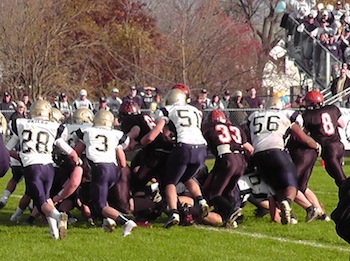 The Trojans came a half yard short of a first down on the five yard line.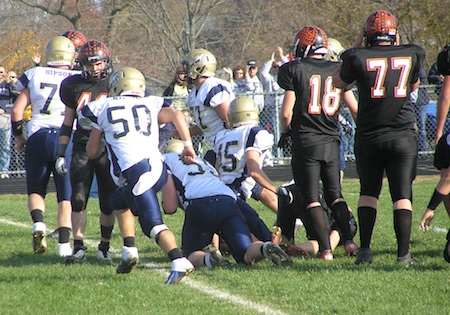 Mercer County fans had only two scores to cheer this was the first.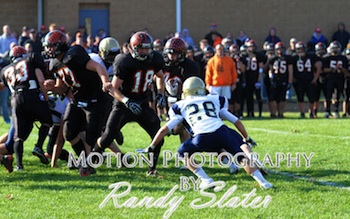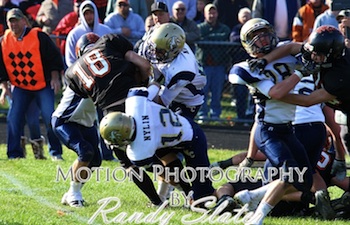 180 Photos of Game Available From this Photographer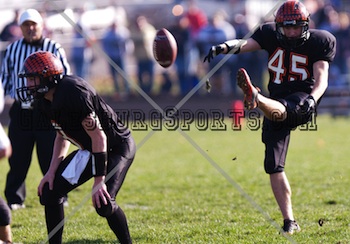 GalesburgSportsPhoto.com was at the game and has almost 400 game photos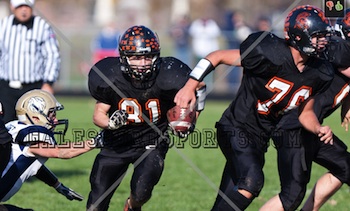 GalesburgSportsPhoto.com focused on E/B during the game
Water Boil is Lifted
Saturday, November 5, 2011 12:13 PM
A report of a water main break on Knox Street. There is a water boil in effect according to report. Friday, November 4, 2011 4:03 PM City staff are putting fliers on people's doors announcing water boil in effect until further notice.
E/B Trojans host Mercer County Golden Eagles at 2:30 PM Saturday
Weather Forecast

On Saturday E/B will meet a good team. Some have said the Prairieland Conference was down this year, that the Trojans have not met a good team, yet. On Saturday no one will say that anymore, the Mercer County Golden Eagles are a good team. Mercer County is a new entity a consolidation of Aledo and Westmer school districts begun three years ago. The Golden Eagles have continued the tradition of high school football that Aledo had earned over the years. This Saturday one of the state's most recognized football programs is coming to Elmwood. The Golden Eagles are 10 and 0 champions of the Lincoln Trail Conference. Whether the players from Elmwood and Brimfield win or lose no one will say they haven't played a good team after Saturday.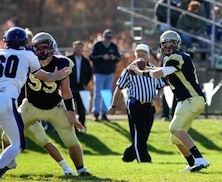 I watched Mercer County play earlier this year. They have an outstanding quarterback Tanner Matlick. He is 6'3" a good runner and a pinpoint passer. Overall the Golden Eagles are a fast team with adequate size. The Golden Eagles use multiple offensive formations and pressure defenses by requiring them to adjust quickly. The key to this game is the E/B offensive line, if they can get to their blocks then the running backs will find many opportunities. If the offensive line gets stuffed and can't get out and down field it will be a long day for the Trojans. If the Trojans consistently move the ball, the Golden Eagles will have fewer opportunities with the ball. E/B's defense will face a tremendous challenge from a team that can run the option or spread it out and throw it deep. It will be a great day for football, and everyone will say the Trojans played a good team. Hopefully, they will get to play another good team after this game.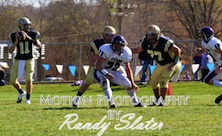 Two Schools Two Towns: One Team
Friday, November 4, 2011 2:13 PM
Mom's Squad -- One Stop Shop
At the United Methodist Church, Thursday November 3 from 6 PM to 8 PM.
Come to our annual One Stop Shop and find something for everyone on your list! Door prizes every hour! Silent Auction! Come start and finish your Christmas shopping all in one place! Facebook Page
We will feature:
Jar cookies-Mom Squad-proceeds go to adopting a family for Christmas
All Dolled Up- Susan Gibbs-Hair bows, hats
We will feature:
Jar cookies-Mom Squad-proceeds go to adopting a family for Christmas
All Dolled Up- Susan Gibbs-Hair bows, hats
Avon-Lyndsay Johnson
BeadDazzled-Deb Threw/Becky Conklin- beaded jewelry
BEgirly-Amy Evans-tutus & hats
Celebrating Home- Dottie Frame
DS Designs-Donna Neal-American Girl doll clothes
Discovery Toys-Gayla Taylor
Elmwood Booster Spirit Wear
Gold Canyon Products-Anne Hollis
Juice Plus-Stephanie Colgan
Lia Sophia-Roz Finn
Mary Kay-Becky Hunt
PartyLite
Photos by Amy-Amy Davis-Photography
Scentsy-Amanda Price
Scrips-Elizabeth Gallagher-Gift Card purchasing program to benefit EES
Specialty Sweets-Jill Gensler-Sweet indulgences
Stampin up-Georgia Stevens-premade cards & scrapbooking/card making materials
Tastefully Simple-Jill Gensler
Thirty-One products-Jenny Crone
Tupperware-Edie Pullen
Usborne Books-Alicia Sparks

Childcare available so you can shop with both hands :)
Check out our great Silent Auction items!!
#1 1 Dozen Holiday cookies from Too Litte Time cookies
#2 Cheddar basket from Cabot Cheese
#3 Fun gift basket from Cabot Cheese
#4 $50 game and dinner for 2 at Jillian's
#5 John Deere Basket
#6 Lumenok basket
#7 6 Buffets at Par-a-Dice
#8 4 Riverplex passes
#9 Mexican basket with 20 tacos from Taco bell
#10 4 tickets to a Chiefs game next year
#11 2 Rivermen tickets
#12 Tastefully simple sweets basket
#13 2 rounds of golf at Laurel Greens
#14 2 Full Service car washes at Red Carpet Car Wash
#15 2 Brunches at Weaver Ridge
#16 $25 at McDonalds
#17 4 passes to the Peoria Zoo
#18 4 Rivermen tickets
#19 $20 in Avon products
Wednesday, November 2, 2011 10:09 PM
A Beautiful Saturday
E/B Cross Country boys and girls got second at 1A Sectional, the teams will now go to the state finals next week. E/B Trojans football won in the 2A playoffs. The Trojans will host the Mercer County Golden Eagles next Saturday at 2:30. The team from Aledo is also undefeated, the Golden Eagles are champions of the Lincoln Trail Conference. A great challenge next week against a legendary program, most of it as the Green Dragons. Whitney Field will host a big crowd in a much anticipated contest. You will want to be a part of next week's 2A second round game.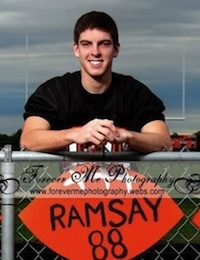 Two weeks ago the North Fulton game was a complete blow out. The Wildcats came in with a lot to prove today. They cut down on their own mistakes and kept the game close. The powerful E/B offense was held in check for much of the game. E/B led 14 to 0 at halftime. The kudos have to go out to the defense today. The Wildcats made some drives and took the ball close to the end zone, but the Trojans shut them down every time. Issac Ramsay was a defensive force all of his own. He took 3 interceptions away from the Wildcats. On a punt he tackled the receiver, caused the fumble, and recovered the fumble. It was the defensive side of the ball that carried the Trojans on this day as the Wildcats were shut down again and again. E/B moves on to week two with a 28 to 0 win.

Two Schools Two Towns: One Team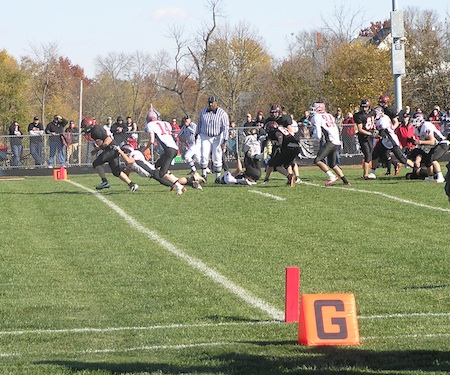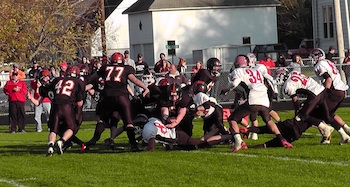 Saturday, October 29, 2011 6:39 PM
Saturday Sports In Elmwood
1A Cross Country Sectional at Maple Lane Country Club
10:30 AM Girls Sectional ---- 11:15 AM Boys Sectional

---

2A First Round Playoff ---- Elmwood High School
North Fulton Wildcats vs Elmwood/Brimfield Trojans at 2:30 PM
-----------
A great deal of fun this Saturday, but helpers are always needed.
Hello! The Booster Club is still in need of fifteen people to help at the Playoff Game on Saturday, October 29th. We need four people to sell 50/50 tickets (arrive at 1:30) and eleven people to work at the concession stand (arrive at 2:00 PM). If you are available, please let me know.
Thank You!
Michelle

Hanging at Rushings becomes Trojan Tradition
Brimfield players have found a hot spot in Elmwood, now incorporated into gameday traditions. Two Schools Two Towns: One Team
Tuesday, October 25, 2011 2:36 PM
E/B Cross Country Runner --- Trent Parrish
Cross Country in Elmwood and Brimfield has had many winners for both the boys and girls teams. Trent Parrish may be the biggest winner ever, at least in the course he has run in his young life. He was featured in this PJ Star article by Jane Miller. Elmwood's Maple Lane Country Club will be host to the 1A sectional Saturday morning October 29th.
First Round Playoff Game Saturday Oct 29th
Current: Restaurant Options
E/B Trojans host the North Fulton Wildcats in the 2A first round. Game will be at Elmwood at 2:30 PM. A rematch from week 8 when the Trojans traveled to defeat North Fulton 54 to 6. If the Wildcats don't turn the ball over 4 times in the first half, this game maybe closer. IHSA Playoff Info Sunday, October 23, 2011 3:52 PM
Elmwood/Brimfield Trojans Undefeated 9 - 0
E/B began fast and kept going to finish the regular season undefeated. The Trojans had the running clock going in the first half. Playoff pairings will be announced tomorrow night. The TV show available on Dish 449, Direct TV 666, and Mediacom 22.
E/B Trojans team and fans: the playoff pairings show party will be Saturday night from 7-9pm at The Hick'ry Stick in Elmwood. The cost is $6, which includes bbq sandwiches and chips. All are invited.
Friday, October 21, 2011 11:41 PM
Curbside Recycling for Elmwood

Post cards were in the mail this week. The cards need to be returned to City Hall by October 28th if you want to participate. for info: 742-8373 ask for Leigh Ann
Geppetto's Closes Doors Permanently
Geppetto's closed this week, it has been for sale. I will miss the lasagna. Hopefully, this will serve as an incentive for those working on economic development in Elmwood. Existing business needs are always important in rebuilding any local economy.
Current: Restaurant Options
Fundraiser for Elmwood Business Women
"Enjoy the City" coupon books, Carol Trotter 742-3333
Coupons are for businesses in the Peoria aarea, use a couple of coupons and get your money back. Groupon has nothing on the Elmwood Business Women.
Uncle Al's Pecans and snacks Diana Ladd 742-8608
Link to Feature on E/B
I once wrote about the hope for a perfect season for E/B. It didn't happen, so it makes this year very special. Good luck Friday Night.
A Most Special Friday Night Opener
Wednesday, October 19, 2011 11:53 PM
Small Business Start Up Loan Fund Created
A revolving loan fund is being established in Elmwood. PJ Star Article - Colleen Callahan, state director for USDA Rural Development, brought a check to Elmwood Friday that the city is using to establish a revolving loan fund. The fund started by a check for $99,000 made available through the federal agency's Rural Business Enterprise Grant (RBEG) program.
Start-up businesses will be able to apply for loans of up to $25,000 at a reduced interest rate. The fund will be administered by the city with the advice and consent of an advisory committee made up of local leaders. The city council will be the final arbiter of all lending decisions. Loan funds can be used for building construction or reconstruction as well as repairs, equipment and working capital.
Links of Involved Partners with Elmwood Recovery
Economic Development Council of Central Illinois
Il Department of Commerce and Economic Opportunity
Tri-County Regional Planning Commission
Monday, October 17, 2011 10:09 AM
Coach Hollis and E/B Trojans Featured Wednesday
WEEK and WHOI channels 19 and 25 do combined sports coverage, they will feature an interview with Coach Hollis. Scheduled to air on Wednesday October 19th. A remarkable team preparing for the final regular season game which is always Senior Night.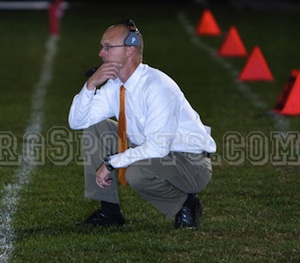 E/B Trojans traveled to North Fulton won 54 to 6
The NF Wildcats were expecting a closer game, as was most everyone else. The opening kick off to NF was fumbled and recovered by the Trojans. E/B took advantage and went up 6 to 0. E/B kicked every extra point the first five successfully. North Fulton lost two fumbles and two interceptions in the first half. The four first half turnovers opened the door for the E/B Trojans and they went into the end zone five times in the first half. The Trojans took a 35 to 6 lead into half, scoring the fifth td with 11 seconds on the clock.
North Fulton broke a long run in the first half setting up a first and goal. E/B went off sides moving the ball even closer. The Trojan defense stepped up, no gain on the first, a QB sack on the second down set ball back on the 17, NF was turned away without a score. With E/B already up on the scoreboard this was a real momentum boost for the Trojans. The Wildcats were able to break out for some big runs but were only able to score once. A slant pattern left a NF receiver wide open for NF's only score of the evening. E/B came out in the second half continuing the dominant performance. The Trojans soon pushed the score up to a 40 point lead and the running clock brought a quick end to the game. E/B's underclassmen kneeled out the game rather than try for another td after a long run took them near the goal line. A dominating performance: great line play, tough defense, big runs and successful passing. Some nights are good nights for football. It was about as good as it gets for the Trojans, tonight. E/B looks to finish next week at home against the Bushnell-Prairie City/Avon Spartans. They have the opportunity to complete an undefeated season the first time ever for the E/B Trojans. Trojans versus Spartans a true classic match up. Friday, October 14, 2011 10:21 PM
E/B Trojans vs North Fulton on Radio 107.9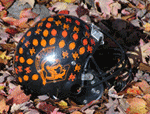 IHSA Link ---- Playoff Outlook Page
The Trojans are assured of a playoff spot if you would like a playoff t-shirt or sweatshirt here is the order form. (Link)
Friday, October 14, 2011 9:08 AM
Heartland Outdoors Lampe's Anniversary
About a year ago Jeff and Monica Lampe decided to take a big leap. Jeff left the PJ Star, he and Monica became the owners, editors, writers, and eveything else for the outdoors publication Heartland Outdoors. I guess you have to say you are what you drive.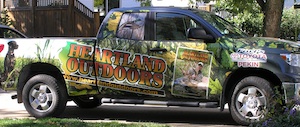 It is great to have this venture running in Elmwood. If you have an outdoors type in your house or in the extended family, send them this link, give them a subscription for Christmas, or steal a copy of Heartland Outdoors and put it in their truck. I'm guessing the person who popped into your mind has a truck.
Thursday, October 13, 2011 12:06 PM
Those Darned Cats!
Elmwood made Luciano's column in PJ Star - read it here
There are more cats in the world than anyone needs, I have to co-exist with one myself. Feral cats are just as much a nuisance as any other wild animal population. Hopefully, a reasonable solution can be worked out.
I decided to add a feline perspetive. I interviewed my cat. I do not know if Ginger feared retaliation by the feral cats or felt sympathy for them, but she refused to provide a comment.
Maybe we should have kept the Foxes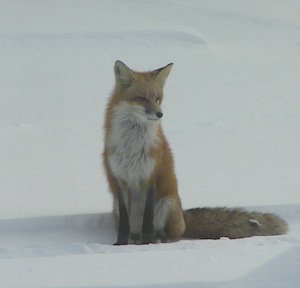 Sunday, October 9, 2011 12:05 PM
E/B Trojans go to 7 and 0 on the Season
E/B made short work of a homecoming victory against the Havana Ducks. The Trojans were up 27 to 0 by the end of the first quarter. Winning the game 46 to 6 for the Trojans seventh victory of the season. Billy Bean and Brady Westart both rushed for over 100 yards in the game. E/B leading the Prairieland Blue division will travel to Spoon River Valley to take on the North Fulton Wildcats. North Fulton is 6 and 1 leading the Prairieland Black division. A tough game on the road next week.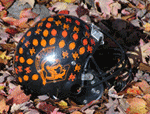 The Trojans are assured of a playoff spot if you would like a playoff t-shirt or sweatshirt here is the order form. (Link)
Trojan Football Web Site -- Trojan Facebook Page
Have You Watched This Video?
Friday Night Highlights E/B near end of highlights
Sunday, October 9, 2011 3:39 PM
Overexposed, the Cost of Compassion
The video docementary team that came to Elmwood will present their documentary on Saturday Microsoft Theater in the Seattle Public Library at 2 PM. Web info Here
Friday, October 7, 2011 3:36 PM
Homecoming Floats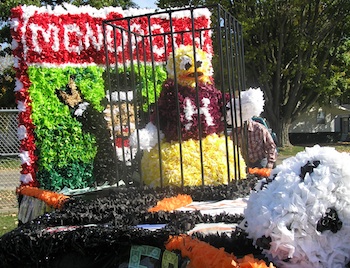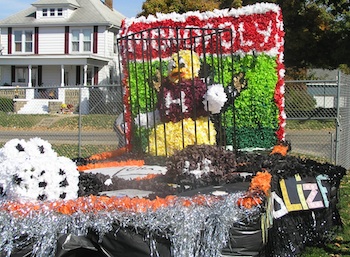 Elmwood Schools in Farm Week
Channeling wind energy into classrooms
An article in Farm Week a well circulated paper in the Illinois Agricultural communnity by Kay Shipman web article here
Wind for Schools is being developed and administered by the Illinois Institute for Rural Affairs (IIRA) at Western Illinois University (WIU) and the Center for Renewable Energy and College of Education at Illinois State University (ISU). The Department of Commerce and Economic Opportunity (DCEO) is funding the program with a two-year grant.
Friday, October 7, 2011 2:06 PM
Without vision we steer a rudderless course
Elmwood CUSD #322
The Elmwood Board of Education and Administration are seeking people willing to participate in two strategic planning sessions. The sessions would review and create mission and vision statements for the district. Review and discuss goals and objectives.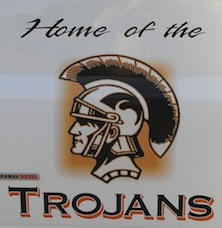 Community, parent, and student involvement will be needed to enhance the vision and mission for our schools as they continue to challenge students to be prepared for the future.
If you would like to participate on Tuesday Nov. 1, 2011 and Thursday Nov. 3, 2011 from 5:30 PM to 9 PM contact Ami Naumann, District Office Secretary. Ami Naumann -- 742-8464 -- deadline Oct 17, 2011 to register.
Friday, October 7, 2011 11:57 AM
Roadhouse Re-Opens
A little outside of Elmwood a restaurant called the Roadhouse had run for many years. Re-open October 7th with old favorites on the menu. People often said an event would be at the Roadhouse without any directions. I will remedy that tendency with an embedded google map.
View Larger Map
Hours: Fridays 5 PM - 9 PM Saturdays 4 PM - 9 PM, & Sunday 4 PM - 8 PM
4903 N Stone School RD -- Sally and Scott Selman 309 742-2111
Friday, October 7, 2011 11:23 AM
Homecoming Game Oct. 5th at 7pm
The Havana Ducks are flying in to take on the E/B Trojans on Homecoming week end. The Ducks are 1 and 5 this season. Undefeated E/B is the favored team, but each game is won after the kick off not in pre-game expectations. school web site for info Parade begins Friday at 2:15 PM at the school around Central Park back to the school.

Visitors are greeted by the new colorful Trojan Logo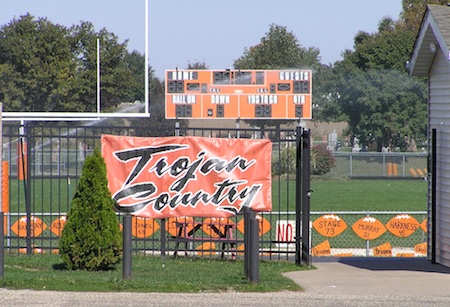 Kiwanis Peanut Day
Downtown this morning peanuts, pumpkins, gourds, and sunshine.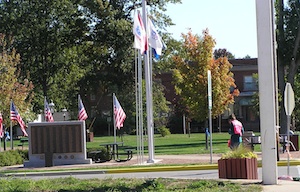 Wares for sale on a great morning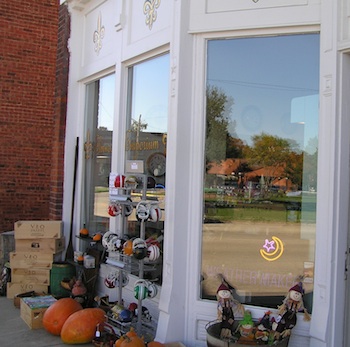 ----------
Spoon River Drive this week end & Next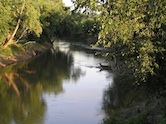 Friday, September 30, 2011 10:11 AM
---------
New Store to Open Soon
In the location where Fuego was located on 110 East Main ST a store called Every Little Thing will open soon.

Facebook Page Children's items will be their focus. Monday, September 26, 2011 11:12 AM
Farmington Farmers host E/B Trojans
Sept. 30th at 7 PM in Farmington
Great Photos of the Knoxville game from Galesburg Sports.com You may find your child and want to buy one. Even one of "the fumble" ----- 88 shots of band, players, coaches, and action.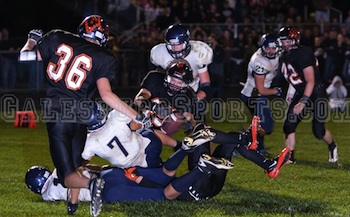 Great Photos of the Knoxville Game Galesburgsports.com
News Updates August to November 2010
June 5th, 2010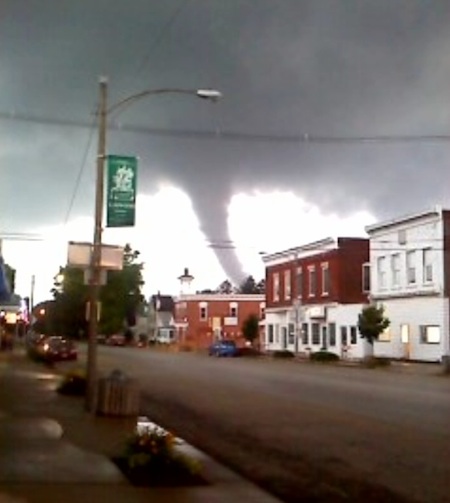 -------------