Two Schools Two Towns: One Team
Brimfield Trojans Pre-game Ritual -- Hanging with Ed & Nancy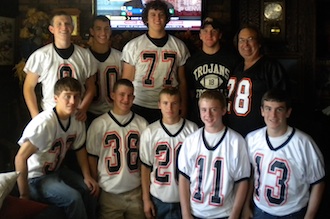 From Seniors to Freshman Ed and Nancy Rushing have a welcoming home.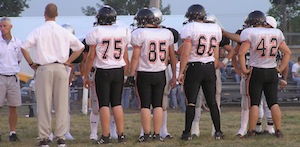 Can they be perfect? My carry away line in the 2006 football note.
"Being perfect is when you can look someone in the eye and know you did not let them down." Coach Gaines Friday Night Lights (movie 2004)
A Season Like No Other
An undefeated season is a rare thing. It has never happened before in the E/B Coop's history. I am not an Elmwood alumnus, but I haven't heard anyone report an undefeated season since 1901 for Elmwood football. If you have read some of my other football thoughts from the West Prairie Trail site, you will know I believe the word football and team are inseparable. I have seen a basketball team carried by one player, a baseball team by one pitcher, but I have never seen a successful football team that wasn't a team. It is an attitude that this 2011 Trojan football team seems to thrive on. I have yet to hear anyone not credit everyone's effort when interviewed. Running backs Westart and Bean always credit their line. A team with a dominating offensive line every season will have a winning record every year. Of course there is the defense - a team doesn't win many games if it can't shut down another team. Then there are the special teams, so 44 positions to fill at minimum. In 2011 many dedicated players from Elmwood and Brimfield High Schools have come together to be "the team."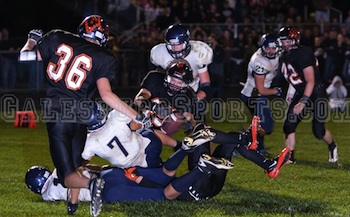 Even if you are "the team," it takes a little luck. Dedication, personal effort, individual talent, good coaching, all are essential, but injuries, penalties, the bounces and inches are often more luck than anything else. The photo above captures the fumble from the Knoxville game. This occurred on the attempted two point conversion by Knoxville at the end of the 4th quarter. If it was good Knoxville wins, if it fails E/B wins. The ball came loose as the photo shows, but before the goal line? Well that is the role of officials, no one can see every part of the field. The photo does suggest the officials likely got it right, still one official had signaled it good. So essentially the undefeated season balanced on this one play, a matter of inches and the bounce of the ball. The 2011 Trojans seem to know they have to give their best effort every play. Eddie Rushing has observed a remarkable almost business-like attitude in the boys before a game, it sets this team apart.
Yes, soon the Seniors will walk away not boys, but young men. In the eyes of their parents it will all be over, so quickly. If the Trojans play out the most miracle of seasons, it ends on November 25th in Memorial Stadium. But whenever it ends, this team walks away knowing they didn't let anyone down. The Brimfield boys want to insure this doesn't stop in the first round. So on Saturday they are returning to Ed and Nancy Rushing's house before the game. This began when Ed, often known as Eddie, saw some of the players milling around before a game. He discovered the Brimfield players often just had to hang out before games since it was too far to drive home. He bought them pizza at Caseys, then invited them to his house the next week. Ed said to invite any other team mates needing to wait a couple of hours. So a ritual has grown, every week hanging out at Ed's, every week another win. In sports often it is best not to mess with what is working. The boys got Ed a Trojan jersey with his name printed on the back, to show their appreciation for the chicken strips, cheese, and nuts. Even the menu has become something of a ritual. In 2011 no one from Elmwood or Brimfield wants to argue or question success - two schools, two towns, one team. As I placed this story on the Elmwood Tales index I stated it was not one story but two. The team is one story, and Ed Rushing is the other.
The E/B Trojans, Coach Hollis, Black Out Night for Easter Seals, the first undefeated season are all great stories, but so is the former and now current Trojan Ed Rushing. Ed and his wife Nancy were both Elmwood graduates back in the era before football playoffs or girls sports, when Elmwood was a member of the Black Hawk Conference. Nancy was a cheer leader, I think she would have rather played volleyball, but girls had GAA then, not IHSA sports. Nancy taught English at Williamsfield, but retired a couple of years ago. Brimfield didn't play football, concentrating on their passion for baseball and basketball until the 1990's.
Last Saturday I talked to the Rushings and we reminisced about times in the late 60's because I remember those days, as well. My high school was in Roseville, Eddie's memory of Roseville was the Roseville Relays and the cinder track over there. He ran a 10.1 100 yard dash at the Galva Relays in high school. People used to drive to the football field and park their cars around the track on Friday afternoon in Elmwood and Roseville - the luxury boxes of those days in high school football. I scanned photos of their high school days and have them on this Page (click). Notice the helmets are the canister type, not the rounded impact-reducing helmets of the current era.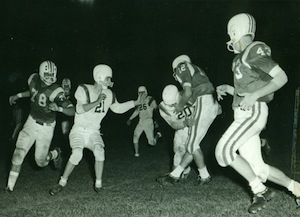 Earl Stalter took this photo as he has so many in Elmwood.
Ed played running back and middle linebacker. His coach as a senior was John Helmick who moved on to Metamora after Elmwood. In one newspaper clipping pictured with the coach are these players: Kenny Fleischer, Frank Donath, Alan McCoy, Fred Rushing, and Ed Rushing. My son, Alex, always expressed surprise we were able to survive in the old days of football. I think too dumb to know better is the best explanation. Coaches that didn't believe in water breaks during two a day practices, taught to lead with your helmet, chop blocking, he just shook his head. But I digress, as we did for much of Saturday morning.
Football didn't bring the passion to Eddie's life that music has. Music has always been as integral to Eddie's life as sports were in high school. He is a great saxophone player. Ed loves sitting in with great musicians. Great musicians bring the best out of each other. He made an appearance with the West MacQueen Street Band last Saturday night after our time reliving the 60's that morning. He has been practicing and jamming with a new combo. They will be at Pitchers on North University from 9 to 1 on Thursday night. Thursday night could be the final game of the World Series, what better way to follow the game than with some hot tunes. Music can help you celebrate or survive the disappointment, not that Cardinal fans have anything to worry about (except attempts at ridicule by Cub fans). Ed even played with Elvis, well not the real Elvis, but one of the best impersonators.
Eddie Rushing celebrates life, and brings enthusiasm to what he does. His enthusiasm is infectious. It is similar for a winning football team in a small town or in two small towns. Everyone begins to talk about the team, even those who really don't know how your motion can be illegal. There are many good teams in the 2A playoffs, so I think "the team" will concentrate on one game at a time. There is one more event in Eddie Rushing's life that helps him appreciate every day. Ed Rushing isn't living with the same heart that ran in the Galva Relays or played half back for Coaches Helmick and Webster. I moved to Elmwood in 1998. I first heard of Eddie in the Methodist church as he was mentioned it seemed every Sunday to be remembered in prayers. I didn't know why at the time, but came to learn he was awaiting a heart transplant. He did get a transplant and has a new lease on life. I think it makes him want to share life with enthusiasm.
I would have never met Eddie or heard him play the sax, if he hadn't had a successful heart transplant. Eddie would have never seen his growing family of grandchildren. If you believe in rituals and superstitions, maybe things wouldn't have worked out as well for the Trojans, either. There are times when you take life for granted, but no one should. E/B fans shouldn't either as I wrote in the epilogue to my 2006 note "When enough young students with all their teen age passions dedicate themselves to putting the team first and working all year for a goal, it is a rare year." Elmwood and Brimfield are experiencing that rare year, we should appreciate and enjoy it.
Take time to listen to Ed on this jam session, sax starts about 20 seconds in.
--