Big Day on First Day of Outdoor Show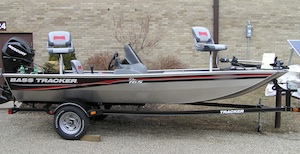 Bass Tracker displayed by Buell's Marina Canton IL
I guess there are two types of days. Days when you fish, and days when you think of fishing. As the snow flurries flew on Saturday; it was one of those days to think about fishing, while walking around the Elmwood All Outdoors Show. For the second year the halls and gymnasiums of Elmwood Community Schools were filled with fishing and hunting gear, deer mounts, and even morrel mushroom walking sticks.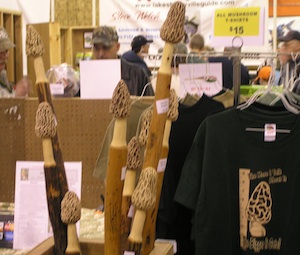 Morel Mania all things mushroom Magnolia IL
Moving around was done with caution as the many people milling, looking, and buying all in preparation for their future trip into the great outdoors filled Elmwood Community Schools. It was a good day to think of the outdoors and many children were catching real fish. Real fish always the best kind to catch, unless just talking in the bar about the big fish, then reality is not a consideration.
More Photos Below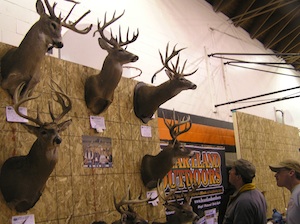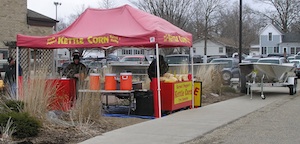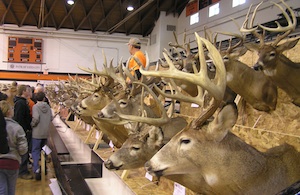 PJ Star Article on Outdoor Show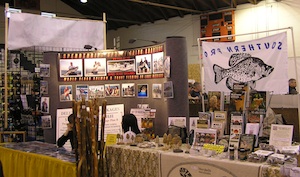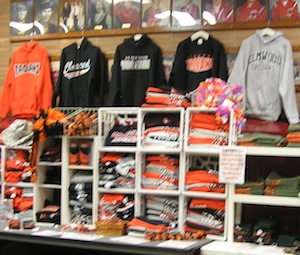 Can't leave Elmwood with out Trojan Attire Saturday, March 5, 2011 5:04 PM
Breakfast Events on Saturday March 5th
Breakfast from 6 AM to 10 AM sponsored by the EBBY Troop Care Box group. EBBY raises money to support their mission of sending care boxes to deployed service members from the Elmwood, Brimfield, and Yates City area. Location will be the Elmwood United Methodist Church (West Main west of Casey's) $5 adults 10 and under $3 Menu: Scrambled eggs, bacon, sausage, biscuits & gravy, sweet rolls, fruit.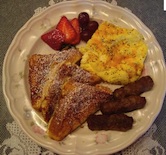 Biscuits and gravy from 6:30 AM to 10:30 AM at the Yates City Community Center. The Yates City Community Center is in downtown Yates City corner of Main and Union streets. Sponsored by the Harvest Home Festival Committee. Yates City is 2 miles west of Elmwood on Illinois RT 8.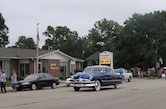 Main Street Diner -- Outdoor Show Special -- Saturday 7 AM
The Main Street Diner will open at 7 AM on Saturday March 5th. Elmwood appreciates the efforts so many have gone through to be good hosts. Thank you to the Pumphreys during this already chaotic time. Thursday, March 3, 2011 12:47 PM
Cafes in Elmwood Illinois
Geppetto's was closed for remodeling, Geppetto's will be open again starting on Thursday, March 3, 2011. Geppetto's is located in the 800 block of West Main just East of Casey's. Geppetto's will be open Saturday from 11 AM to 8 PM and open again on Sunday starting at 11 AM. Thursday, March 3, 2011 4:17 PM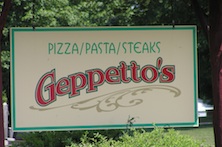 J and G Cafe is temporarily closed. Josh's Main Street Diner is now open. J and G's is closed because of a family health issue. Josh's Main Street Diner, long the home of Tastee Freeze, is located at the corner of West Main and Locust streets. Open 11 AM to 8 PM Monday through Saturday [[Homemade Tenderloins]] & Ice Cream
While doing updates on cafes, reports are Crusens are making progress, will open soon. (Magnolia and Hawthrone) Wednesday, March 2, 2011 4:02 PM
Help make the Palace Palatial
The Palace holds many memories and is a great asset for Elmwood. OK, palatial may be a little too grand a word, but new seats would certainly be welcome. You can do your bit to make Elmwood and the Palace a better experience. Share our stories, tell your own, add some money, volunteer some time.
Palace is being put back. I took some photos yesterday afternoon.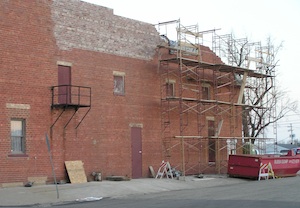 Wall back in place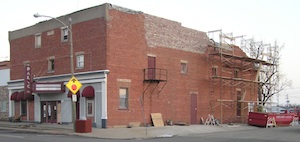 a great many things still need to be done
Continue to donate by buying a ticket to the Palace as outlined here. Practical Steps or again in Homeless at Christmas Buy a seat, a good deal for Elmwood, a good deal for you. Details at Save the Palace or Facebook page The Palace Theater Lives On Yes, tee shirts, promotions, and out right donations are all helping but now is when it is happening get involved.
I must mention, as I stopped to take these photos on way to airport. (I run a shuttle for my wife in her business travels.) As I was on the corner getting the shot two people allowed me time to take the photo by timing their crossing the intersection. Those considerate neighborly acts that are so common in Elmwood. I was very appreciative; Nancy was waiting.
If you have a Palace story or any other memory of Elmwood, I will be glad to help you share it by publishing it here. I can write it for you, record your voice, or record a video. These Elmwood Tales will be a great gift to future generations. Tuesday, March 1, 2011 9:21 AM
Mom's Squad
Mom's Squad is a group of young mothers sharing their experiences on Thursday mornings. It is held at the Elmwood United Methodist Church, but it is not a group of Methodists. Mom Squad has participants from at least ten different churches and some who belong to no church. Programs on different topics are part of Mom's Squad. The program on February 10 is Makeover Day with a presentation by Becky Hunt. Here are quotes from two of the participants:
"Being new to the area I have really enjoyed Mom Squad and the opportunity it has given me to know other women close by. It is a wonderful program!"
"I really look forward to Mom Squad meeting days. I can relax with other women who are going through the same things in life that I am. I leave feeling refreshed and ready to face the challenges that exist as a mother of young children."

If you are interested in learning more about Mom's Squad contact Lori Johnson, Emily Webel, or contact Elmwood UMC at 742-7221 or umc@elmnet.net
Yates City gets Special Treatment at A. Lincoln Museum
I have become aware that there is an old rivalry between Yates City and Elmwood. I suppose that it is only to be expected, the towns being only two miles apart. Currently living in Yates City has its perks. The Abraham Lincoln Presidential Museum is running a Community Days promotion. Residents of Knox County get a discount, Article in Galesburg Register Mail, Peoria County isn't on the current promotion list. If you live in Knox County invite your friends from Peoria County to take a trip to Springfield with you. When you are charged a lower admission than they are say "It is because I'm special." At least for a few weeks, you are. Here is my Family Trip article on going to Springfield Land of Lincoln Awaits If you do take the opportunity to one up your neighbor, at least buy them a horseshoe while you are in Springfield.
Catch Lincoln at the Orpheum Article about Documentary Feb 20th and 21th.
Thursday, February 17, 2011 12:27 PM
Local Blogger Hits Print Media
It is often asked are bloggers journalists? Sometimes the question is; what is a blogger? Journalists are people who type words to inform, entertain, and express opinions; they are paid to do so, they have editors and publishers to please, their words appear in established media venues. Bloggers are people who type words to inform, entertain, and express opinions, who don't have the other things going for them. Emily Webel has been writing a blog about life on a modern family farm from the perspective of a farm wife. The Quincy Herald-Whig profiles her blog in this article Social media impacts farmers on business, personal levels by Deborah Gertz-Husar.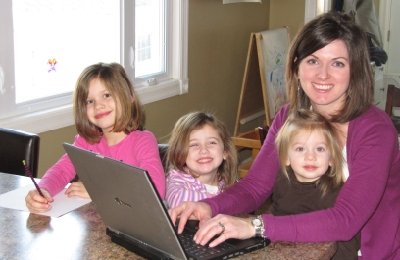 I have a link to Emily's and other Local Bloggers on this index; if you want to be on the list drop an email to me. Blog Index
Emily and Joe Webel are the parents of three daughters. Print has a longer tradition note the Quincy paper's name. The Whig Party disappeared in 1850, many Whigs like Lincoln later became Republicans. Whether you know what a blogger is or not you will enjoy Emily's column. Tuesday, February 15, 2011 10:12 AM
Elmwood activist to speak on factory farms

Karen Hudson
will address conference in New York that will be webcast

Chili Supper / Cook Off
February 26th 5 - 8 pm
Maple Lane Country Club
Fund Raiser for Sweet Water Park
Chili, cole slaw, pasta salad, corn bread, desert iced tea & lemonade
Donation of $7 adult $4 12 and under
Chili contest entries contact Dave Howard 309 231-3144 or dhoward@fsbelmwood.com ( 6 quarts of Chili )
Kiwanis Pancake Day on a Nice Morning
When it is 25 degrees warmer than the past three mornings, even 20 degrees seems balmy. Temps above freezing mean this afternoon we are looking past the blizzard and moving into almost Spring.

Held in the high school cafeteria paths were clearly marked by the shoveled snow.
People are helped by scouts to enjoy some of the finest whole sausages and pancakes drowned in syrup.
What is a Pancake without a good kitchen for Chefs to dazzle the crowds.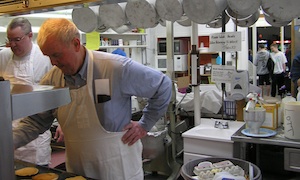 Dave Howard and Dale Runyon are turning out golden brown pancakes.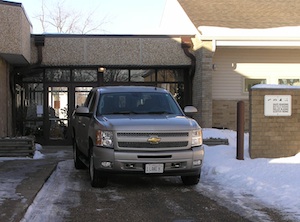 Operations are running and things are humming if Harold is on the scene.
Saturday, February 12, 2011 12:30 PM
Galesburg Regional Economic Development Association
The Galesburg Register Mail's Erin McCarthy reported "Dick Taylor, director recovery administrator for Elmwood, and John Hamman, disaster coordinator for Peoria County, described how the Elmwood community worked to recover from a tornado that devastated the town last year.
They gave the keynote address at the Galesburg Regional Economic Development Association's annual meeting Monday evening at Soangetaha Country Club."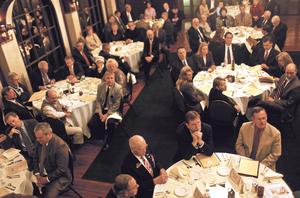 Wednesday, February 9, 2011 10:47 PM
Kiwanis Pancake Breakfast Feb 12
Annual Pancake and Sausage Breakfast this Saturday from 6 AM to 11 AM
Adults $6 Child $3 (6 -11) Under 5 free
Location Elmwood High School Cafeteria
Tuesday, February 8, 2011 10:38 PM
Dr. Baylor's Open House
Saturday Feb. 5, from 10 AM to 1 PM. Celebrate the re-opening!
Wild Birds Flock Seeking Food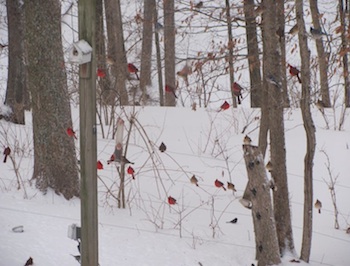 Karla Kane took photo of birds flocked to her feeders with the heavy snow. Cardinals are striking in red against the fresh white snow.
Wednesday, February 2, 2011 3:59 PM
Tuesday Feb. 1, 2011 -- it snowed, blew, thundered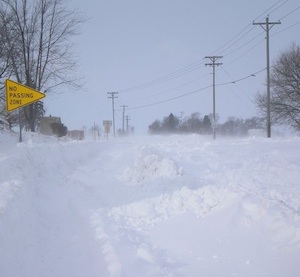 Tuesday on West Main getting to Yates City was not easy.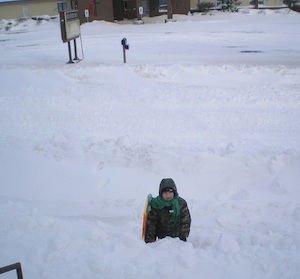 Kids love snow I see no Methodists are they without faith? Maybe, staying safe.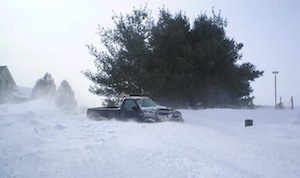 Even 4X4's can get stuck
Wednesday, February 2, 2011 3:05 PM thank you Lori Johnson for photos
It began snowing in earnest about 10 AM on Tuesday. It kept up all day and into the night. Steady winds with some gusts to 50 mph. It was a white out last night. Saw one flash of lightening followed by thunder. Snow fall totals Peoria officially 15 inches, Galesburg officially 20 inches, so Elmwood must be somewhere in between, it didn't stay in one place. Sunny and 20 F degrees made digging out rather nice, as digging out goes. Predicted low of minus 10 F tonight will make for a brisk morning. IDOT has opened up area interstates, but still requests people refrain from travel. Places such as Terre Haute, IN had an inch of ice, so I will not complain about the snow.
Wednesdy AM Scooped a little and then walked uptown
It was easier to walk uptown than scoop took a few photos.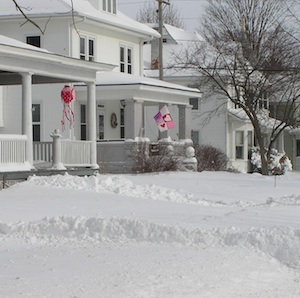 Shoveled out by Valentine's Day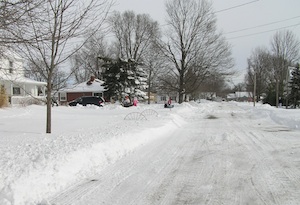 City has done marvelous job on streets; if I could just get to the street.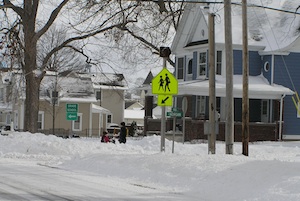 Kids love snow, adults do most of the shoveling.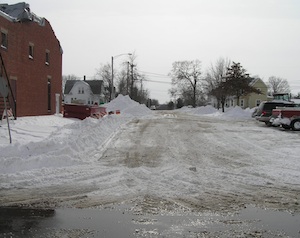 Street open to leave town, but I would not be joy riding on country roads today.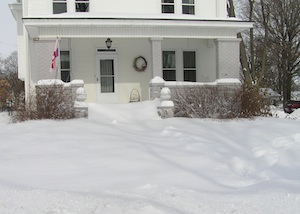 Jeff was busy shoveling as I came back-- Heartland Outdoors

Winds still strong. There would be drifting and poor visibility in open areas, I'll stay inside.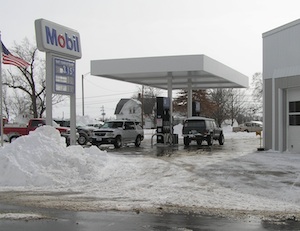 At least Jordans is open, gas, coffee, and lil" Debbie cakes, so who's suffering.
Wednesday, February 2, 2011 2:49 PM
Elmwood Schools Dist 322 Closed for
Tuesday February 1st and likely Feb. 2nd. Celebrate Ground Hog's Day. Does a blizzard prevent a ground hog's shadow? Monday, January 31, 2011 7:19 PM

Area Closing List at WEEKTV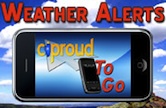 Area Closing List at WMBD TV
There is only one conversation today
"Have you heard about the snow." We are going to be in the path of the latest predicted snow system for 2011. It should get in full force on Tuesday. We are predicted to get 20 inches here. The good news is the ice is staying around Springfield IL and Indianapolis IN., good news for us. Monday, January 31, 2011 12:27 PM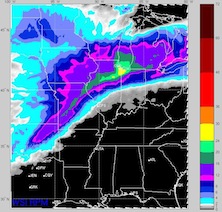 We are in the green area. Dark green 20 Light green 24
Noon Siren Returns
I suppose it is a small thing. I heard the noon siren this noon. It has been a tradition that at twelve o'clock PM the City Hall siren would sound off. Very loudly if you happen to be standing outside of City Hall at the time. The police are still headquartered at Senior Citizens Center, as far as I know. Downstairs is now in use at city hall. I was once on the phone when noon siren went off it was noticeable to my caller. He said what's happening, I replied oh nothing just the noon whistle. He said it brought back memories of his hometown. He found it a quaint anachronism. It was good to hear from my removed location, I'll try to avoid being near it in the future at noon times. Monday, January 31, 2011 12:12 PM

First Presbyterian Church Begins New Service
Jan. 22nd -- Saturday Night -- A Family Worship Experience
Begins at 5 PM

Will Continue on Second and Fourth Saturdays more info call 742-2631
TIF District Public Hearing
Jan. 25th at 6 PM

The location will be the temporary City Hall at 210 S Magnolia (former Senior Citizens Center). The proposal will the central business district to the current TIF (tax increment financing) district. The city has titled this the Central Business District Redevelopment Plan. Attorney Michael R. Seghetti representing the City of Elmwood has overseen the creation of this proposal.
Fairground development is in a TIF district and will be connected to this proposal as part of one TIF district. Essentially the property taxes of future improvements become available for development projects. The taxes on future improvements are diverted from current revenue recipients to the purposes of the development plan. Using the Fairground development as an example, the basis was the land before the sub division began. This means improvements, the new houses, have their taxes diverted to the redevelopment plan. Current revenue recipients the school district, county, township, city, and other local tax supported entities give up future revenues to help make new development more attractive and able to have adequate financial support to be undertaken. The growth in the Fairground development is a net plus to the community, although property taxes have been diverted from going directly to local tax supported entities. Establishing this plan at this time means the basis will be the downtown as it exists as of January 1, 2011. Any improvements and the property taxes they generate will add to the redevelopment fund. The Fairground development has been a positive to Elmwood growth and hopefully all parties feel like it has benefited them. Come out have your questions answered on the 25th. Thursday, January 20, 2011 1:14 PM
Ch 25 You Gotta Eat
at J and G's Cafe
News 25 "you gotta eat" at the cafe tomorrow ( Thursday Jan. 20 ) around 11 come on in to show your support. Wednesday, January 19, 2011 8:37 PM

New Elmwood Business Development Association
The initial meeting of the Elmwood Business Development Association was held at the Maple Lane Country Club at 6 PM January 12th. J and G Cafe catered a wonderful meal to kick off this effort. The video prepared by Stephanie Colgan was played and Richard Taylor gave an update. The CDAP grant has been approved Elmwood will be receiving $766,000. Unfortunately, I had already skipped chorus practice at 6:00 PM and I promised the contemporary band I would show up at 7 PM. I stayed until 7:10 and just had to leave. I will interview a few people tomorrow and provide more details later. Wednesday, January 12, 2011 9:58 PM
All Things Come to Those Who Wait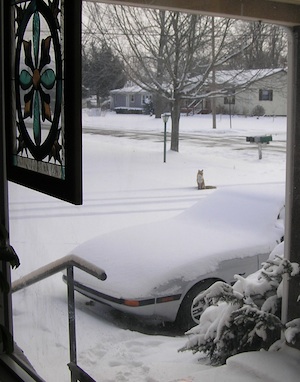 It may be a zen concept, but striving for a thing can make it harder to obtain. If you want to learn a zen concept, you can study philosophy or read a book by former Chicago Bulls coach Phil Jackson. He is coaching a team now, I think they are called Lakers, so maybe they are in Cleveland. Jeff Lampe, Tracy Chaney, and others went out to the cemetery to patiently capture a picture of our resident foxes last spring. I have waited until they have come to me. I did have to get off the couch. I would have gone outside, but I was afraid they would run if I went outside. I have a few photos from inside my house.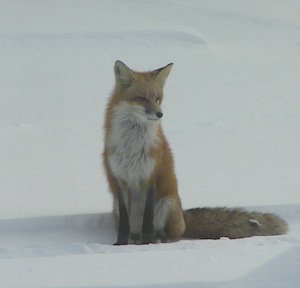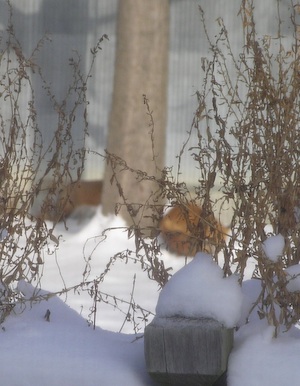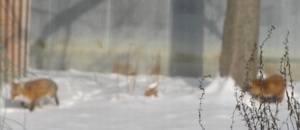 The jungle look comes from flower boxes on the deck. It was hard to get an open shot and the flower boxes are much closer. Life is all perspective. Winter brings so much beauty.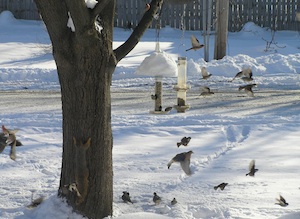 (Shire wisdom "The cool places of summer will be the warm spots in winter") Well more witticisms, truisms, and inane comments will have to wait. Stay warm. Wednesday, January 12, 2011 11:22 AM
Readers Digest -- We Hear You America Contest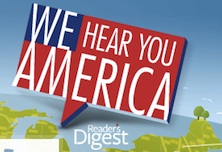 Nancy Davis found this and submitted Elmwood. So to win the a cash prize for our hometown, it will take voting and sharing with friends, relatives, we all have learned how the Internet vote campaigns are run, by now. Web site to Vote enter 61529 to Find Elmwood Contest ends at 11 PM on February 7th, 2011. Each person can enter 10 times a day. Individuals are entering to win prizes for themselves at the same time. Each city gets the accumulated vote total for their city from all entries. Elmwood is moving up get behind it, share it. Write in comments and ideas for Elmwood, help make our touching story real to the world.
January 19th - Butterflies for Change
a program at Elmwood School Auditorium by Bridget Brown an advocate for people with disabilities. The program is scheduled to begin at 6:30 PM. Web site Butterflies for Change describes the initiatives of inclusion for those with disabilities Bridget and her mother Nancy Brown have undertaken. Bridget is a guest speaker for Project Choices with the Illinois State Board of Education. Bridget appeared in a movie with Miley Cyrus this summer. Nancy Brown has co-authored the books Models of Support and Kid Konnections. All interested people are welcome to attend.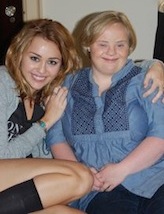 Miley Cyrus and Bridget
Recovery Committee Meeting
WCBU FM Report on last night's Meeting
Link to WCBU you can Listen to the radio report

-------------
My thoughts a response to the meeting -- Long Time Coming Thursday, January 6, 2011 6:20 PM
------------
Meeting on January 5th Elmwood Recovery Committee
A meeting with about 60 people in attendance including several county board members, and others involved in the recovery process. Board members in atendance were Lynn Scott Pearson, Mary Ardapple, Robert Baietto, Andrew Rand, and our own representative Brad Harding. The meeting was held at 7 PM in the Elmwood School Auditorium. John Hamman conducted an update on progress in Elmwood. Lynn Dailey, from David Lietch's office and Carol Myrna, from Aaron Schock's office were in attendance. (possible spelling mistakes on their names, sorry)
John Hamman the county coordinator for Elmwood Recovery conducted the meeting. He thanked Dr. Alvey for opening the school once again to assist in the recovery process. He recognized Richard Taylor whose efforts were applauded and given a standing ovation. He outlined the different organizations and the roles they were undertaking in helping Elmwood recover. Elmwood has received a $515,000 streetscaping grant for 2012, still hopeful for a CDAP of approximately $750,000. A letter written by John Hamman to the Burlington Northern Santa Fe foundation resulted in their sending a $4000 donation for the Palace theater. Some business interest has been generated. There will be a meeting of the newly created Elmwood Development Association at 6 PM next Wednesday at Maple Lane Country Club everyone interested is invited. A form was handed out inviting comments or questions to the recovery committee. A question about the community center was answered that roof was now replaced, gymnasium floor not open, front of the building should be open, a six month extension of members' contracts will be granted. Dr. Baylor's office is to be open on Monday. Wednesday, January 5, 2011 10:50 PM
When Elmwood Football Ruled
A thank you to Karl Taylor who was perusing a 1901 Elmwood High School yearbook. Hey, no jokes about it being his. He discovered in 1901 the football team went undefeated. The opponents will be a big surprise. This was in the days before Illinois football had seen the Super Bowl Shuffle, the Monsters of the Midway, Red Grange the Galloping Ghost, or the forward pass.

-------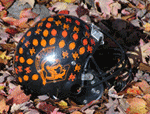 circa 1910 Leather Helmet -- current Trojan Helmet
Schedule and Results 1901
Elmwood 5 - Brimfield 0
Elmwood 0 - Princeville 0
Elmwood 18 - Peoria High 0
Elmwood 11 - Galesburg 0
Elmwood 5 - St Albans College 0
Elmwood 20 - Peoria High 0
Elmwood 15 - Lewistown 0
Elmwood 10 - Bloomington 0
St Albans was in Knoxville a Lutheran school that existed at that time. IHSA started in 1900 in part to define rules of eligibility. If the Elmwood team had ringers, I don't know. The Trojan defense must have been very tough, of course by today's standards pass defense would be lacking. Elmwood Trojan Football Web Site If your high school is now a part of a consolidation you may enjoy or have materials to contribute to this web site Illinois Glory Days. My football essays in Illinois Observer Football Well enjoy New Years Day Big ten getting their helmets handed to them today. Saturday, January 1, 2011 1:36 PM
Restoration on Palace Continues
I took a few photos inside Palace Theater this week. I wanted to post them as I work on doing other update photos.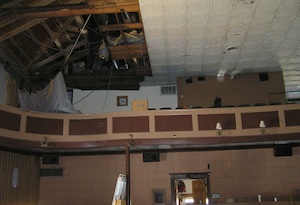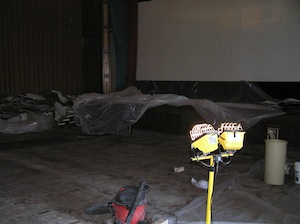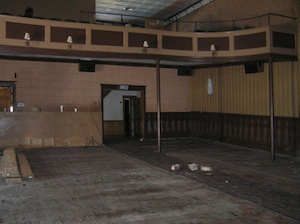 You could assist by sharing the story, with small donations, or a larger one. Suggestions in the essay the Palace Theater Waits --also the first essay suggesting Practical Steps
Friday, December 31, 2010 3:01 PM
United Methodist Church Christmas Eve at 6 PM

I made rather ineffective attempt on Facebook to find out times of Christmas Eve services of all churches. I know Elmwood UMC is having one service at 6 PM. New Day Team will start pre service music at 5:45. It is not called off to the best of my knowledge. Friday, December 24, 2010 4:50 PM
A New Snow for Christmas Eve
Snow predicted to come to Elmwood starting after midnight, should highlight all the outdoor displays with a nice decorative Christmas blanket. Reindeer will have no problem with the sleigh this year. I think the Williams' snowmen will be welcoming festive reinforcements in a few hours. To all Elmwood and everywhere a Merry Christmas.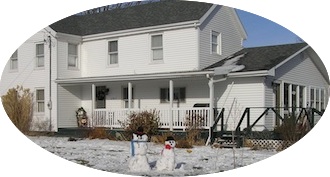 At Williams household even the snowmen look forward to Christmas.
Thursday, December 23, 2010 11:25 AM
Facebook Status Collage
a new form of Christmas Letter? It does show in today's world we have a wide variety and multiple avenues of communication. I have posted mine here, If you want to be a friend on Facebook, all you have to do is ask. I am a very inclusive person, and try to be friends with anyone I know. Occasionally a friend request is a come on or scam, so I ignore those. The modern world has changed our security and privacy, as well. I hope my status collage makes you reflect on this year, help the Palace Theatre in 2011, watch for signs of progress in Elmwood.
I am going to put together a photo layout of a tornado damaged shot and the current status by New Year's Day; it will take a great deal of time. I have a present coming for Nancy so I think I'm covered. Here is the collage a facebook app produced, click for larger view.

Click to Read a Year in Status
Winter Storm Cancellations
The Blizzard Conditions Have Caused the Cancellation of the Following:
Elmwood United Methodist Church all services and events on Sunday
Elmwood Baptist Church service cancelled (Elizabeth Martin)
Crossroads service cancelled as well
I am guessing the same is true for Presbyterians and Catholics
Others As I learn of them
Sunday, December 12, 2010 8:18 AM
Photos of Palace and Snow on Sunday

Volunteers Needed to help Palace
Got this message today
"Volunteers Needed! Saturday December 11th at 10:00 AM. We'll be removing the seats from the theater and all the help will be appreciated. Hope you can make it."
See you in morning.
Friday, December 10, 2010 9:48 PM
A Drive down Christmas Lane

A tradition during the holiday season is a drive down Christmas Lane. Now Christmas Lane is not the "official" name of the road, but I would bet more people in Elmwood know where Christmas Lane is than McCellan Road. The Wilson's each year starting at Thanksgiving display a collection of lighted figures. Gene makes these figures and you may see some of them in Elmwood and other communities. I notice them during the year as logos or signs. I think I like the tractors he has done best. You can distinguish that it is a John Deere A or International Harvester M. I went out and took a few photos last night. My photos in no way do justice or capture even half of the display. So you will have to drive down Christmas Lane yourself. From Elmwood drive east on Main ST until the tee intersection outside of town turn left drive back to IL 8. Coming down IL 8 just east of the intersection of IL 8 and IL 78; you will see the lights head south down Christmas Lane. If you see Gene and Shirley thank them for the this marvelous Elmwood tradition.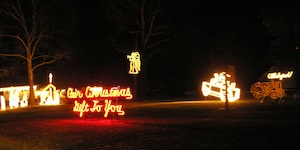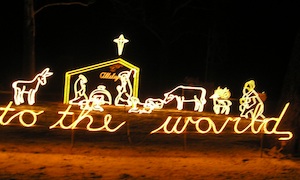 Thursday, December 9, 2010 8:51 AM
Elmwood Pharmacy Nearly Open
Oh so close, the front door on East Main is nearly open. If not today, then later this week the doors should be open. Everyone can once again walk in to the caring friendly environment that always charterized the Elmwood Pharmacy. You may even forget you are facing a different direction.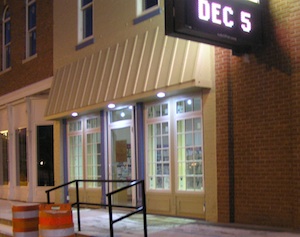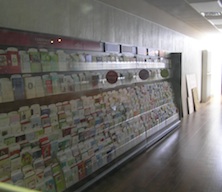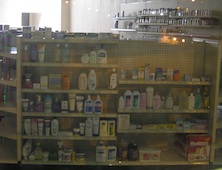 Tour Of Homes
On a sunny day with temperatures in the 20's Tour of Homes was a welcoming experience. A dusting of seasonal snow to highlight the Christmas motif had fallen on Friday. As Elmwood began the Christmas season a white carriage pulled by a handsome brown horse led the way. The horse and carriage were both equally decked out in holiday trappings and bells. The EHS Brass ensemble bravely played a few Christmas carols in the Gazebo as temperatures quickly dipped into the teens by the 5:30 starting time. Pastor Mark Graham offered a closing prayer as everyone rather quickly returned to find a warm location.

Monday, December 6, 2010 6:53 AM
Found this Story on the Web
Couple came to town on the day of Hometown Hardware's demolition.
Looking at Elmwood from the outside.
Monday, November 22, 2010 3:23 PM
City Election Update
I was incorrect in petition filing date. The State Board of Elections Manual is confusing at times. We are a city under 5000 population so rules vary from other municipal categories. Dotie says, and I would go with her as the authority on the matter that petitions to run for city council should be filed Dec. 13th - 20th at City Hall. Well I've been wrong before I thought Dewey would beat Truman. (No I am not that old, I may look like it.) Wednesday, November 17, 2010 1:55 PM
Pride Banner on the Corner
I took photo of PRIDE banner in downtown today. Using the Help is on this Corner as support pole.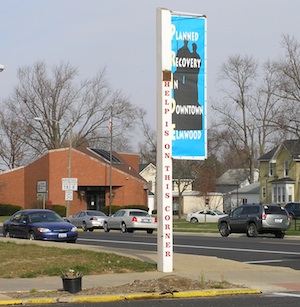 Tuesday, November 16, 2010 9:43 PM
Brown Animal Hospital
is back in the old haunts, and running normally again. The building is put back and looks great. The office in the west part of the building was unoccupied at the time of the tornado in June. It is good to have another business in place.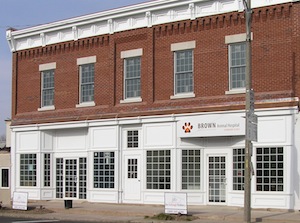 Brown Animal Hospital on West Main
Tuesday, November 16, 2010 9:08 PM
Final Week
to file for city elections. Each of the three wards in Elmwood will elect one person to represent the ward. Jeff Lampe has announced in Ward 2, Robert Paige (Incumbent) has announced in Ward 3, I am unaware of other candidates. Glenn Moody in Ward 2 and Don Ekena in Ward 3 are the incumbents. I do not know their plans. Each petiton must have five signatures of registered voters that live in that ward.
Lowe's Heroes help Elmwood
The West Park shelter is being rebuilt on a breezy cool day. Lowe's has a volunteer team that helps on projects to help the surrounding communities.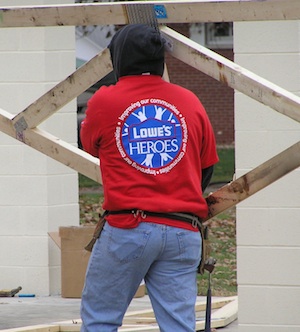 I hope it will shelter many picnics and afternoon snack times. Thank you, Lowe's Heroes please come back on a beautiful day and enjoy your efforts. Maybe, the city will organize a picnic in the park as a thank you. Saturday, November 13, 2010 11:54 AM
A Football Farewell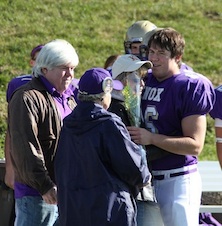 Alex and I end our time with football
Elmwood/Brimfield Cross Country
E/B girls take 2nd at the state meet. Rachel Brune lead the team placing 8th overall. E/B boys took 4th no individual placed in the top ten.
Election November 2nd
639 came to polls in Elmwood; over 100 voted early or absentee.
County Web Site Election Results
All Elmwood precincts vote at the Elmwood United Methodist Church which is located in the 800 block of West Main. It is an accessible facility. Polls open at 6 AM and close at 7 PM. Sample Ballot
Tuesday, November 2, 2010 5:16 AM
Correction grant is only for street projects,

no decision on original grant from DCEO Saturday, November 13, 2010 12:19 PM
Grant to City Of Elmwood
A grant of $515,000 was given to Elmwood to help with development following tornado. It was the grant hoped to be $750,000, but it is good to have it awarded. Reconstruction of Palace Theater depended upon this grant, along with all the other sources of funds the Palace will be able to be restored. PJ Star Article Not as large as hoped for, but a welcome incentive all the same..
Monday, November 1, 2010 8:56 AM
E/B Boys win Sectional
E/B boys cross country team won the sectional meet on to state. E/B football lost to Clifton Central so on to basketball and weightlifting.
Election November 2nd
All Elmwood precincts vote at the Elmwood United Methodist Church which is located in the 800 block of West Main. It is an accessible facility. Polls open at 6 AM and close at 7 PM.
Check out Elmwood Tales a new section being created as soon as I finish this post. Tuesday, July 27, 2010 5:22 AM
News Updates August to November
June 5th, 2010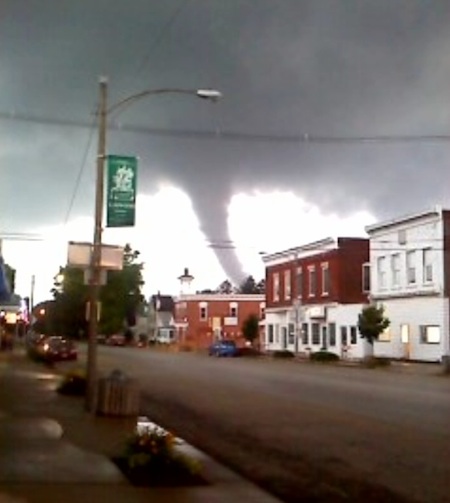 -------------