Uptown Cafe now Open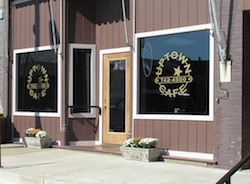 Opens at 6 AM in the morning for those looking for an early morning destination. The Uptown Cafe was formerly J & G Cafe.
Main Street Diner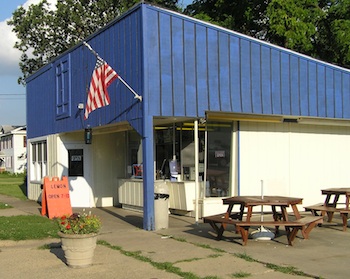 Open Monday through Saturday 11 AM to 8 PM
Serving homemade tenderloins, onion rings, and hoagie rolls.
Returning Veterans' Homestead Exemption

Are you aware of this Property Tax Exemption? If you or some you know qualifies make them aware of it. There are links to forms on Elmwood Township Assessors Page.
This exemption is a one-time $5,000 reduction in EAV on the principal residence of a veteran upon returning from active duty in an armed conflict involving the armed forces of the United States. Although the exemption is only for a single year, a qualifying veteran can receive the exemption for another tax year in which he or she returns from active duty. Applicants must file Form PTAX-341, Application for Returning Veterans' Homestead Exemption, with the chief county assessment office. Friday, August 19, 2011 12:51 PM
Janet Mottaz Forum letter from June 25th, 2011 (if you missed it)
Elmwood Illinois final home to Veterans of 8th Missouri
I ran across this web item Link in researching veterans topic. It is interesting that several local soldiers served in Missouri units. Illinois always filled the enrollment numbers for volunteer troops during the Civil War. Sometimes enrollments were full and Illinois volunteers joined Missouri units to get into the fight. Illinois troops were numerous in the West (Mississippi, Tennessee, Georgia, Alabama) Thinkyou have family members who served in Illinois regiments or fought at Vicksburg you may enjoy this post Vicksburg and Shiloh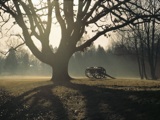 Aaron Schock Listening Session at Hick'ry Stick
On Aug. 29, he'll host a 6:30 p.m. ice cream event at the newly opened Hick'ry Stick Restaurant at 118 E. Main in Elmwood.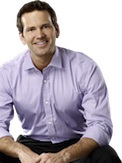 schock.house.gov
Aaron Schock represents the Illinois 18th Congressional District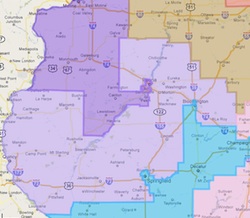 Here is the map of the newly redrawn 18th district, Illinois lost a Congressional seat to Sun Belt states. Another summer of wildfires, dust storms, and record temps, maybe they will move back. Monday, August 15, 2011 11:58 PM
Harvest Home Festival -- August 19th and 20th
The Yates City Harvest Home Festival will be this week end. The theme of the Yates City parade is "Take a look, it is in a book" If you are a clever crafty type person, unlike me, this is a two'fer opportunity. Elmwood Fall Festival Parade's theme is movies, many movies are based on books, so a careful choice of literary and cinematic efforts will cover both parades. If your kids have unused Harry Potter costuming you are all set. Here is the schedule
Welcome to Harvest Home Festival 2011
Friday August 19
4:30 pm - Food Stand Opens
5:00 pm - M & K Amusements (Inflatables)
5:30 pm - Baby Contest Registration
6:00 pm - Bingo begins
6:30 pm - Baby Contest
7:00 pm - Closer to Free (Contemporary Christian - Elmwood UMC)
8:00 pm - F-Sharp (Classic Rock)
Saturday August 20th
6:30 - 7:30 am - Gazebo Run registration
7:30 am - 1 mile walk/run & 5K race

9:00 am - Food Stand opens
10:30 am - Parade Registration (Gazebo)
11:00 am - Parade begins - THEME - "Take a Look, It's in a Book"
12:00 am - Vendor/Merchant booths open
12:00 noon - Parade winners announced
12:00 noon - M & K Amusements (Inflatables)
1:00 pm - Pedal Tractor Pull by Snyder Farms
1:30 - 4:30 pm - Book signing of "The Legend of White Sky" by Linda Edwards
6:00 pm - Bingo
6:30 - 9:30 pm - Cadillac Jack (www.CadillacJackBand.com)
Festival booklets available at EZ Stop, Casey's (Elmwood) and County Market (Farmington)
Uptown Cafe to open Soon
The cafe on Magnolia will soon open, by end of August possibly. Shaun and Rita Jones are opening the cafe reportedly beginning at 6 AM in the morning for those looking for an early morning destination. The Uptown Cafe was formerly J & G Cafe.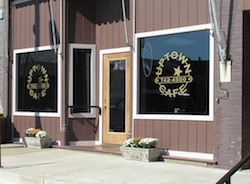 The Main Street Diner closed for a short family vacation should open again this week and will continue to be operated by Josh Pumphrey. Monday, August 15, 2011 3:15 PM
Assessment notices will be arriving today?
Assessment notices will soon be sent for 2011. Assessments for 2011 are the basis for 2012 property taxes. The computerized market analysis based on all legitimate sales establishes trends for different types of residential property. Some of your questions may be answered on the Elmwood Township Assessors Page which has links to the county web site property look up, downloadable forms, appeal process. When reviewing an assessment determine if the property has appropriate exemptions, such as homeowners. This information is available on the county's web site property look up page. Decide if the assessment is a reasonable estimate of what a residential property would sell for on the market. An appraisal, assessment, or realtor's opinion is an estimate and all will vary, but each is predicting a value. Property taxes are the major funding source for our schools, fire protection districts, county and township government, and other entities depending on your district. Property taxes help the people closest to you provide the services we rely on everyday. Thursday, August 11, 2011 1:11 PM
Elmwood Presbyterians Groundbreaking Ceremony
On August 7. 2011 had a groundbreaking ceremony at 4PM to dedicate the beginning of their new church building. Pastor Gene Campbell officiated.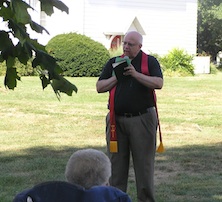 The Elmwood First Presbyterian Church will be in the same block as their current church, which is north of Evergreen between Althea and Lilac Streets.
Order of Service:
Prayer
Welcome/Recognitions
Hymn: Amazing Grace
Scripture: Psalm 127:1
Session Members Break Ground
Hymn: I Have Decided to Follow Jesus
Prayer of Blessing and Benediction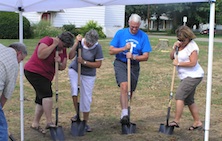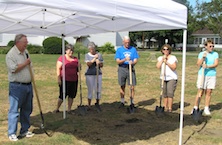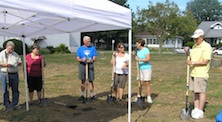 Session Members: Larry Cox, Amy Kepple, Fred Paige, Michael Shissler, Kathy Shoop, Marty Tarter, Pat Vaughan, Julie Barrett (clerk of session)
Service was followed with butter-finger ice cream desserts,. It was a beautiful Sunday afternoon just as God planned it to be.
Monday, August 8, 2011 10:08 AM
The Tenth Concert of the Summer is Sunday
It seems only yesterday, we were wondering when summer would arrive. The tenth band concert of season will be Sunday August 7th at 8 PM. Elmwood Municipal Band If you were planning on taking your lawn chair, but haven't, go now.
As thoughts turn to school beginning, football, and Fall; it would be a great time to bring your talents or even your untalented self to Fall Festival Help make the 80th Fall Festival one of the best. Thursday, August 4, 2011 10:17 AM
PalaceTheater Opens
Cars 2 currently playing follow schedule on Reynolds Web Site Load up the car with the kids and come see Cars 2.
Stuff from Around Area you may want to know
Now open at Main St. Diner for breakfast 7-10 Monday - Saturday and also serving dinner specials nightly
JFL football sign up August 2nd and August 3rd from 5 to 7pm in Brimfield Grade School Cafeteria need info call Kelli Arbogast 645-1395
Ice Cream Social to support the troops in Central Park, starting ahead of Municipal Band Concert starting at 6 PM fundraiser for EEBY Trop Care Boxes.
Cars 2 will be the opening movie in repaired Palace Theater starting Friday July 29th
Presbyterian groundbreaking ceremony on August 7th at 4 PM. Everyone welcome to help them kick off their new church.
Elmwood Tap trying to find people with photos of past times at the Elmwood Tap or Don's Palace as I heard it called.
School Registration times are approaching find information on these Local School Web Sites
Thursday, July 28, 2011 11:05 AM
Open meeting about City-wide Recycling
City Wide Recycling Meeting at Elmwood School Auditorium -- July 26th at 7 PM -- call City Hall 742-2351 if info needed

Assessment notices will be arriving soon
A report in the PJ Star yesterday, may focus some attention on the quadrennial assessment. Assessment notices will soon be sent for 2011. Assessments for 2011 are the basis for 2012 property taxes. The computerized market analysis based on all legitimate sales establishes trends for different types of residential property. Some of your questions may be answered on the Elmwood Township Assessors Page which has links to the county web site property look up, downloadable forms, appeal process. When reviewing an assessment determine if the property has appropriate exemptions, such as homeowners. This information is available on the county's web site property look up page. Decide if the assessment is a reasonable estimate of what a residential property would sell for on the market. An appraisal, assessment, or realtor's opinion is an estimate and all will vary, but each is predicting a value. Property taxes are the major funding source for our schools, fire protection districts, county and township government, and other entities depending on your district. Property taxes help the people closest to you provide the services we rely on everyday.
AG Land Elevator Relocating to Stone School RD
A hearing and debate at Peoria County Board meeting about location resulted in approval, here is PJ Star Article Ag Land currently operates at the south end of Magnolia ST in Elmwood.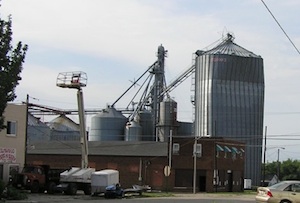 Ag Land Damaged bin after 2009 wind storm
Monday, July 18, 2011 9:18 AM
GroundBreaking Ceremony for United Methodists
Sunday July 10, 2011 was the official kick off to the new addition to the United Methodist Church on west main street in Elmwood Illinois. The church will be adding Sunday School and nursery facilities with this expansion.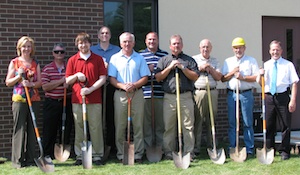 Building Committee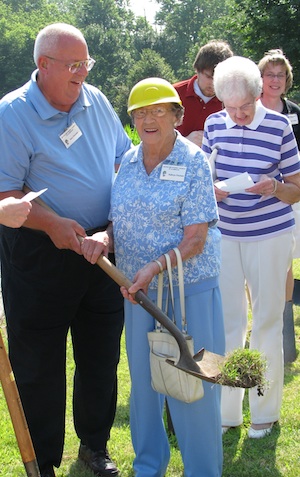 Kathryn Fincham member for 77 years holds seniority at the Elmwood United Methodist pictured with her son Gary.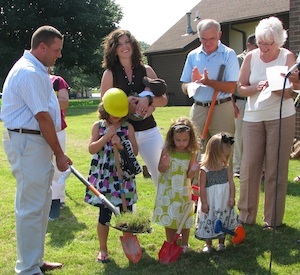 Webel family Emily is holding the youngest member. Youngest by only two hours the Millers had preemie twins delivered only two hours before the birth of Joe and Emily's new son. In the picture below the Miller twins also only seven weeks old are in the carriers on the right of the photo. They look like dolls.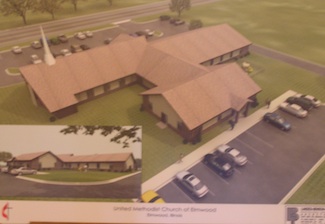 Should look something like the architect rendering when complete.
Monday, July 11, 2011 1:34 PM
Hick'ry Stick Grand Opening July 1
Friday July 1st open at 5 pm close at 10 pm ---- 118 E Main St (former Parkview)
25% of opening night proceeds will be donated to Elmwood Restoration Fund.
Call for reservation 309 742-8900 ---- Web Site Facebook
Fireworks at Sweetwater on July 4th at dusk
Community Bible School Deadline July 1st
The coordinated effort of the Crossroads, First Presbyterian, and United Methodist churches will be held on July 23 pre K, July 24th - July 28th K - 6th
Elmwood Baptist also has a Bible School, I do not know dates but you can get in touch Contact info Here
Monday, June 27, 2011 11:50 AM
Reach Out to Help Others
The Ministers of Elmwood are organizing an aid effort to Joplin Mo. The collection point is the First Presbyterian Church. Needed items are: personal care, paper products, baby goods, disposal diapers, household, cleaning supplies, flashlights, bateries, work gloves, medical first aid -- Cleaning supplies especially needed.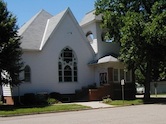 First Presbyterian -- Corner of Lilac and Cypress
Not accepted: water, clothing, toys, bedding, items unableto fit into a car. Friday, June 24, 2011 9:26 AM
Tri-County Airport Open House
Saturday June 25th from 11 AM to 3 PM
Fre airplane rides for those 8 to 17
3 miles west of Yates City on IL RT 8
Backyard Wildlife
Ocassionally, I post a picture of wildlife finding me. We have had a chipmunk living under our deck for a couple of years. These quick creatures slip around to find seeds on the ground from the bird feeder.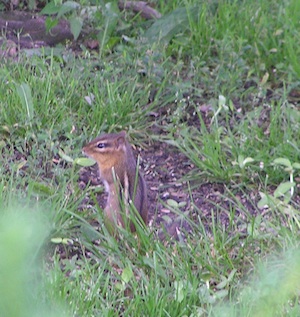 I always associated chipmunks with Chip and Dale from Disney in Pluto's Christmas Tree.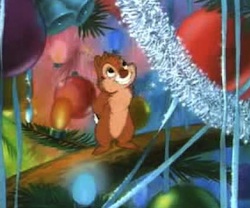 Saturday, June 18, 2011 1:49 PM
County Board Gap Loan Elmwood part of discussion
Hick'ry Stick was the subject of debate at County Board meeting. WCBU FM made this report a good listen. Peoria County Gap Loans Real loans are paid back by real profits, just a maxim to keep in mind.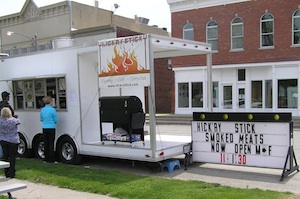 Hick'ry Stick mobile kitchen featured in 'you gotta eat". ------ Hick'ry Stick Facebook Page Watch ad for Elmwood location
Friday, June 10, 2011 8:40 AM
Summer Band Concerts
Starting last Sunday and continuing for the next nine Sunday evenings, the Elmwood Municipal Band will present a concert in the Central Park Gazebo. Concerts start at 8 PM and end at 9 PM. The Elmwood Emporium will be open on Sunday Evenings during the concerts; soft drinks and candy bars are for sale. Bring a lawn chair relax, enjoy a timeless experience. Wednesday, June 8, 2011 12:45 PM
Camp Clover for Children 8 to 12
At the Elmwood Community Center. June 27 - June 30 from 9 am to 12 pm
A second week July 11 - July 14 also from 9 am to 12 pm
for info Call Kathy Shoop 742-8378 ($5 fee payable to the University of Illinois")
Elmwood prepares for a Great Day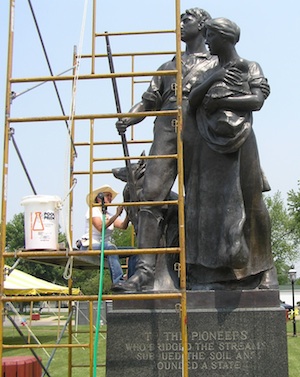 Statue withstood mortar and brick blasting, getting all spruced up before Strawberry Festival. Large poster boards of Lorado Taft art works on display in many store front windows. Hick'ry Stick will be giving tours plan to open later this summer. Elmwood Emporium will be open weekends until later in the summer. Will be open on Sunday evenings during band concerts. J & G Cafe open Saturday. Food tent will be at east side of Park. Fine arts fair will be in area around the Pioneers. Drop by Elmwood for Strawberry Festival Friday, June 3, 2011 4:07 PM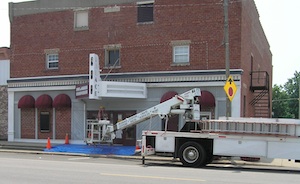 Palace Sign getting new look.
A Welcome Event, slightly damp
Ribbon cuttings, thank you to responders, designs, and other announcements highlight the Downtown. Elmwood Emporium is open, Hick'ry Stick will open this summer. I have some photos, as I got damper; I came home. I will quickly post them.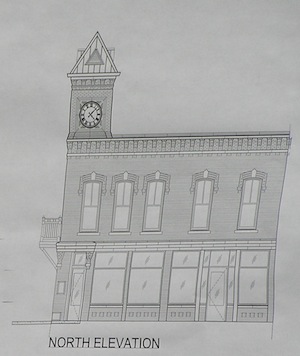 Whitney Building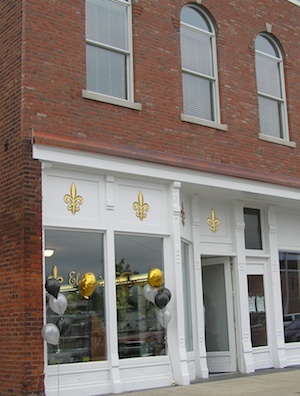 Open in time for Strawberry Festival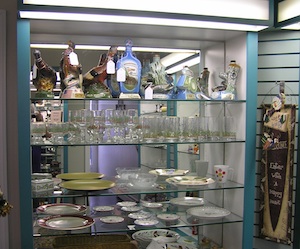 Inside Elmwood Emporium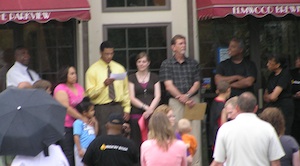 Welcome to new Hick'ry Stick Restaurant open later this summer, tours during Strawberry Festival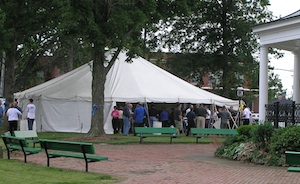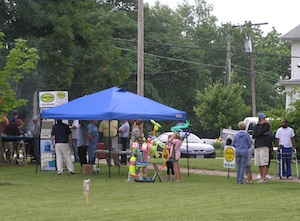 Tents protect during light rain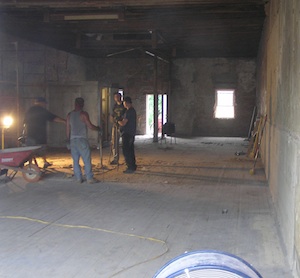 Ongoing renovation in former Fuego/Country Florist
Thursday June 2, 2011 6:15 PM
Wet Weather Dampening Thank You Thursday
the radar shows showers will pass through in 2 to 3 hours. Weather better than last year on Strawberry Festival. Thursday, June 2, 2011 1:35 PM
A time to reflect
Many reports will be reflecting on the past year for Elmwood. This is a link to the PJ Star article. One Year Later Wednesday, June 1, 2011 9:30 AM
CIProud Reports on Elmwood One Year Later
A report on perspectives as the one year anniversary of the tornado approaches.
Friday, May 27, 2011 8:35 PM
Tornado Recovery Appreciation Picnic
A celebration and thank you to all who helped after the tornado will be held in Elmwood's Central Park. The event will occur on Thursday, June 2 from 5:00 to 7:00pm. The community wants to thank all the first responders, clean up workers, and everyone who helped assist in the recovery process. The Elmwood Economic Development Association is sponsoring this event. If you would like to assist or need more information contact David Vaughan 742-2411(Country Financial).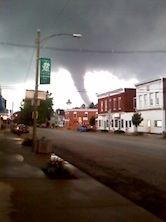 The devastating tornados in Mississippi, Alabama, Oklahoma, and Missouri have revealed nature's power to everyone once again this spring. Elmwood will welcome this opportunity to give thanks. Friday, May 27, 2011 9:57 AM
Camp Big Sky has many friends in Elmwood
Fishing tournament/fund raiser was where Camp Big Sky has become a highlight to many with disabilities in Central and Western Illinois. The Guidi Family have created a wonderful outdoor experience along with the help of many volunteers for many special needs campers.
"Sarah Kane of Brimfield, a freshman at Elmwood High School, boasted of her membership in the school's bass fishing club. She proved her credentials when she and partner Chad Cutting of Pekin produced four bass totaling 7.44 pounds, the highest total weight of the event."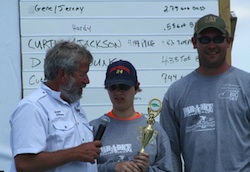 If you would like to learn about volunteer opportunities, contact Karla Kane through the Elmwood United Methodist Church.
Tuesday, May 24, 2011 11:50 AM
Elmwood Business Development Association
Josh Gibb from the Galesburg Community Foundation was the speaker for the evening. He discussed the structure of the Galesburg foundation and answered questions from those in attendance. I hope everyone on the Elmwood Community Foundation will watch these videos as we reevaluate our organization and mission. It was nice to be back in the Parkview. Other Photos
YouTube has a ten minute limit, I broke recording into three clips. Each video runs 8 to 9 minutes.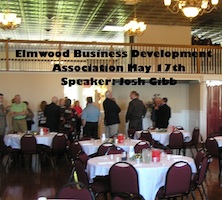 Youtube video one of presentation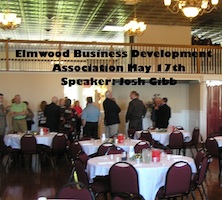 Youtube video two of presentation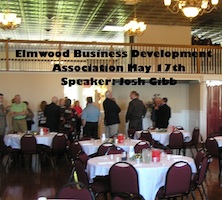 Youtube video three of presentation
We appreciate Josh Gibb coming to Elmwood. Josh Gibb is originally from Smithshire, so local boy makes good. This was a standard tag line to anyone getting noticed outside the community, whether it was simply in a man on the street interview, real life accomplishment, or an arrest. In Smithshire the old hanging out crew, sometimes called loafers, were not easily impressed.
Wednesday, May 18, 2011 4:02 PM
Stuff you May want to Know
J& G Cafe Open on Wed. Thurs., and Friday 11 AM to 6 PM
Hick'ry Stick Mobile Kitchen will open on Friday Night 5 to 7:30
Spare Ribs, Pulled Pork, Porky Fries
Pasta Salad, Coleslaw, Baked Beans, Fries
Strawberry Cheesecake
Memorial Day Service on May 30th starts at 10 AM
Video Documentary Team coming to Elmwood
Mt Rainier a prominent view from PLU campus in Tacoma Washington
Students from Pacific Lutheran University are in the process of finalizing their June travels. They will be in Elmwood on June 2nd, 3rd, and on Saturday the 4th. They want to talk with individuals about what happened last June in Elmwood. Their focus will be on how the town has bounced back or is still in the process of rebuilding. If you have any questions please let me know or contact Richard Taylor at the City of Elmwood.
Friday, May 13, 2011 10:58 AM
Nick Paige (Elmwood 2007) Featured as a Bradley Graduate
Nick graduated from Elmwood High School four years ago and now he is graduating from Bradley University. Nick was one of the students featured in this article published in the PJ Star. Bradley Graduates Look to Future Saturday, May 14, 2011 1:22 PM
Elmwood Development Association
Meeting on May 17, 2011 at 6:00 PM
Location will be the Parkview on East Main Street
$5.00 members $10.00 non-members
Speaker Josh Gibb of the Galesburg Development Group. Updates on efforts of the Elmwood Development Association will be a part of the meeting. Make reservations with David Vaughan 742 - 2411 (Country Financial) Friday, May 13, 2011 10:23 AM
Petersen Survey Form
Petersen Health Care is in the planning stages of developing a 32-unit assisted living facility in Elmwood, IL. These 32 apartments within the luxurious Assisted Living Community would provide all the comforts of home as well as health maintenance, state of the art security and a full range of care services. While living in a community such as this our seniors can focus on family, companions, leisure and activities. Services that are offered include; three chef prepared meals daily, weekly housekeeping, 24-hour response staff, building and grounds maintenance, laundry facilities, and so much more.



Please take this short survey to help us determine if Elmwood IL would benefit from a facility of this type.
You can mail the surveys back to Trish Stegall at 830 W Trailcreek Dr Peoria IL 61615 or call (309) 369-9414 for more information.
Baccalaureate Service Thursday May 12th
Elmwood area ministers organize an annual baccalaureate service. Elmwood seniors are invited to attend. It will be held at 7 PM in the auditorium.
Graduation on May 15th at 12:30 PM in the gymnasium. Elmwood High School's Tessa Copple received an honorable mention on the IHSA scholastic bowl All State team. Monday, May 9, 2011 10:32 AM
Downtown for Lunch
I went downtown for lunch today. It was sunny, but I took the carry outs home to enjoy in a more comfortable atmosphere. Besides, I had just made fresh coffee; unlike that which can be had anywhere in Elmwood. I had a beef brisket sandwich, fries (Nancy was still in Memphis), and cole slaw. The sandwich was very good, pulled pork is another choice both are priced at $5. Peach cobbler was a dessert option. Hickory Stick's menu offers many forms of smoked meat, fries, and cheese, all of these are important pieces of any food pyramid. The good food pyramid I promote. The Hickory Stick is planning on getting off the street and into the former Park view restaurant. At this point they are operating out of the mobile kitchen from 11 AM to 1:30 PM Monday through Friday. A terrific lunch, drop by if you are around Elmwood during the week.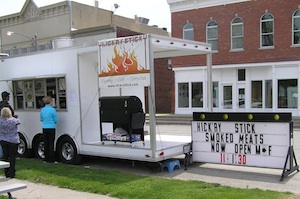 Hick'ry Stick Mobile Kitchen Facebook Page
Other Photos on Thursday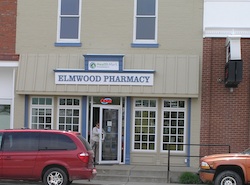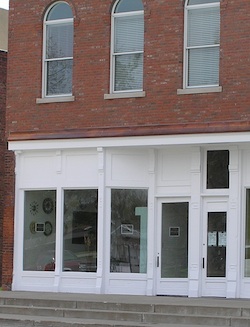 Elmwood Emporium opening soon in Elmnet's former office. I rented the office from January 2000 to June 2010, it took a tornado to clean out my clutter.
Thursday, May 5, 2011 2:49 PM
Want to help make Strawberry Festival a better event?
Funding is needed to bring an iron casting art foundry as an addition to the Strawberry Festival fine art festival. Elmwood Community Foundation has contributed $200 of the $1200 needed. Other organizations are being asked to donate, as well. If you would like to help contact, Richard Taylor, Recovery Coordinator. (More info on Art Iron Foundries) Thursday, May 5, 2011 4:31 PM
Faith in Action Sunday Spreads through Elmwood
On May 1 the United Methodist Church, assisted by 4 H, and others in the community tried to spread Christ's love by helpful acts. You may have seen people doing city clean up, dropping off cookies and May baskets, sprucing up city parks, washing cars, or other helpful acts.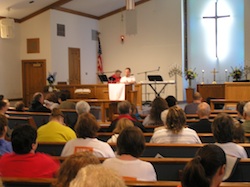 Getting started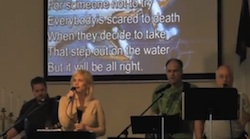 Music during short service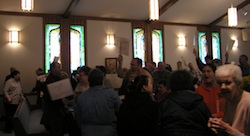 Setting Forth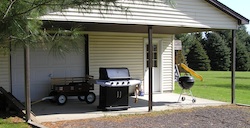 Ending as any good Methodist activity with food
Monday, May 2, 2011 8:48 AM
Petersen Group makes presentation at Manna Meal
April 28th at noon, the Petersen Group will be making a presentation at the Manna Meal in regards to the need of having an assisted living facility in Elmwood. The Petersen Group has been in talks for several months now and is interested in building a facility in Elmwood. Now they need to determine if the need is here. Please consider attending this meeting to show our support for the project. The initial estimate is a 2 Million dollar project that will also create jobs.
New Elmwood School Board Organizes
Tim Teel elected as the school board president. Four new members join the Elmwood school board. Tim Teel has served on the school board for two years. Remodeling of the school auditorium and repair of wind damage on athletic field were big projects during his first two years. Thursday, April 28, 2011 9:44 AM
Good schools may help prevent this: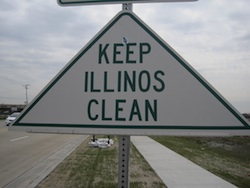 Although in an age where everyone relies on automatic spell check maybe not.
Good Friday Community Church Service
Combined service in observance of Good Friday will be held at the Elmwood UMC at 7 PM Service is coordinated by the First Presbyterian, Crossroads, and United Methodist churches. A choral number of the combined choirs will be presented. Music by Closer to Free (Christian Contemporary) will began at 6:45 as a prelude. Pause, reflect, celebrate this day. Friday, April 22, 2011 9:53 AM
Property Tax Bills are Mailed
Property tax bills have been mailed. The assessed value represents the 2010 value of the property and its improvements. Questions or for more information Click Here [Fair market value an estimate of the sale price of a property EAV the one third value of the estimated sale price.] Friday, April 22, 2011 9:53 AM
Senior Citizens Return
No, not in some annual migration ritual. Although, it is true, there is a species of seniors referred to as snowbirds. The Senior Center is now back as the building used to be, before the tornado. City Hall is now in use by police and other activities. A few good hearted volunteers moved the items kept in storage since June. Florence Cox had been hosting the seniors in her home, as well as, storing the center's items. Another step toward normalcy completed. Wednesday, April 20, 2011 10:18 AM
Andrew DeSplinter
2011 Heartland Hero
Lemonade for recovery. Watch this touching video. Heartland Hero

Friday, April 15, 2011 12:33 PM
Not in Our Town Movement T-Shirt
Orders for Tee Shirts need to be turned in by tomorrow April 14, 2011. email Colleen Karn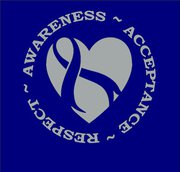 Orders for T-Shirts also accepted at Elmwood Elementary.
Wednesday, April 13, 2011 12:33 PM
This is something we should read, reflect, and pray about.
Reflections from Micki McCarthy
on an insensitive act of vandalism
It occurred to me tonight
Something occurred to me tonight as so many from the community were gathered at the park putting up ribbons and sharing support for one another and especially for the Hollis family. There is a person or persons, most likely from our community who may very well be shaking in their boots right now, thinking, "what have I done". And as terrible as their lack of judgement was in that one cowardly act of hate and violence (yes, it was violent in that it shook that dear family VIOLENTLY as they saw the vile threats towards their beloved children). I thought...is that person or persons life worthless??? And I felt God's still small voice shout a resounding NO! We are ALL precious in His sight. We are ALL in need of His grace, His love and His forgiveness. Justice will be served, and rightly so, but above all, GRACE is a free gift to all of us and one that is needed by all. Grace to move forward, grace to forgive one another and most importantly, grace to forgive ourselves.

So tonight, as I pray for my dear friends and their children for a peaceful night's sleep. I also say a prayer for that person or persons, that they will know they are not worthless in God's sight. They made a terrible mistake, but they are not worthless and "what Satan meant for evil, God can turn to good". Thank God He did not give up on us...God help us not to give up on each other. (posted on April 7, 2011)
Economic Development Council Update
The area once called Christy's Den is being rebuilt as Crusens continues to develop a location here in Elmwood. Work on this project had a tornado interruption, but is again moving along. The good news; while on a sadder note Elmwood has also been in news for vandalism.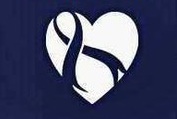 A facebook group and an effort to place blue ribbons of support throughout our community has begun in response to a senseless and clueless act. Ribbons available at Bees and Blooms Often rash acts done without thought to the lasting consequences do occur, even in Elmwood. Help shape this into a positive reaffirming response. Friday, April 8, 2011 10:50 AM
Bryan Davis wins race in Ward 1
Mr. Davis received 43 votes. Lester Atwood 31, Kenneth Howard, 14, THomas Ramsay 6. About 26% of registered voters voted.
Jeff Lampe and Robert Paige ran unopposed in Wards 2 and 3 and will represent those jurisdictions.
Elmwood School Board
Four elected of the six candidates: Dean Cantu 302, Veronia Haskell 309, David Ramsay 289, Ton Conklin 363, Teresa Osmulski 304, Tim Dwyer 279.
Wednesday, April 6, 2011 8:47 AM
Summer Reading Program Seeking Sponsors
Summer reading is trying to get under way for another summer. M&M Wiley Library with new none leaking roof wants to have a wonderful summer reading progam. You can participate in ways outlined in letter. PDF Copy
Contested Races and Candidate Responses
April 5th Write-In Cndidates
There are four write-in candidates for Morrison and Mary Wliey Public Library
These candidates are: Kim DeSplinter, Tom Herman, Monica Lampe, and Jean Ann Plym. Saturday, March 26, 2011 9:34 AM
Election Candidate Surveys
City Council Ward 1, Four running for one position
------
School Board six running for four positions
In hurry to leave for Omaha to visit my wife, I failed to correctly post the Elmwood School Board Questionnaire. I have the correct one posted now.
Friday, March 25, 2011 10:11 AM
TV 25 News Update on Elmwood Recovery
A news update on Elmwood recovery. Click here to story and Video
Rebuilding Business in Elmwood
Friday, March 25, 2011 11:16 AM
------------
Cindy Alcaraz honored by One Teacher at a Time
WEEK and HOI TV news have a program to honor area teachers. Elmwood Jr/Sr High science teacher Cindy Alcaraz received the award this week. The video of the profile is at this link One Teacher at a Time
The award comes with a $1000 for classroom projects. The effort to highlight our area teachers and their hard work, dedication, and commitment is good for the community.
Reynolds Theater Rebuild on TV News
Popular Palace story and video
Update on Palace
My nice neighbor was one of those interviewed.
Thursday, March 17, 2011 12:32 PM
On the April 5th Sample Ballot for Elmwood
City Elections on April 5th
CITY OF ELMWOOD FOR CITY ALDERMAN WARD I
(VOTE FOR ONE)
Thomas K. Ramsay Independent
Kenneth E. Howard Independent
Bryan S. Davis Independent
Lester C. Atwood Independent
CITY OF ELMWOOD FOR CITY ALDERMAN WARD II
(VOTE FOR ONE)

Jeff Lampe Independent
CITY OF ELMWOOD FOR CITY ALDERMAN WARD III
(VOTE FOR ONE)

Robert S. Paige Independent
ELMWOOD TOWNSHIP PUBLIC LIBRARY DISTRICT FOR LIBRARY TRUSTEE
(VOTE FOR NOT MORE THAN FOUR)
No Candidates Filed
Elmwood School Board Election
ELMWOOD CUSD #322 FOR MEMBERS OF THE BOARD OF EDUCATION
(VOTE FOR FOUR)

Dean Cantu
Veronica M. Haskell
David M. Ramsay
Tom Conklin
Teresa L. Osmulski
Tim Dwyer
Elmwood Summer Youth League
Baseball --- Softball ---- Ages 7 to 14
Teeball ------ Ages 5 to 6
Wednesday March 9th and March 16th from 4 to 6 PM.
Web Site ----- Tony Hart 309 712-3422

---------------------
Meet Elmwood School Board Candidates
Tuesday March 15th at 6:30 PM
At the Elmwood School Auditorium
Four positions are open to fill a term of four years for the Elmwood School Board
Candidates running are:
Dean Cantu
Veronica M. Haskell
David M. Ramsay
Tom Conklin
Teresa L. Osmulski
Tim Dwyer
On April 5th local elections for school board will be held at your precinct's election site. Everyone in Elmwood Township votes at the Elmwood United Methodist Church. Everyone in Rosefield Township at Rosefield Township Building on IL RT 8. City of Elmwood elections will also be held at the Elmwood United Methodist Church.
----------
Elmwood Elementary Kindergarten
Open House/Pre-Registration
Tuesday March 15th @ 6:00 PM to 7:30 PM
Elementary Office 309 742-4261
Tuesday, March 8, 2011 3:36 PM
---------------
Big Day on First Day of Outdoor Show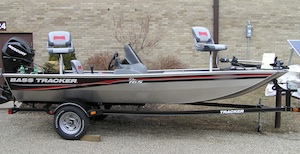 Bass Tracker displayed by Buell's Marina Canton IL
I guess there are two types of days. Days when you fish, and days when you think of fishing. As the snow flurries flew on Saturday; it was one of those days to think about fishing, while walking around the Elmwood All Outdoors Show. For the second year the halls and gymnasiums of Elmwood Community Schools were filled with fishing and hunting gear, deer mounts, and even morrel mushroom walking sticks.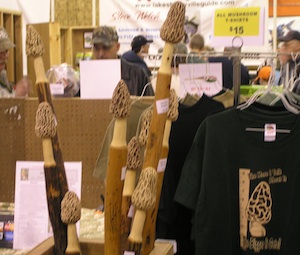 Morel Mania all things mushroom Magnolia IL
Moving around was done with caution as the many people milling, looking, and buying all in preparation for their future trip into the great outdoors filled Elmwood Community Schools. It was a good day to think of the outdoors and many children were catching real fish. Real fish always the best kind to catch, unless just talking in the bar about the big fish, then reality is not a consideration.
More Photos Below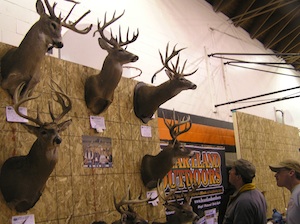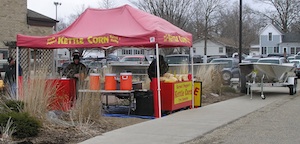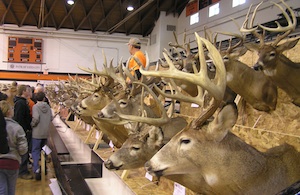 PJ Star Article on Outdoor Show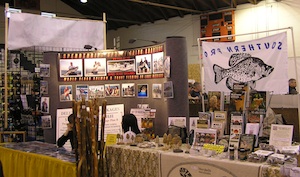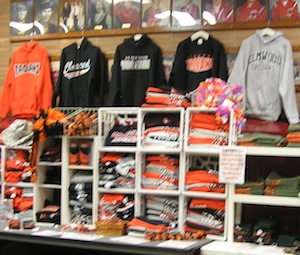 Can't leave Elmwood with out Trojan Attire Saturday, March 5, 2011 5:04 PM
Breakfast Events on Saturday March 5th
Breakfast from 6 AM to 10 AM sponsored by the EBBY Troop Care Box group. EBBY raises money to support their mission of sending care boxes to deployed service members from the Elmwood, Brimfield, and Yates City area. Location will be the Elmwood United Methodist Church (West Main west of Casey's) $5 adults 10 and under $3 Menu: Scrambled eggs, bacon, sausage, biscuits & gravy, sweet rolls, fruit.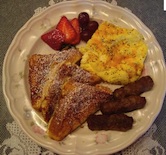 Biscuits and gravy from 6:30 AM to 10:30 AM at the Yates City Community Center. The Yates City Community Center is in downtown Yates City corner of Main and Union streets. Sponsored by the Harvest Home Festival Committee. Yates City is 2 miles west of Elmwood on Illinois RT 8.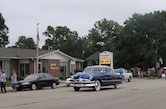 Main Street Diner -- Outdoor Show Special -- Saturday 7 AM
The Main Street Diner will open at 7 AM on Saturday March 5th. Elmwood appreciates the efforts so many have gone through to be good hosts. Thank you to the Pumphreys during this already chaotic time. Thursday, March 3, 2011 12:47 PM
Cafes in Elmwood Illinois
Geppetto's was closed for remodeling, Geppetto's will be open again starting on Thursday, March 3, 2011. Geppetto's is located in the 800 block of West Main just East of Casey's. Geppetto's will be open Saturday from 11 AM to 8 PM and open again on Sunday starting at 11 AM. Thursday, March 3, 2011 4:17 PM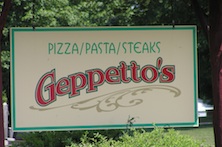 J and G Cafe is temporarily closed. Josh's Main Street Diner is now open. J and G's is closed because of a family health issue. Josh's Main Street Diner, long the home of Tastee Freeze, is located at the corner of West Main and Locust streets. Open 11 AM to 8 PM Monday through Saturday [[Homemade Tenderloins]] & Ice Cream
While doing updates on cafes, reports are Crusens are making progress, will open soon. (Magnolia and Hawthrone) Wednesday, March 2, 2011 4:02 PM
Help make the Palace Palatial
The Palace holds many memories and is a great asset for Elmwood. OK, palatial may be a little too grand a word, but new seats would certainly be welcome. You can do your bit to make Elmwood and the Palace a better experience. Share our stories, tell your own, add some money, volunteer some time.
Palace is being put back. I took some photos yesterday afternoon.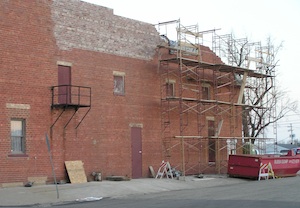 Wall back in place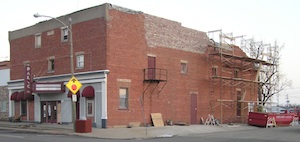 a great many things still need to be done
Continue to donate by buying a ticket to the Palace as outlined here. Practical Steps or again in Homeless at Christmas Buy a seat, a good deal for Elmwood, a good deal for you. Details at Save the Palace or Facebook page The Palace Theater Lives On Yes, tee shirts, promotions, and out right donations are all helping but now is when it is happening get involved.
I must mention, as I stopped to take these photos on way to airport. (I run a shuttle for my wife in her business travels.) As I was on the corner getting the shot two people allowed me time to take the photo by timing their crossing the intersection. Those considerate neighborly acts that are so common in Elmwood. I was very appreciative; Nancy was waiting.
If you have a Palace story or any other memory of Elmwood, I will be glad to help you share it by publishing it here. I can write it for you, record your voice, or record a video. These Elmwood Tales will be a great gift to future generations. Tuesday, March 1, 2011 9:21 AM
Mom's Squad
Mom's Squad is a group of young mothers sharing their experiences on Thursday mornings. It is held at the Elmwood United Methodist Church, but it is not a group of Methodists. Mom Squad has participants from at least ten different churches and some who belong to no church. Programs on different topics are part of Mom's Squad. The program on February 10 is Makeover Day with a presentation by Becky Hunt. Here are quotes from two of the participants:
"Being new to the area I have really enjoyed Mom Squad and the opportunity it has given me to know other women close by. It is a wonderful program!"
"I really look forward to Mom Squad meeting days. I can relax with other women who are going through the same things in life that I am. I leave feeling refreshed and ready to face the challenges that exist as a mother of young children."

If you are interested in learning more about Mom's Squad contact Lori Johnson, Emily Webel, or contact Elmwood UMC at 742-7221 or umc@elmnet.net
News Updates August to November
June 5th, 2010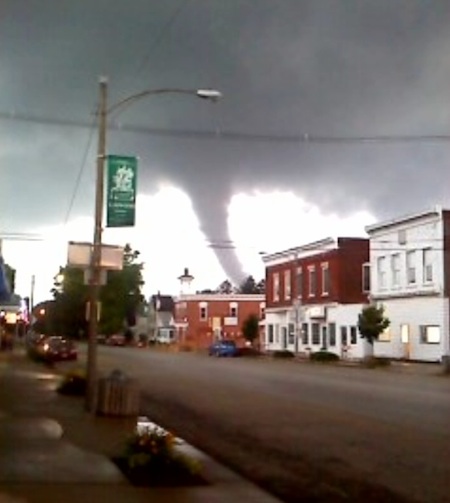 -------------