Clean up work groups will be formed
ahead of Fall Festival and as the streets open up to through traffic an effort to spruce up community will be organized. We will try to put on our best face for the outside world. If you are willing to help out, send email to me steve@elmwoodil.org or talk with Assoc. of Commerce organizers Pat McQuire, Denise Hotz, or Dianne Ladd. Wednesday, August 18, 2010 5:24 PM
John Hamann appointed by Peoria County
He will be the disaster liaison for Elmwood's recovery. Peoria County Disaster Coordinator Hamann served as a firefighter with the Pekin Fire Department for 22 years; eight years as Fire Chief. He also served as a senior fire science instructor at Illinois Central College and supervised the Tazewell County Hazardous Materials Response Team. Upon retiring from the Pekin Fire Department in 2002, Hamann became an enforcement and inspections officer for the McLean County Zoning Department. Most recently, Hamann served as Zoning Administrator of the Building & Zoning Department for Woodford County. Journal Star Wednesday, August 18, 2010 5:24 PM
Highway Repairs coming to Elmwood
IL Route 78 and IL Route 8 come through Elmwood as West Main and North Magnolia Streets. IDOT has road repairs scheduled for these routes. Patching and road surface preparation will begin in September. After Fall Festival resurfacing will begin; it will be finished by the the end of September. Traffic will begin flowing through Elmwood by September, so more good weather is needed to hasten repairs. Wednesday, August 18, 2010 1:07 PM
Celebrate Elmwood Foods Now Open
Now Open: shining clean with new roof, new ceiling, fresh paint, hard polished floors, Elmwood Foods is looking good and looking for you. Nancy got groceries there yesterday and I took some photos. I was in desperate need of half and half. There are those who would not put half and half in their freshly ground coffee, but they would not be part of the civilized portion of our population.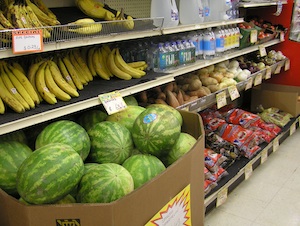 Melon Season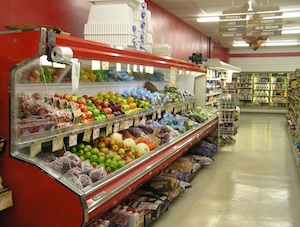 Produce and floors both shine
Meat counter and Deli area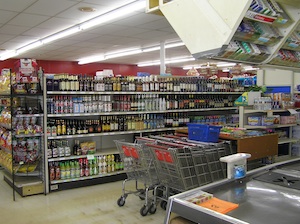 A cart is waiting for you come on in.
Help get a needed business get back in the black; I have never seen the store look better. Elmwood Foods reopen overcoming all obstacles to be here for you. Wednesday, August 11, 2010 4:21 PM
WCBU FM has local news on new web site
Business Owners Group Meeeting Tonight
The meeting tonight will be held at the library at 6 PM. Among the topics discussed will be having the business owners group join the Association of Commerce. This will unite efforts for recovery and strengthen efforts to promote businesses in Elmwood. Tuesday, August 10, 2010 1:32 PM
Support for Local People in Service
The ice cream social to raise money for our local service people has become an annual event. Held in conjunction with the summer band concerts it is a marvelous opportunity to add a small touch of home to our deployed troops. We at home eat cake and ice cream on a lovely Sunday evening while our troops risk their lives for us, an unequal sacrifice.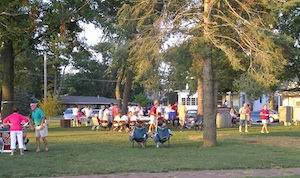 Aug. 8, 2010 Ice Cream Social at Municipal Band Concert
The last band concert will be held at the newly remodelled auditorium at Elmwood Schools. Aug. 15th at 2 PM the band will be a part of the open house. Details Monday, August 9, 2010 9:51 AM
Thanks to all you who came out on a Friday Night
We have started a movement to better inform everyone. Letters are going out to request cooperation from various entities. We are trying to use this web site and the Tri-County News as a public record. An example of the letter is on A Better Elmwood Facebook Group If you have an interest or ideas to share in any of the four topic areas please let me know. I work to put you in touch with those working on these project areas.
Public Meeting for Elmwood Renewal
A meeting will be held at the Elmwood United Methodist Church at 7:30 PM on Friday August 6th. The approved recovery plan will be discussed and strategies for economic renewal in Elmwood will be presented. Four committees will be established: 1) one to coordinate communication between all Elmwood groups, 2) one to research ways to make Elmwood a more livable community, 3) one to promote making existing businesses more profitable, and 4) one to market Elmwood and recruit new businesses. In listening to people these past two months I have learned that we share common goals, We often disagree while demanding the same results. A few will never be a part of the solution, but I believe 95% of us are seeking a common future for Elmwood, we mostly agree.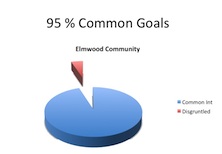 We need to establish formal communication links to end misinformation, overlapping efforts, or working at cross purposes. It has become apparent to me that no one entity in Elmwood is capable of doing this. We need to establish a committee of the whole. In our modern age we can create ways to unify the flow of information, but it won't happen without a structure to do so. This will be the primary objective of the meeting. We are now two months past the tornado and we still do not have an economic recruitment effort underway, we will correct that on Friday. Our decision makers need all of us to reach out to gather all available and accurate information to base decisions on. This will require our global network. Become a part of Elmwood's renewal. We all want to be a part of this and it will need all of us to succeed, at least 95%.
5 Priorities of Renewal (now with 7 topics)
Elmwood Auditorium Open House and Dedication
On Sunday, August 15, 2010 beginning at 2:00 pm an open house and dedication of Elmwood's newly remodeled auditorium, come out to participate in a great community event. This is a welcome opportunity to enjoy this needed remodel of the school's auditorium. Performances by the community band, a video of Elmwood's tornado and aftermath, followed by refreshments and an opportunity to browse and chat at 3 pm. The auditorium is used by both the school and the community, and was showing the wear and tear of thirty years of service.
Shopper's New Home
The Home Shopper and Tri-County News have moved into old lumber yard. Tannock's Shear Edge is in the old west looking building, the Shopper is in the the tan building. Tuesday, August 3, 2010 9:26 PM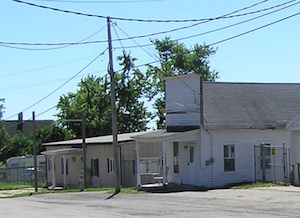 Shopper now on Hawthrone, across the street from soon to open grocery store.
Reynolds Theater & Americans with Disabilities Act
A large concern for all building owners trying to repair is what will be required to meet various building codes. Often mentioned with a tone of concern is the American with Disabilities Act and what may be required to satisfy that standard. The term reasonable accommodation is easily over looked, but sometimes it is a meaningful term. It appears a significant hurdle may have been reached in regards to the Palace Theatre. An agreement with an ADA representative in Springfield has been reported on the Save the Palace Theater Facebook Page The restrooms will not require accommodations that will prevent rebuilding the Palace. Tuesday, August 3, 2010 3:33 PM
Aug. 1st PJ Star Article by Steve Tarter
Proctor plans to have Elmwood office open by Jan 1st
Dr Baylor's office will reopen in Elmwood, plans were announced at today's news conference to remodel and be open by January 1. I took several photos at the well attended meeting at the Gazebo. Click to view several of the event and others from around town.
Dr. Hammond was recognized and everyone welcomed his attendance. Our local news outlets were there. On NPR, TV 25, and other outlets check them out to hear or see the conference. The Post Office is now open, Elmwood Foods is scheduled to re open on August 4th. The Brown Veterinary Clinic is temporarily open at 112 E Main ST, former Elmnet office. Hope rebounds. Monday, August 2, 2010 1:32 PM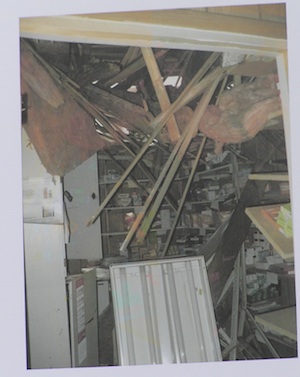 What the clinic found after tornado.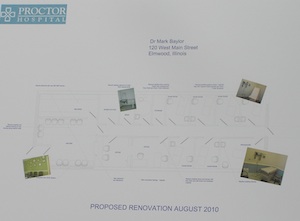 What Proctor and Dr. Baylor propose by Jan 1, 2010.
Emily Webel now a contributor on the Blogher Network
Emily Webel has a blog entitled "Confessions of a Farm Wife" her blog will now be a part of the the Blogher Publishing Network Emily her husband Joe and three daughters live on a gravel road hence her subtitle "The Good, the Bad, and the Dirty Truth about Life on a Gravel Road" Reach her blog through the Facebook Page Emily is the daughter of Ted and Janet Mottaz. It is good that her amusing and insightful blog will now reach a wider audience. We have other Local Bloggers, if you are one; and not on the list let me know. I will add a link.
10 AM at Gazebo on Monday
Mayor Hulslander and Recovery Administrator Richard Taylor are inviting everyone to come to Central Park at 10 AM on Monday Aug. 2nd. Proctor representative and Dr. Baylor will hold an informational meeting about their commitment to Elmwood and providing medical services in Elmwood. Please come out. Sunday, August 1, 2010 11:49 AM
More Demos Today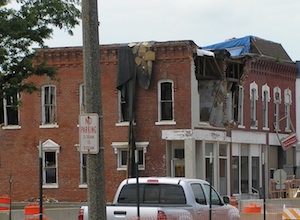 The Whitney and McGuire buildings are scheduled to be demolished today. The Main ST corners are growing empty. I have several stories and photos I will try to get posted over the next two days. Check out Elmwood Tales a new section being created as soon as I finish this post. Tuesday, July 27, 2010 5:22 AM
Video Documentary Project
Stephanie Colgan has been asked to put together a video of the Elmwood Tornado. You may have photos or video; you would like to include. If you have media and you want to make it available she could use copies on CD, DVD, or usb stick. Please make clear the authorship, so proper credit is given. If material is not yours get permission from creator.
You can get the material to me and I will help make sure Stephanie has it. Also if your photos are on some site like photo bucket or flickr just get the address to Stephanie or me, so they can be included. steve@elmwoodil.org Saturday, July 24, 2010 12:11 PM
County Board Meeting
Read from bottom up; it is in time sequence.
All Elmwood really appreciates the support of the Peoria County Board
I am on reserve battery so no more updates.
Item 3
Waive building code fees in some circumstances
15 to 0 in favor
---------
Item number 2 Voting
Substantial damage
15 to 0 in favor
--------------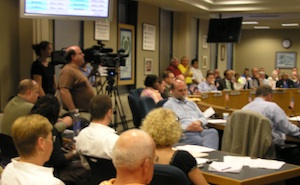 Matt Wahl answering questions
Building Code proposal on table
Expansion Enterprise passed 15 to 0
Voting on amendment expanding enterprise zone with coordinator or position.
Passed 15 to 0
Thursday, July 22, 2010 8:22 PM
Positive comments so far;
County temporary disaster coordinator to work with Elmwood be appointed. Tri county regional planning met earlier this evening, recommending including Elmwood in streetscaping funds and expertise to be used in Elmwood.
Speaking on all these resolutions.
Enterprise zone expansion first board topic.
His time has expired.
I think he is arguing that building codes will be weakened, but really that is not the case on the repaired portion of buildings. It would not change code compliance it would only change replacement cost in place of assessed value to determine application of the existing codes.
Arguing against building code change.
Bill Comstock is speaking business manager for sheet metal workers.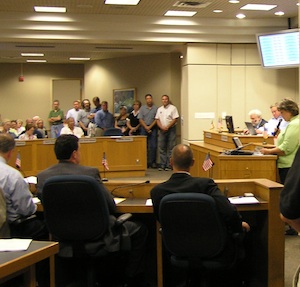 Mrs. Shoop just finished.
Kathy Shoop is speaking now
Air conditioning is insufficient as well. We are on 4th floor. Thursday, July 22, 2010 7:50 PM
Kathy Shoop will speak following Mr. Potts, she is building owner and Elmwood Township Supervisor.
addressing three topics
permit fees
substantial damage triggering code compliance
Enterprise district
Robert Potts is speaking on resolution before the board. Mr. Potts is the City of Elmwood's attorney. Thursday, July 22, 2010 7:43 PM
Bartello sworn in to vacant board position replaces Pat Hidden. now members present are 15,
we are reduced verbal roll call, electronics are stalled out.
Computer glitch is delaying things.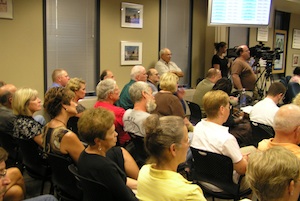 Meeting called to order, moment of silence for board member's mother who had died. Pledge of Allegiance Now onto consent agenda. 14 members present 3 are absent. Prather, Widmer, and Sous are absent.
I think we are looking at a good change to county building codes using replacement cost in place of assessed value on a building is undoubtedly a better figure when dealing with an old historic structure. Thursday, July 22, 2010 7:28 PM
Committee of board met at 7 PM, so they should be finished. I at least 75 residents of Elmwood are here maybe more, the visitor seating is overfull.
At meeting will update as events unfold. Visitor's section filled with the friendly faces of Elmwood. Meeting set to start at 7:30 Thursday, July 22, 2010 7:22 PM
Read from bottom up; it is in time sequence.
Update on Meetings
Attended business owners meeting last night. On Thursday July 22nd a special meeting of the Peoria County Board. Topic Elmwood Recovery Plan fourth floor Peoria County Courthouse at 7:30 PM. Peoria County Web Site
On Tuesday a grant hearing held at the temporary City Hall by DCEO Department of Commerce and Economic Opportunity,Tuesday July 27th at 5 PM.
--- Wednesday, July 21, 2010 11:44 AM
Stormy Seas at Vacation Bible School
Last night thunderstorms ran the high seas adventure aground, forcing planned outdoor activities inside. Still, although some of the sailors were disappointed not to get to games outdoors, the seasoned salts in charge of the sanctuary ship kept it afloat. They soon had it back under full sail. This has been an undertaking of Crossroads, First Presbyterian, and United Methodist, churches of Elmwood. All the pastors of the three churches have given greatly of their talents for this week, but Scott Livengood is truly remarkable in transformation of a worship space into an adventurous location.

Bow of the VBS ship WWJD Sanctuary
Thank you to the Livengoods, Lisa Roberts, Kris Petermeyer, and all the great volunteers that sailed this years vacation bible school onto the high seas.
Click for more photos Tuesday, July 20, 2010 9:38 AM
Recovery's Biggest Mystery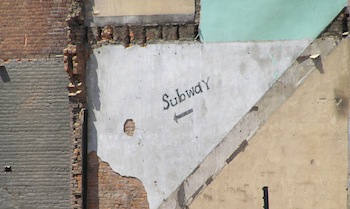 As the Fair Store was demolished this became visible on the wall of Horeb Lodge. So did Elmwood have an underground? Everyone thinks of New York City when reading the word subway, I suggested a passage for deliveries. Does anyone know the real story; was it a joke?
Cathy Windish's Big Decision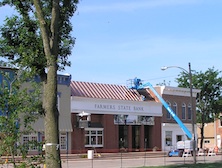 Charm Returning
Cathy Windish printed this thank you/memoir in the Shopper. In 1975 she faced a big decision. 35 years later, it looks like she made the right choice. Any typos are my responsibility as I retyped her letter.
Here's her story:
"To Elmwood and surrounding communities:
This week marks my 35th anniversary of coming to Elmwood. In 1975 I visited Elmwood the spring before my graduation from Drake University School of Pharmacy. I remember that day well because I realized, as Mary Lewellyn was giving me a tour, what a charming community Elmwood was.
At that time our class was being heavily recruited by a chain store (yes, it started with W-----), but that was not for me. Les Hiett, R.Ph. opened the 'welcome door' and because I immediately fell in love with Elmwood, I returned his call that evening. It was one of those huge decisions that was easy for me to make. All I knew was that it was great opportunity. I started working that July for Les Hiett and Jack Steer.
Now thirty five years later, I have been given new opportunities. Farmers State Bank relocated us within just a few days after the tornado. Fred and Pam Paige have been great to help us get our business up and running.
As I reflect back, some life altering event has happened to me every five years (i.e. 1970, 1975, 1980, etc.) Therefore this was the year for change and I have been very restless thinking about what change was in store. The prayers were answered, but with a huge price. We had outgrown our old location, but it took quite a jolt to move us forward. Now, we have drawn up plans for our new location which will give us working space, business and private consultation offices, and enclosed area for our compounding lab.
We are looking forward to this new opportunity for us along with the opportunities for our community. Elmwood was charming 35 years ago and it will return to its charm.
All the businesses are needed. There is NO business more important than another. We all need each other to survive. Let us all take the opportunities to make Elmwood strive. Opportunity existed 35 years ago and it still exists today.
Thank you for all of your years of support from the past and into the years to come.
Sincerely,
Cathy Windish, R.Ph.
Elmwood Pharmacy " ---- Elmwood Business List
Earlier Notice about Elmwood Pharmacy
More Demolition
Yesterday, the Elmwood Pharmacy and Fair Store were demolished. I took some photos of the new look. Click Here I just looked with a casual untrained eye, but the Masonic Building, home to J & G Cafe and the Post Office, looks to be in good structural shape. There is much repair going on as well, so now is a time of renewal, not a time to give up.
Community Relief Sale a Great Success
PJ Star Article on Relief Sale
The community relief sale earned over $7300 on Saturday. All remaining items were given to the Salvation Army in Peoria and South Side Mission. A great effort, with a good result. Donated items will continue to help others. Follow on Facebook Sunday, July 11, 2010 2:09 PM
Are you tired of the Tornado and the Recovery?
By September you may be ready for a break I discovered an interesting adventure. If you are of the age to have grandchildren a domed rail car was a part of your past. Domed rail cars and the era, of coast to coast or Chicago to coast, passenger rail has mostly gone. Here is an excursion that sounds like fun. Galesburg Register Mail You may have family in the Chicago area and could work this in as a joint venture. Hannibal Missouri and the Mark Twain site are about 145 miles from Elmwood slightly longer than two hours of drive time.
(The celebration in Hannibal is being called "The Year of Twain." "Join us in a 365-day celebration of the life of America's most beloved author," is the slogan posted on www.Twain2010.org)
Amtrak still runs everyday from Galesburg to Chicago and back. It is a very convenient way to get to Chicago.
If we are going to effectively use high speed rail, we need links between the Peoria Airport and O'Hare Airport. The airlines could run the trains. There would be connections to down towns from the airports. Peoria Airport could have more regional jets to Atlanta, Cincinnati, Kansas City, etc. The daily puddle jumps are fuel inefficient and often delayed. Caterpillar could build the trains. Since Mr. La Hood is transportation secretary Peoria might have a good chance of being listened to about a modern infrastructure improvement.
Try Henderson County
You may have never heard of the Hotel Lynn or Henderson County, but your family might find it a good get away. Sunday, July 11, 2010 9:30 PM
Bibo in PJ Star On Demo
Terry writes about the momentous day for Elmwood residents. Read it online
Friday, July 9, 2010 11:41 AM
Demolition Man
Below is a visual of walls coming down. The demolition phase of tear down during an overall recovery began today. I will be uploading a couple of photos in the next hour. Either before or after lunch, it is coming down whether I eat or not. A crowd was gathered cameras in hand; news people, downtown workers and customers. Dust flew as walls once strong were knocked down. No trumpets were blown before or after. Thursday, July 8, 2010 12:09 PM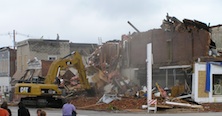 Talking Facebook Groups
It seems every thing under the sun has a Facebook group; yes I have started a few myself. Elmwood Fall Festival has had a Facebook presence for awhile. A quick way to keep up and comment on discussions. Thursday, July 8, 2010 8:41 AM
New Wrinkle for Band Concerts
Stu has emailed me a program for the next two concerts. I placed it on the server as a pdf. You should be able to open and print it, if you would like to bring it along. I also have a list of the members of this year's band, that Stu included. It lists the number of years the members have played in the Elmwood Municipal Band. I am unsure of its accuracy; Lee Miles is listed at 51 years, but I thought Lee was 135 years old and had played in the band for 115 years. Don't mention this to Lee. Thursday, July 8, 2010 7:27 AM
Cafe News
It will soon be a celebration as J & G Cafe opens a new phase in the life of the Tastee Freeze; it will become the Main St Diner. Menus and information available on their Facebook page. They intend to open again downtown when and if it is possible. It is a celebration but Elmwood does lose a great business member as Margie Beever has made the Tastee Freeze a great asset for Elmwood. She has been a great support through this crisis, thank her for her efforts. Thursday, July 8, 2010 7:55 AM
City Council Adopts the Plan
Plan presented has been accepted with modication that all repairs will comply with building codes as exist from Peoria County included as modified by the plan on page 17. I missed section stated. I think motion accepting plan was trying to clarify all repairs will be done to code. Any exemption based on portions of buildings not requiring structural repair. just my interpertation Tuesday, July 6, 2010 8:08 PM
Business Group and City Council
A meeting of the business group was held tonight discussing grants and county plan. Meeting adjourned. Many went to the City Council meeting at 7 pm. City council may adopt plan tonight. Some confusion exists about building code request. There are different proposals, but what business group seeks is if an existing building needs repair, but not replaced the new construction for the repair would meet existing Peoria County codes, while the part of the building not being repaired would stay as it currently exists. My old office would be a good example only the second story front wall is damaged. The rest of the office is untouched and needs no repair, so should new building codes apply to the whole building? These are technical questions, but very significant to how many buildings can afford to be rebuilt. Tuesday, July 6, 2010 7:29 PM
City Council has resolved to investigate expanding TIFF district. Adoption of Plan produced the County Planning commission is being discussed. City Council attendees are all sitting aroud the covered pool table which is a dominant feature of the small senior citizens where the city offices were moved. Tuesday, July 6, 2010 7:42 PM
Scott Hilyard Article in PJ Star
This morning in the PJ Star an article on Elmwood's recovery efforts. Elmwood recovery on the front page above the fold as the newspaper types say.
Recovery Plan Copies Available
There are printed copies available at Elmwood's banks and at the library. City Hall does not have copies for review, although it was reported that there would be copies at city hall. Miscommunication is still a problem, but we move forward. I have online version you can download, Here. It is a big file.
I have placed a pdf of recovery plan on server you can download it by Clicking Here. It was in landscape mode Adobe Acrobat should allow you to rotate image or you can print it off. It is a large file it will take a long time to download.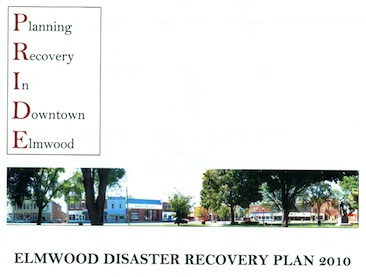 Elmwood about to enter new Frontier
SEC has approved the planned sale of rural assets from Verizon to Frontier. Elmwood would be one of those assets. I can't say I have found Verizon anything, but impossible to work with when they have problems. Their problems always become your problems. I have heard nothing good about Frontier from my acquaintances in Monmouth where Frontier has been operating for some time. Makes little difference what any of us think, so I guess hope for the best.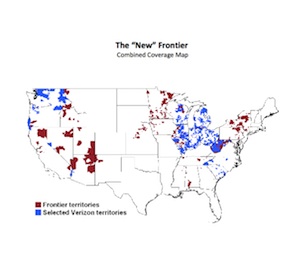 Business Group Meeting
I am in attendance; the meeting ongoing in vestibule of auditorium. It is very well attended. Ameren (efficiency incentives), Richard Taylor (FEMA info request on damage), and County Planning (reporting progress). Business Group will meet at 6 PM next week in meeting room set up outside the auditorium, city council may also meet at the school next week. Tuesday, June 29, 2010 7:47 PM
A Great Evening in Central Park
A large crowd enjoyed another Elmwood Municipal Band concert. Stu McKechnie was presented a plaque that will be attached to the Gazebo honoring his dedication having directed the band for 50 years. It was a fun evening that started out warm and muggy. It was cooling off nicely as the evening ended with the playing of the National Anthem. I have a few photos I may post, but my camera lens was steamed over for about thirty minutes, it was muggy. Article in PJ Star Sunday, June 27, 2010 10:18 PM

sunset at end of concert
Elmwood Pharmacy will Reopen in New Location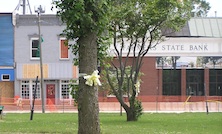 The upstairs of the building the Elmwood Pharmacy is currently operating out of will become the new home of Windish's family owned pharmacy. Front windows have been replaced other repairs continue. Remodeling will be going on for a couple of weeks, but in the near future everyone will be able to walk in the street level door. Nancy and I have always had a special connection to Shoe Box greeting cards. They are silly cards, with messages that are a little offbeat. Nancy, as women have a tendency to do, used to give them to me. When we were engaged and first married she would bring home Shoe Box cards to give me for no apparent reason. The Elmwood Pharmacy has always been my local source for birthday, anniversary, and Valentine's Day Shoe Box cards. When they are open and running drop in buy a silly card, then send it to an old friend, encourage them to support Elmwood's recovery efforts. Thursday, June 24, 2010 1:09 PM
A Shoe Box Classic
On Cover

------------------
Inside Greeting
"Each day I love you a little mower"

Library Runninng at Near Normal
Morrison & Mary Wiley Public Library
To park in front of library you do have to duck around barricade routing through traffic to use Lilac ST. Local traffic headed to Jordan's or the library can use the street. Even as I was driving around, yesterday, taking some photos; I had to untangle myself from a little traffic confusion. The library is open. Hours are: M, T & F 1:00-5:00 PM, W 9:00 AM-6:00 PM, Th 1:00-8:00 PM & Sa 9:00 AM-1:00 PM. Slowly, moving through the steps to normal all Elmwood residents must be patient. Thursday, June 24, 2010 10:14 AM
Business Group Meeting
I am in attendance meeting ongoing in vestibule of auditorium. It is very well attended. Presentations by DCCO (potential grants), Ameren (efficiency incentives), and County Planning (reporting progress).
Results from the follow up Survey Tuesday, June 22, 2010 7:09 PM
Questions about emergency warning system
A former resident who is involved in emergency warning systems has questions about our system. He needs some specifics I don't have.
I got an email from Don Lubar; I am going to reprint some of it. If you can help with his questions, he is also seeking survivor stories, I will put you in touch with him. Please send replies; I will forward them to him. just email: The Steve
Tuesday, June 22, 2010 4:43 AM
From Don Lubar:
I grew up in Elmwood and am really sad about the damage of the downtown. I am concerned and I am following your web page.
- I worked for Eddie Hahn in the Palace Theatre as a teen and my tenth birthday party was in the shelter at West Park. Like many people who left Elmwood after college, it has a very special place in my heart.
The fact that no one was seriously hurt or killed has a lot to do with the receipt of timely tornado warnings.

There is something that might be able to be done help protect other towns that are threatened by tornados.
And it is something that must be done this week before June 28th.

I am responsible for the radio frequency approvals for development of the nation's new weather satellite - and the commercial interests are trying to have some of the government radio spectrum sold that is used for
satellite warning of weather events.

There is a program called Emergency Managers Weather Information Service (EMWIN) that many civil defense and emergency managers use to receive warnings directly via satellite at 1.6 GHz. A low cost antenna and PC combination can be built for under $1000. Many counties, cities and towns, such as Elmwood (or Farmington, or Knoxville, or Peoria County ...) may use EMWIN to get timely warnings.

Some entities use this to trigger the warning horns. If the frequencies are sold for commercial wireless, this service will be worthless for emergency managers.There will be so much interference to the inexpensive receiving stations, that they are unlikely, in my opinion, to work.

Depending on the internet to receive these warnings in a timely manner is not reliable. Too much can go wrong.

My question, did Elmwood use the direct satellite feed to generate any local warnings? If they sounded the fire station horn, or specialized tornado warning horns, what did they use to trigger it? Or did Peoria County use the direct satellite signal to trigger warnings for Western Peoria County? If they did, please put me in contact with the emergency manager as I want to tell this story as part of a formal comment to the FCC to help avoid what could be big problem for many towns like Elmwood - as they will not have inexpensive warnings available for tornados (and hurricanes, and oil spills, etc).

The US Federal Communications Commission is taking public comments that must be submitted by the end of this week.

1) People who have been impacted by the tornado may wish to make a short public comment to the FCC see
http://hraunfoss.fcc.gov/edocs_public/attachmatch/DA-10-1035A1.pdf for details.The public notice request is attached. Put this on your web page and ask people to comment.

Dave Lubar
Aurora, Colorado PDF
Please steer me to the articles about the storm. I read one about someone that survived and lived on 2nd story above a Main St business. The heard the warning and had a bag packed.Call the chief meteorologist at all 3 Peoria TV stations. Ask them if the use National Weather Service warnings from EMWIN or other downlinks received directly from NOAA satellites to generate the warnings that display on their screens or trigger the warning.If so, please let me know and soon.I grew up on Dearborn St
Richard Taylor is the City of Elmwood's Disaster Recovery Administrator
He has been hired by the City of Elmwood to coordinate all the various efforts and interests to bring Elmwood back following the tornado. He is good person to be in this position; he reports that this is his official title. Monday, June 21, 2010 11:15 AM
Turn in Survey at Jordans Mobil Sunday June 20th
follow up survey due by 8 pm at Jordans on Sunday. drop by on way to band concert.
Scott Hilyard on Elmwood Recovery in S J-R
Scot Hilyard of PJ Star article about Elmwood Recovery Saturday, June 19, 2010 5:42 PM
Morrison and Mary Wiley Library
Library will be open on Friday from 1 pm to 5 pm --
Thursday, June 17, 2010 8:23 PM
A Follow Up Survey
A more detailed follow up survey based on responses from the first survey is now available. I will have it on line later tonight. It will be available at Elmwoood Community Bank, Farmers State Bank, and Jordan's Mobil. Surveys must be turned into Jordan's by Sunday evening 8 PM, just before the band concert in the park. Read through the options and participate in this important process. 323 surveys were returned last week a very good response. Don't be left out, make our community stand out. PDF Image File --- Additional PDF File Thursday, June 17, 2010 5:52 PM
Morrison and Mary Wiley Library
roof is being fixed today. Library will be closed on Thursday, as it has all week. Thursday, June 17, 2010 6:06 AM
Survey Summary
Over 300 surveys were returned. A document trying to categorize the responses and report the number of surveys that mentioned that category was prepared. The summary can not accurately report each idea. I know some of my own ideas look funny as one word categories. The County has recorded all the responses. Thank you to every one who has helped with this first step. Open PDF Wednesday, June 16, 2010 10:34 PM
Morrison and Mary Wiley Library
roof is being fixed today. It has been closed Monday, Tuesday, and Wednesday of this week because of leaking roof. Hopefully today will fix it and Summer reading and other programs can get back on track. Michelle is posting updates on a The Facebook Group -- A Better Elmwood An easy way to check if you are a user of Facebook. Wednesday, June 16, 2010 3:20 PM
Elmwood Foods, J & G Cafe, & Basil Harvest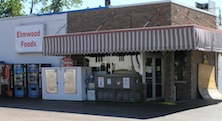 Elmwood Foods was not open this morning. I heard someone was working on issues to try and resolve situation. It seems issues to be resolved involve the health department. Building had roof damage, but structurally is cleared. Repairs were to be undertaken on it, last week. J&G Cafe in the Masonic Building is in good shape but block is not. Basil Harvest building out of commission for some time. I think solutions for all three need to brought forth. We need all these people. Wednesday, June 16, 2010 3:20 PM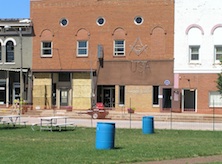 Business Group Meeting Tuesday 6 PM

Last night's discussions were about the County's requirements for building permit applications. Brad Harding, Peoria County Board member for our district, furnished a guideline for everyone to follow. Richard Taylor the City of Elmwood's recovery coordinator distributed and discussed the application process. Business owners were given a handout of the permit forms that included instructions.
Business group meetings will continue to meet on Tuesdays at 6:00 pm. Wednesday, June 16, 2010 7:51 AM
Elmwood Pharmacy Opens in Safe Location
Elmwood pharmacy reopens in a safe if not a permanent location. TV News Article about reopening. Deliveries between 2 and 4 PM for 65 and over and those with disabilities. Drop in, I mean stop by; another first step for Elmwood.
Surviving the Storm TV Special
I watched part of this special on Ch 19 at 5:00 PM; it will be on again on Ch 25 at 6:30 PM. There is a DVD for sale of the thirty minute special report, $20. Contact station for details. I found the radar images of the storm moving through from Abingdon to Edwards fascinating. There is an interview with an ugly guy from Elmwood in it, no not you Richard. Rebuilding after the Storm Many photos, you tube videos, and media reports have been available on the Internet this past week. If some one could archive and find a way to preserve them for the Elmwood Historical Society , I am sure your grandchildren would appreciate it. Tuesday, June 15, 2010 5:55 PM
Band Concert Back for the 151st Year
A muggy night greeted the people in Central Park as the Elmwood Municipal Band began it's 151st year of continuously performing music in the Downtown. The band performed last year's commissioned musical composition dedicated to the band. "The Pioneers" captures the determination of early settlers to make a home and thrive. Today we hope it will capture a determination to build a community back. Our young dedicated citizens determined to turn lemons into lemonade were there, as well. WMBD Radio covered this event and has this story on a night where normalcy began. PJStar
June 27th the band will honor director Stu McKechnie who is directing the band for his fiftieth season. A good night to coordinate fund raising for Elmwood and to celebrate the McKechnie's contributions to Elmwood. I have heard there will be cake, invite everyone you know. WMBD Radio story featuring Stu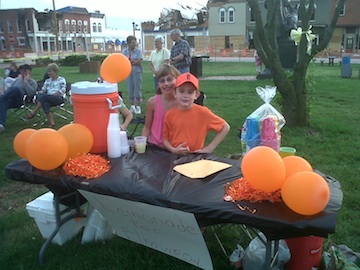 Peoria County Survey Please Return
Many volunteers walked Elmwood this morning trying to get all residents to fill out a survey for PeoriaCounty. It will be used by the planning commission. A good response number will help us in grant applications. If you did not get you can open and print this pdf. It must be turned into Jordan's Mobil by Monday AM. There will be survey collectors at Elmwood churches on Sunday. Click for Survey Saturday 06/12/2010 2:32 PM
Jordan's Mobil Reopened
I created a Business Celebration for those closed that are now reopened. We are also working on a master business list to update status of all businesses.

Six Year Old has idea Sell Lemonade
The DeSplinter family is raising a budding philanthropist. The young man saw a problem and devised a solution. He would open a lemon ade stand to rebuild his hometown. His family jumped in on the project and he even set a goal of $500. Help Elmwood and help a young man make a difference. Stop by 104 East Cypress tomorrow between 10 and 3 for the last day of the lemonade fundraiser they are over half way there.
Support a Project Coordinator Position
The City Council will consider hiring a project coordinator. I hope you encourage your council member to support this motion. We will either have one person in charge or no one in charge. Coordination and cooperation will be the key to a successful future for Elmwood.
Thursday 6 PM High School Cafe
Meeting of business owners. Peoria County has requested that we provide private citizens from the affected businesses to work with Peoria County in developing a recovery plan. People have been nominated, the group will be selected and forwarded tonight. Each member will be giving up the 8 to 5 work portion of their schedule for two to three weeks. These members will not be compensated; they are completely volunteer.
I am starting a new page called IS IT or Isn't IT?
The page will be list of events being held and those postponed or cancelled.
New Listing Page On or Cancelled
Meeting in Cafeteria Air On
One topic tornado event plan.
Wednesday Meeting Business Owners
A quick update continuing on last night's meeting will be held at school at 6 pm. It will commence in cafeteria and move to auditorium. It will have air conditioning. Only one topic will be discussed. Everyone is tired no one wants a long meeting, but we do need to update everyone.
Business Owners Meeting
Many ideas being addressed at Elmwood School 6PM
Many concerns expressed about the difficulties with County of Peoria's involvement some would say interference with recovery. I think some were ready for secession, but the better angels of our natures prevailed. Ideas are being developed to improve cooperation and partnership. Group is nearly unanimous in wanting every business to survive. Committed to finding ways and locations for businesses to resume operations. Group is nearly unanimous rebuilding should maintain the historic nature of Elmwood. Group wants to coordinate efforts to seek grants, planning resources, and cooperation of all parties with interests in seeing a new and better Elmwood emerge. Just a reminder to the Facebook Set join the Better Elmwood Group. Business Group will meet again on Thursday at 6 PM.
=======
Minutes of ECF Meeting on Monday

What you can do
If you are not busy with moving and repairing; there are things you can do to help Elmwood. Access to buildings requires waivers and there is a need to control the number of people involved in clean up. So simply volunteering to lift and carry isn't as much a possibility. There is a real need to gather ideas and plan a better Elmwood.
Please research other towns like Elmwood that have suffered tornado disaster. Greensburg KS and Parkersburg Iowa come to mind read about what they did. Utica Il also recovered from tornado. Keep in contact with the Elmwood Community Foundation. Think about the future, think about what would make Elmwood a better community. Stay involved with a community groups such as Kiwanis, a local church, or senior citizens. Our emergency and city officials have their hands full, and will need a break. Keep in touch my email steve@elmwoodil.org or join A Better Elmwood Facebook group.
Elmwood Future Meeting held at Elmwood UMC
A good meeting was held at Elmwood UMC sponsored by Elmwood Community Foundation. People are moving forward trying to plan a better future for Elmwood. Please keep finding ways to make a contribution in making Elmwood a better place. Stay in touch it is almost 2 AM. I think I have posted everything I was asked today. I will adding as information is passed along.
--------------------------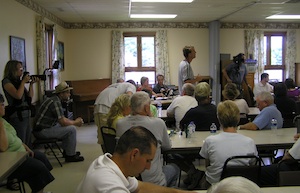 Access to Buildings Info
I am going to summarize the points made at the meeting this morning. I will state as accurately as I can, I may have heard something in error. I apologize in advance. Owners of building do have control of property and can accompany contractor or structural engineer without waiver. All others need waivers. Whitney and Potts is handling waivers for building entry. Here are the rules. The owner must first obtain a waiver. The owner can then allow tenants and workers to obtain a waiver. Waivers must be notarized; driver license required. Before entering a property you must report to fire department; when done you must return and report you have left property. Waivers are specific to a property. Whitney and Potts is open on at their office on West Main. Condemned buildings are more properly referred to as Uninhabitable.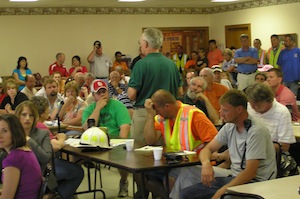 --------------------
Library lost roofing and has leaks
If planning on attending a library activity check for possible cancellations or relocation. Elmwood Library
Condemned building meeting at 10 AM
It will be held at Elmwood United Methodist Church, maybe this will lower the number of people who resort to colorful metaphors.
Curfew in effect in Elmwood started at 8 PM
This one is enforced by police, auxilaries, and national guard that will keep the rugrats at home.
There is an informational meeting
The meeting is for the owners and tenants of the condemned buildings in Elmwood to learn about the inspection results and options.
The informational meeting scheduled will not be held at the library. It will be held at either the Fire House or the United Methodist Church. An announcement will be made by 9:00 AM.
County Disaster Officer
Is denying owners access to buildings. Hopefully all work out overtime.
Downtown buildings being inspected for Soundness
Many may come down. I am afraid my office will be included.
Tornado goes through Yates City
Power restored except in Downtown
Power may be back in Elmwood downtown by Sunday evening. The buildings in the downtown will not; many may have to be destroyed. I am working on posting a photo gallery. Here is photo captured by Casey Conger. It is like last year's storm aftermath everyone is involved in clean up. Most people are better off than last year fewer trees down, elecricity working, but structural damage to businesses is significant most residences are undamaged or have minor issues. Better get to working on photo gallery. Storm Damage Photos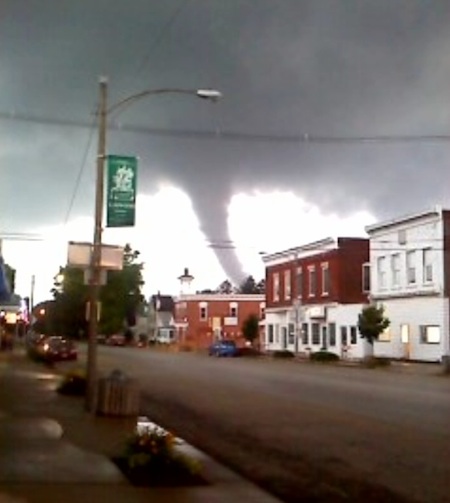 No Injuries No Fatalities
No Power --- No one gets into Elmwood tonight

Photo taken by Amelia Schultz
Storm Ends Strawberry Festival
Tornado did touch down in Elmwood. Alex and I saw funnel it touched down between Dearborn and High Streets. It took a path from West Park to the Downtown. I only have a few pictures to post it is dark and Elmwood has no power. I thank my mother in law for having foresight to buy generator.
_______
Karen Hudson at Borders
Karen Hudson appeared at Borders with author David Kirby on May 28th at 6 pm.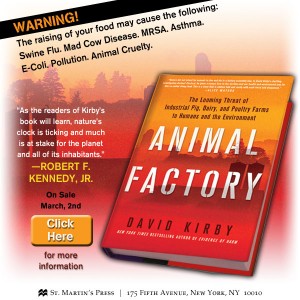 Karen conducts WCBU FM interview with author aired during the day of May 28th . Appeared in WMBD radio 1470 interview. Karen's is one of the stories featured in this book. Karen lives in Elmwood; she is a farm wife and an activist for responsible and sustainable agriculture.

-------------