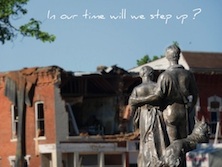 Elmwood Response?
Five priorities of a successful economic plan
1) Increasing profitability of Elmwood businesses
2) Twenty-first century business recruitment
3) Tri-generational sustainable development
4) Synergy in multiple economic enterprises
5) Raising Elmwood's standard of living
-------------------------
Long Time Coming
As I listened to John Hamman urge the public to become a part of Elmwood's recovery, I thought to myself a long time coming. Then Sam Cooke's lyric line occurred to me "it's been a long time coming, but I know a change is gonna come"
Last night (January 5, 2011) was the first time a public meeting had been initiated by the City of Elmwood or the Recovery Committee since the June 5th tornado. In fact public involvement has specifically been discouraged by those in charge of the recovery process. Instead of involving the public when a meeting could have filled the auditorium, a decision was made to wait for an appropriate time. It is now the appropriate time and enthusiasm will need to be rekindled. I know there are many roles that need the Elmwood community, even those living away from Elmwood, to participate in. I will describe a roadmap for this participation. Mr. Hamman is correct; we here in Elmwood have much to be excited about. We have many good pieces, but like a puzzle it will take fitting them together before we can see the whole picture.
I am going to engage in some criticism and those with an aversion to an open debate may take offense. I do not seek to cause anger, but initiate some reflection. These people after all are my neighbors and friends. Everyone in this process has had moments of frustration, leading to irritation. It is understandable, but it must not be allowed to limit Elmwood's future. It is a future which is greater than any of us envision; a future that we must focus upon. A vibrant future in our own somewhat pastoral setting. Elmwood's ability to possess the special feeling of a small, warm, and inviting town.
A large part of the future of Elmwood will be based on what we do in the next months. Decisions made now, will shape the future of Elmwood for several generations. They need to be made in an open and inclusive process. It was revealed last night in response to a question that the City of Elmwood is about to adopt rules and guidelines for downtown development. This will establish building standards, control the look and functionality of all future development. This should be done, but it should be done with public input. It was stated that it was to be acted upon at the February council meeting. This type of approach, we will do and you can learn about it later, is what dampens public involvement and hinders public enthusiasm. A closed method has often been used, but it is not one that allows Elmwood to achieve its greatest potential.
Last night, potential for business development was highlighted, but as we stand now, Elmwood has many empty buildings. Our lost businesses number five or six as best I can count. We have no new businesses, yet. One of the developments mentioned last night was described as including office space above a street level retail. What businesses would rent these spaces, what businesses will rent the existing spaces? All the potential development mentioned last night revolved around retail. It is collaborative creative business that Elmwood needs as I have outlined in the past. Elmwood offers these businesses profitability, a balance of a quality work life and a rewarding personal life. Businesses of the 21st Century pursuing markets beyond the city limits of Elmwood. Apparently strategies to attract interest from businesses such as these have not been pursued.
Plans to improve the profitability of our existing businesses may now come to be. Adding one retail business at a time will lead to one retail business at a time closing. Look at the failing malls, look at Roseville, or a hundred other failing small towns in Illinois. The office I stopped renting in Roseville when I began renting the office in Elmwood in 2000 has never had another tenant. Another need is a web presence for all of Elmwood's businesses. I offered to do this on the web site, but it has not been undertaken. Marketing the charm of Elmwood itself needs to be presented on this web site. I have a digital video cam and a good microphone to help capture the stories of current and former Elmwood residents. This needs to be done to illustrate the rich potential of living in Elmwood. This would be a great project in cooperation with our excellent school system. Marketing both our history and our future at the same time.
Review where our buildings stand in June and Now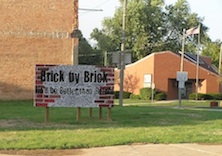 It is true Elmwood has some unique features. Any real estate property can have but one location. Elmwood occupies a good location with a strong history. Phelps Barn was a stop on the Underground Railroad. This community has preserved the barn. It would make a great site to host an art exhibit in conjunction with Strawberry Festival. The type of outreach activity outlined by Mr. Hamman last night. The Palace theater is older than Galesburg's Orpheum and needs to be incorporated into the community for more than just movies. Our Elmwood community, it is larger than the city limits, holds many talents recovery plans and projects need to incorporate them.
It is time to break our parochial outlook and align ourselves with the modern world in which we exist. I have advocated from the start the need to reach out to our global network and coordinate all public information and activities. It will allow for good planning, great contacts, and a proud future. Elmwood may now have the structure to accommodate the involvement that recovery in Elmwood needs. So with your help Elmwood can be a model for other small communities all over America. It has been a long time coming, but I know a change is gonna come.
At last night's meeting a request for input was put forward. What those working on the recovery process need to realize is, open communication means establishing a dialog.
You can make it quicker and easier all around, if you email them your comments, questions, or ideas. City of Elmwood Email Or you can hand write on the pink form handed out, if you want to be all 20th Century about it.
As always, I will be glad to publish your stories or thoughts on this site.
In case you've forgotten the Sam Cooke song here is a link to a video on
-------------------------
A Better Elmwood Facebook Group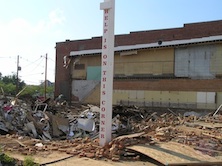 -------------------------
7) Connecting our global network
11) An Elmwood Plan
14) Long Time Coming