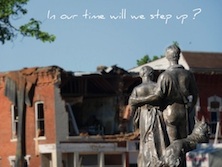 Elmwood Response?
Five priorities of a successful economic plan
1) Increasing profitability of Elmwood businesses
2) Twenty-first century business recruitment
3) Tri-generational sustainable development
4) Synergy in multiple economic enterprises
5) Raising Elmwood's standard of living
-------------------------
A Genuine Hometown
I have often referred to Elmwood as a Mayberry. Mayberry (The Andy Griffith Show) may have been on TV too long ago for some to remember. For a sit-com it did capture a realistic sense of a small town; a place where almost all crises are much ado about nothing. We are now facing a dilemma as to the future of Elmwood and this crisis is not much ado about nothing.
Mayberry is a good analogy of a small town for Elmwood, our on-duty police force is often one or two officers. I can assure you, we have no Barney Fife's, all our officers are allowed to carry a full clip. Elmwood could have faded into the past like the old prints of a black and white television show. The tornado in June has placed us on a path to recovery, our dilemma is which path should we take to recovery. Now, we can't be a cable network and just load up re-runs of the past. We must as a community decide which steps we will take to our future.
I think Elmwood needs to be a good home town. It needs to be more than a bedroom community, people who's lives are focused outside of a community do not build the spirit and pride a good hometown needs. We need a local economy that allows people to participate in work, leisure, shopping, and entertainment in the town they live. A good hometown provides good schools for kids, it also provides work experiences for young people. The experience in your past is what helps you get a job in the future. A good hometown makes it possible for people to live here all through their lives. It must offer enough services that senior citizens can find life livable in the community as well. Elmwood must provide a minimum level of services and economy must maintain a level of dynamism, or it will no longer be a genuine hometown. (We need a little growth, not sprawling growth.)
We can choose to build buildings or recruit jobs. This is our choice and it is not really a one way or the other type choice. We can do both at the same time, but we currently are not recruiting jobs. Recruiting jobs means recruiting people; every new family that moves to Elmwood helps make jobs possible in Elmwood. We need to recruit people who want to run their businesses here, as well. This is a double win, people who live here and hire others to work here. If we recruit people and businesses, then it will be easier to build buildings. I think we do need our historic look. Again that doesn't mean such development can't be modern and part of an overall plan. Also if we recruit businesses first, buildings can be designed to meet their needs. So, I think we need to promote ourselves, each and every day. I am willing to donate my efforts to organize our outreach to our global network. (Global network refers to one of my initial priorities) I think others will help as well. Not everyone has the time to give as I have been able to, but reaching everyone for a few specific tasks can make Elmwood a strong force in reaching out.
Since I moved to Elmwood in December 1997, Google was created with an original investment of $100,000 in 1998. Facebook started in 2004. Twitter started in 2007. iPod launched in 2001. DVD rentals overtook VHS tapes in 2003. USB drives first commercial sale occurred in 2000. YouTube started in 2005, and Wikipedia started in 2001. Wikipedia is the web site I have been looking all these facts up on didn't exist when I moved to Elmwood. Creative people and businesses need workplaces that allow them to concentrate on their projects in a non-stressful, non-distracting environment. Something working in Elmwood could provide. OK some are thinking my head is in the clouds, but actually cloud computing is the latest trend. I assure you there are businesses Elmwood could make more creative, productive, and profitable.
On a real practical note, Elmwood could create a business center for local contractors. A single center that helped maintain an office presence to help market their services. Many contractors are difficult to reach during business hours, and would rather not be reached. It is hard to work with two hands when one is holding a cell phone. Sharing an office worker to help them schedule, coordinate their paper work, and market their businesses. If you need work done, go into the business center. Potential customers will be able to find a local contractor for their job. Many businesses sharing one land line, one copier, one shared marketing effort. Other services could be located at this center, realtors, accountants, designers, installers, etc. We have many buildings that could become such a business center. This center could help businesses maximize the time spent in doing things that made them money. It would also be a great way to help promote new developments in our community.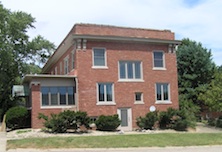 We need a business assistance organization to advise and help make any existing Elmwood business more profitable. It could be some type of nonprofit organization Elmwood sets up to facilitate business. It could be a volunteer organization. It could be under the ECF, Association of Commerce, or it could be its own entity. Sometimes an outside observer can help see an operation more clearly. While in the hectic ness of day to day business endeavors, an owner can lose sight of important details. We need ways to share expenses of keeping businesses open for longer hours. It is fine to say a small business needs to keep longer hours, but it may mean a family has to live in the store. I once heard of a young couple who loved to farm and were dairy people, this couple started a dairy business with no cows. They created a service to help run other dairy farms so these families could have a week end, a vacation, or some other time off from the constant demands of a dairy. They were reliable and hoped to make enough money to buy a dairy at some point.
I have heard it said when some companies have been asked to come to Elmwood, we were told no. I think we should start by listening to companies ask how they make decisions to open a business in community. We should use their expertise to try to rethink what we have to offer. If a retail chain won't open a store in Elmwood would they allow an order for inventory to be added to their volume buying. If an individual wanted to run a store in Elmwood, maybe a larger firm could help lower the price of the inventory. Many of our retailers can't buy product for the prices the mega-retailers sell that product to customers. We need to build connections and keep a dialog open to as many businesses as possible. We need to listen and learn the demands of these companies, we need to try and put strategies that will allow us to offer solutions to meet their needs and our community. Our community is small and resourceful. We are the ones able to be nimble, creative, and pragmatic.
It is important we work at this, because Elmwood needs to remain that genuine hometown, it has been in the past.
-------------------------
A Better Elmwood Facebook Group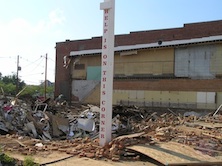 -------------------------
7) Connecting our global network
11) An Elmwood Plan