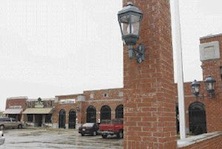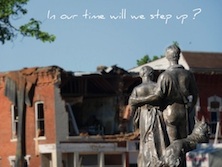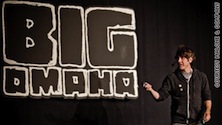 A Resource of Elmwood's People
What do I know that people who live in Elmwood will need in 2110? I know they will need food or at least want food. Maybe they will just get little tubes of nutriments, but I doubt it. Elmwood is an agricultural area, it has been since before the Phelps came and established a farm. We have the opportunity to become a local food center. It is not a fad it is a trend. The latest egg fiasco with the DeCoster owned egg facilities, only reinforces people's need to be in control of the food they eat. Elmwood is a productive area where settlers came and prospered by growing things. Quality, flavor, safety, and convenience are all factors in what people will pay for food. How far they drive, how loyal they will be in returning as customers.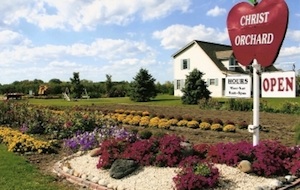 Food markets are something to serve our residents and a draw to attract people to Elmwood. Christ's Orchard is a good example of people coming to your store not taking the store to the customer. Why will people drive to Texas Road? The apples are good and so is the cider, and customers know in season they will have these and other products available. I do not know what percentage of Elmwood residents buy meat from the locker. I suspect it is not the majority of Elmwood consumers. There is nothing better than the locally raised beef and pork, they sell. They are also known for jerky and specialty products. People don't find the local meats where they are shopping, it has to be a separate trip. Our current store Elmwood Foods which is so needed is a limited supermarket compared to a Super Walmart. All three of the local food marketers compete against Super Walmart.
If the specialties of the these three local food marketers were combined in one location it would be a place where people would drive to. Farmers markets are great but undependable. If Elmwood had a center where small producers could bring produce to market, then allow an established business with regular hours sell it for them it would benefit everyone. If our schools did work coop with some of our gardeners and small crop growers; it would benefit more than just Elmwood consumers. We might produce a few horticulturists; more knowledge would be passed on to a new generation.

Washington Post article on Local Roots 1/3/2012
A new development ought to be an integrated local foods oriented market. The current store building would make a great Dollar General or similar store. We need an attractive modern development, something that captures the ambience of an open air market. An attractive convenient retail market for the Elmwood Meat Locker allowing them to concentrate their current building and time on producing their many wonderful processed products. Have you tried the bratwurst or hot dogs from the Locker? We will not buy any other kind of bratwurst for our grill.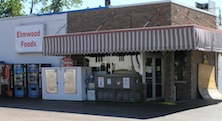 Study Other Recovered Communities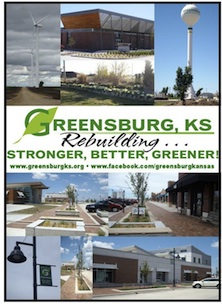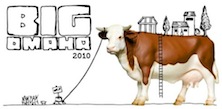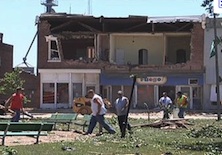 Yes, I miss it, but I am not looking back
I want to be a part of creating the best era in the economy of Elmwood. ever
So, I encourage you to participate in this second stage project. Elmwood needs your ideas, knowledge, and efforts. We need to put enough energy into this second stage project to give it the thrust necessary to put Elmwood in a stable orbit for the 21st century. Please join in this movement. Email me or discuss it on Face book.
Steve@elmwoodil.org

Family Trip Suggestions
This is the project that Basil Harvest would have participated in, but they felt new ideas were being excluded from Elmwood's recovery plans and committees. If an exciting project were to begin, maybe they would rejoin. Even if they didn't, we can find other partners. I have found the new owners and operators of Elmwood Foods to be very nice courteous people, who appear to be good retailers. They have been rode hard and put away wet by the health department, but the store looks good, now. Please go out of your way to support it. I know the Christs because their children and mine were classmates. They are very good successful business people marketing perishable products, we need to include their expertise in this project.
We need to look at our available spaces and see where we might find a good fit for this project. We need to open our minds to the future, not glue on the blinders of the past. Honoring the good traditions of our past does not prevent our making something that will be considered prescient by our grandchildren.
I believe this concept would work in Elmwood and other small communities around the country. Therefore a national or regional partner might be willing to participate in this project. It would not work in every small town, but would work in some through out the Midwest. It would help our promotion of Elmwood if we had such a local food center that drew outside attention. Especially in news and media outlets doing feature stories, Elmwood would benefit greatly from being the charming backdrop.
------
I meant to get back to this sooner, but I had to go to another township to do assessments, election judge training, and also those week end football trips. The trips to Wisconsin are great outings, only made better if Knox would win. I want to make a point directly, all our projects should involve ways for students in Elmwood to have part time jobs. Job experience can really help make a resume stand out. It will help students get part time jobs at college and summers, as well as, get started in their first full time job.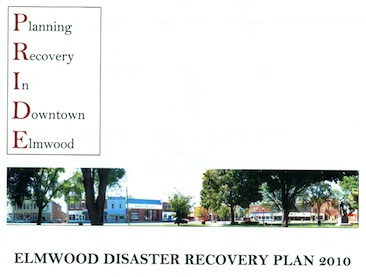 A Business Development Strategy
to Revitalize the Downtown Business District