A Resource of Elmwood's People
I don't want to just present a broad vision without concrete examples. In this recovery effort many will only get excited when something real is undertaken; doing something that will allow everyone to see progress. These are the steps we should undertake now.
I suggested in the first survey, one week after the tornado, a business we should recruit. I actually have an idea that might help them expand their business. Has anyone made an outreach to them, well no. Do we even have a plan, a group, a strategy to recruit high tech businesses? We need to send the right people to reach these businesses. Developing a plan, designating the right people to pursue it should be a our first priority. This is our most essential first step, and we need to access our global network to find the connections. Global Connections
We need as a part of our outreach strategy to improve the community web site, so that the site is our best ambassador to the outside world. We need to tell Elmwood's history, relate the life stories of our people, and offer a future that anyone would want to be a part of. As we start to do this I could use your help. Maybe you would like to write a favorite part of Elmwood's history, maybe you have photos. We need to make a full list of all our businesses and services. If you have just read about my trip to Washington, then you may have noticed I had a web presence for every business I mentioned. I could place a link to them. The Association of Commerce needs to create a membership list and ways that we can underwrite the minimal cost of this project. People used to drive through Elmwood and think what a nice downtown, stately old trees, and beautiful houses. The people we need to reach today will drive to our town on the Internet, so we need to make this as good an introduction as Elmwood is itself.
The Association of Commerce also needs to coordinate ways to keep our existing businesses healthy. This effort will be greatly aided by building a member list and getting a web presence for each business. There may be ways to help all businesses with cost sharing and cooperative marketing projects, but a group needs to be working on this. A group actively seeking ideas and implementing projects.
We need to get together as was suggested in my lesson from Washington. We need an overall plan; one to use in selling Elmwood to businesses that may want to be here. Possibly some current business could be better served by being part of a new development and their current location would better suit another business. We need a plan. We have to undertake a serious look at all possibilities, so we are prepared to reach out to businesses. Without a comprehensive plan we are fumbling around in the dark when we could turn on the flashlight we have in our hands.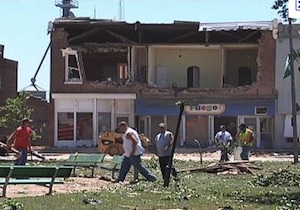 Yes, I miss it, but I am not looking back. I want to be a part of creating the best era in the economy of Elmwood. ever