Elmwood Community Foundation
An organization dedicated to helping people help Elmwood.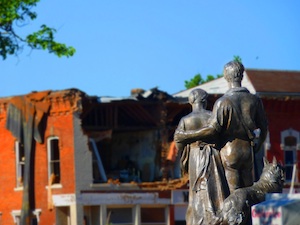 Pioneers Wait and Watch
How Will this Generation Answer the Challenge?
Tornado Recovery Meeting -- Minutes of Monday Meeting
Elmwood Community Mtg
Sponsored by Elmwood Community Foundation
Monday, June 7, 2010, 7 p.m.
United Methodist Church of Elmwood
Announcements:
No drop-off at Sweetwater Park for now.
Dusk to dawn curfew – no one in downtown buildings from dusk to dawn
ECF put together this meeting to give ideas to help Elmwood city Council in moving forward. Share ideas to help support the council and not to give answers to individual questions.,
Chart the course from here on in – from the school's perspective. Come up with a plan from the community abnd move forward. We don't have solutions but want to offer suggestions.
Pastor Mark Graham opened the meeting with prayer.
Ground rules:
We will try to keep the meeting to an hour and a half, getting as many comments as we can.
Give out contact information if you want to be contacted for future meetings
Put comments on the post-it notes.
Please be patient
Don't interrupt
Be positive
Try to honor everyone's comments
Update on current situation:
Heart goes out to everyone who lost a business
Law enforcement, IDOT, and other community fire departments
Kenny Blum from Ameren spoke:
Where do we start? Start with clean-up, so Ameren trucks can get to the alleys. Power was restored within 24 hours. Over 50 Ameren employees took part in restoring the power.
Gas leaks – keep everyone safe by checking the local businesses - a lot of gang meters were covered in debris. The meter would be shut off under normal circumstances – so much debris reqauired digging up the main line and capping it off. If gas needs to be back on, just call and they will get the gas to you. If the building is condemned, Ameren can come out Michelle and Sue explained the process used to shut off the gas. If the condemned buildings are restored, gas can be turned back on. Each issue needs to be handled separately. Contact Ameren if a building is going to be demolished – contact Kenny and Sue 888-672-5252 to call Ameren for service failure.
Tim Harms:
ESDA coordinator for the city of Elmwood. ESDA is no longer at firehouse 24/7. City Hall is temporarily going to be in the Senior Citizens Center, 200 block of S. Magnolia. Establish a place to go to for updates. Use the www.elmwoodil.org website to get updated information about the clean-up and restoration. Ask for a volunteer from the business owners. David Vaughn volunteered to get a list of needs and wants for rebuilding from the other business owners. We're all working for the same goal of restoring Elmwood. We are now pioneers trying to rebuild. Disaster areas in central Illinois include Peoria, Putnam, State of emergency in Elmwood. Federal agencies need assessment of need before declaring a disaster area ($16,000,000?) We could be matched with Streator to get federal assistance.
Vicki Turner is the Peoria County ESDA coordinator. State and Federal authorities have separate declarations of need for disaster relief. Send cost estimates to the city of Elmwood.
Be courteous with the people who are manning the barricades. Don't argue with them, because they're doing their job.
What can FEMA money be used for? Once a disaster takes place, document everything, including hours spent, etc. Once you reach the minimum amount of damage estimates, then funds can be released. Documentation is very important.
What is the timeframe for the city in terms of construction and rebuilding? The county is dictating some things to the city, like reopening the state highway. The buildings are declared uninhabitable – not condemned. This differentiates between demolishing buildings and restoring them. Work with the city on what small businesses need to rebuild. Form committees and come up with solutions to the problems.
Safety issues with absestos and lead dust? Required of contractors to assess the possible hazards and follow those rules governing the removal of hazardous materials, if those materials are present. This needs to be addressed – contractors should be responsible for this and not the property owners.
Most owners have caps on their insurance coverage. Building inspectors will assess before reconstruction can begin. Any special consideration? Codes must be followed, submit your plans, and build according to the plans. Kathy Lowder addressed the zoning issues. All the buildings are close together. Elmwood is in an RCC district in a tght business district. Submit your building plans to be evaluated for being up to code. With all the businesses so close together, there shouldn't be any problems with zoning.
Contractors will be working – give the city a copy of their liability insurance. State has declared Peoria county a disaster area and state officials will be in town tomorrow at 10:30.
Will you have to build to code? Yes, the buildings will be built to code – submit your plans, etc. Permit fees – there's currently no authority to waive permit fees. There may be a discussion on this issue at the county level. The county administrator has the issue of waiving permit fees on his desk.
Building vs. demolishing – up to engineers. The code says if the cost exceeds 50% of the tax assessed value of the building, all of it will have to be up to code. Links to information about codes can be found on the Peoria County website. You can order a code book. Engineers and contractors have this information, too.
If the buildings are rebuilt or restored, the county is concerned that the buildings are safe.
Will be a planner/reviewer team available to get the buildings checked? Only one planner and one back-up planner available, but the county will work to get this done as quickly as possible.
Deadline for assessments to be done? Is there a timeframe before the county comes in and condemns an uninhabitable building? The county wants to be sure the buildings are safe. The urgency comes from getting the buildings assessed and taken care of, so the highway can be opened.
Get a permit to access your business – controlled access to buildings. Safety is first.
Getting a building up to code now can be expensive. Meeting the code requirements may be too costly for the business owners. Get the business owners together and go to the county if buildings cannot be rebuilt because of the high cost of meeting coding.
PSA is willing to look at the buildings structurally for about $1500 or lower if everyone went together. Could get a discount rate if everyone had this done at once. This is an evaluation based on criteria – a neutral decision. This would be to assess for safety of human occupancy. Perhaps PSA could come up with a formal bid. Chad Anderson spoke for PSA. PSA has done historical restorations.
Priorities need to be set up and requests need to be submitted
The future of Elmwood:
Larry and Dave to get the business owners together.
Greenburg, Kansas was blown apart and rebuilt. Parkersburg, Iowa was blown away and has rebuilt. Elmwood is a retail center because of the farmers, their children, etc. This type of situation does not exist now. It is tough to make it as a small business in a small town. People come to town to see the movies at the theater. How are we going to plan for the future with a different model?
The block west of the park is probably not going to be salvaged. How can we build Elmwood to make it viable for the next 100 years? Most of the buildings on the south side can probably be saved but the buildings on the west side may not. Think about sharing costs with the other businesses, where people can gather, set the buildings back from the road. We need to do some planning. City Hall needs a place, a government section, a food section, incorporate the laundromat, the theater, etc. We need to find a way to keep the businesses in business while we plan for the future. If we want to market this town, we need to design a complex of buildings that is futuristic. Think about our ideas and have another meeting to discuss these ideas.
The library will not be able to hold the summer programs until Friday.
The township building was going to hold Camp Clover, but will be held in the Presbyterian basement.
The pharmacy is being run out of Cathy's home. Chiropractice office will be at the Crossroads Church.
This meeting is the first of many discussions that ECF is going to be holding. Chris Maur is the rural representative from Colleen Callahan's office. There is a low interest home repair loan available at 1% interest over 20 years. Facility loans are also available – perhaps with rebuilding the City Hall. Storm sirens, hospitals, city government or a non-profit would qualify. No grants available to businesses. Rural enterprise grant can be used for a revolving loan fund for businesses or streetscape work. This can be used to promote the business or nonprofit. Too late for this fiscal year but may be applied for after July 1.
Peoria county can loan up to $150,000 and based on how many people you can hire or retain in your business. It does require county board approval and is known as a gap loan.
Carol fromon Aaron Shock's office spoke. Congressman Shock was here today. There are very distinct processes that must be followed. The state has to make an assessment of uninsured damage before a disaster declaration can be made by the feds. It takes a while to complete this process. Carol encouraged our group to be in a very thoughtful process to get a plan and reach our goals. It was obvious that Elmwood city leaders had their "act together." Everyone was doing their job – ESDA director, mayor, etc. Put together a comprehensive plan to restore Elmwood. The congressman's office is available to help Elmwood in any way they can for the future.
Donations can be made at Farmers State Bank for use by the city. Donations for immediate relief can be made to the American Red Cross at 311 W. John Gwynn Jr. Ave., Peoria, IL 61605 with reference made to Elmwood's disaster relief.
Business owners and property owners can meet at 12 noon tomorrow at Whoppers to discuss their needs. Discuss what's needed to come back and bring it back to the next ECF meeting. We are the essence of Elmwood and we need to support our local businesses.
The school building is available to local businesses until August 1. Call the superintendent's office for more information.
If you call Dr. Baylor's office at the Elmwood phone number, it will eventually transfer to the Farmington office.
If you have an Elmwood post office box, you can pick up your mail in Farmington with a proper I.D.