Land of Lincoln Awaits --- to be found all around you
The Abraham Lincoln Presidential Library and Museum is the newest Springfield attraction. The museum can interest all ages and levels of enthusiasm. ALPLM is a wonderful facility and I still enjoy visiting there even though I have been several times. You can always learn more about our 16th president; even the stories that are not true tell us something about Lincoln. We are all about humanizing our great historical figures these days. Lincoln is revealed as both man and legend in the museum. It is the museum's intent to introduce you to the search for Lincoln, the debate over his legacy, and to present the great weight of the events in Lincoln's time. It was a great moment of crisis when America was still sorting itself out; America is always sorting itself out.
The museum is modern interactive, some thought too Disneyified, but I think not. Disney imagineers did help design the "Ghosts in the Library" and the "Eyes of Lincoln." Both good theater events which allow a few sitting moments. Each do tell the story of Lincoln in an interesting way.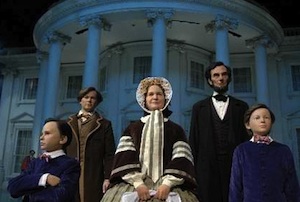 The museum tries to keep changing and provide alternative amusements. A small child activity area and a display wing that has a rotating collection add to the newness of each visit. The museum now has an attached Subway sandwich shop, better than the too institutional food service in place before. I have seen an exhibit of the dresses and fashions of our first ladies, Illinois agricultural history, and the evolution of democracy and free speech in the rotating wing of the museum. Three hours is the estimated time to allocate for a museum experience. There is a fee; details available on the web site.

Click to Read Next Page