Good Family Trips -- Gettysburg PA and Sharpsburg MD
combined from the relocated forces of his Peninsula campaign, the broken ranks of the Army of Virginia, and forces in Washington DC. A lost copy of orders detailing Lee's plan to divide his army was found by Union soldiers outside Frederick. These were placed in McCellan's hands on September 13th. One of many great civil war stories. Special Order 191
Southern politicians always harbored false hope that the citizens of states like Maryland, Kentucky, and Missouri were eager to join the cause, but when Confederate armies entered these states few rallied to the cause. Another unfulfilled hope was that a victory on Northern soil could lead foreign powers to recognize the Confederacy. Union morale was at an especially low point as the great promise of the 1862 campaigns had turned to defeats. A victory might force the North to negotiate an end to the war.
The Battle of Antietam occurred on September 17th, 1862. The 23,000 casualties of the battle have given Antietam the designation as bloodiest day of any battle fought in the United States. The details leading to this day and the events that played out over the battlefield are a fascinating story. The Battle of Antietam is always described as being fought in three separate battles one fought in the north in the morning (corn field), center at midday (bloody lane), and ended the day in the south (Burnside's bridge).The battle had many consequences; General Lee had to withdraw back into Virginia. McCellan claimed a historic victory. President Lincoln issued the Emancipation Proclamation, sentiment for recognition of the Confederacy in England and France faded. The war continued.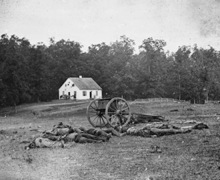 Dunker Church: photographs from the 1862 battle shocked the nation.

Click to Read Next Page