Fall Color Trip
All of the family trips could be Fall Color Trips, this one is to NE Iowa and SW Wisconsin. The trees in Wisconsin are just now changing, a little late this year. If you can take a drive over the next couple weeks, I have a few suggestions. It should still be beautiful, but picking the peak color week is tricky. Starting in Elmwood I have made time estimates and links so you can decide if you want to go to a town or not.
The first stop is Wild Cat Den State Park for lunch and to look at a grist mill. This is near Mark Kemper's family farm, so a personal touch for our Elmwood people. Google Maps from Elmwood through Aledo to New Boston and Muscatine then to Wild Cat Den estimate is 3 hours. Friends of Mill
Breitbach's Country Dinning oldest restaurant in Iowa in Balltown, near the Mississippi is 20 miles from Dubuque. Review If staying in the Dubuque area and it being baseball playoff time the Field of Dreams is in Dyersville.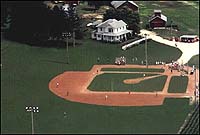 Field of Dreams Movie Set
The area of McGregor IA would be a good place to make a destination. It is scenic along the river with great views from Pikes Peak State Park location of ceremonial Indian mounds. McGregor- Pikes Peak- Iowa DNR- Discover McGregor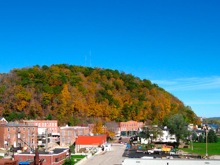 Bluff from McGregor Iowa

Click to Read Next Page