Good Family Trips -- Vicksburg and Shiloh
At Vicksburg Confederate artillery was set on high bluffs just where the Mississippi made a sharp bend. The bend caused river traffic to slow and gave the occupier of Vicksburg control of the river. As long as Vicksburg was in Confederate control commerce and military movement was blocked from reaching New Orleans and then to the open sea. By 1863 Vicksburg was holding a lonely position most everywhere else on the Mississippi was under Federal control, both above and below Vicksburg.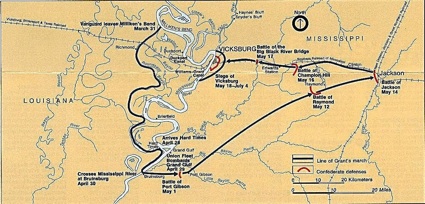 Map of Grant's campaign that led to the Vicksburg Siege
Alex and I drove from Elmwood directly to Vicksburg and then worked our way back to Tennessee, making tours of Shiloh and Ft Donelson. Vicksburg is almost 800 miles from Elmwood. The Union forces couldn't jump on the Interstate to Vicksburg so it took two years to reach Vicksburg and the secessionists were not into Southern hospitality. This should really be the Ft Donelson, Shiloh, and Vicksburg trip, but that is too long a title. In planning our trip I had trouble finding Ft Donaldson in a search, because it is Donelson. The courthouse monument in Monmouth (my home county Warren, the same name as in Vicksburg's county) that lists the battles of the Civil War where local men fought is misspelled. Sometimes you discover what you learned early on in life is inaccurate. The first battle field stop of this trip should be Ft Donelson, TN.
Ft Donelson is a beautiful spot near Dover, Tennessee. It is near the Land Between the Lakes area of Kentucky, about 400 miles from Elmwood. Ft Donelson was a very strategic victory for the Union. U.S. Grant had led a campaign to secure Kentucky for the Union and gain control of the Tennessee and Cumberland Rivers. Ft Henry on the Tennessee had been reduced by Union gunboats. The gunboats tried and failed in an artillery duel with Fort Donelson. The Union army moving the ten miles from Ft Henry to Ft Donelson would have to capture this garrison. Grant surrounded Ft Donelson withstood attacks and then attacked to gain an advantage of posititon to force surrender.

Click to Read Next Page