Biggsville Illinois --- Hotel Lynn
Off the beaten path a family could have a great time. Biggsville is certainly off the beaten path. I grew up ten miles from Biggsville and even I rarely went there. It is on US Hwy 34. I'm not making aspersions being from a town only on a black top. If you wanted a place with a little history, and the opportunity to have fun during the day and visit with family at night this should be a spot to consider.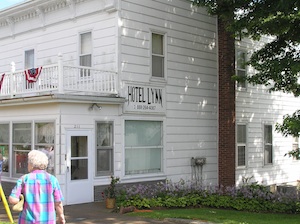 The golf courses of Western Illinois are usually lush and uncrowded. Hend Co Hills is at the west side of Biggsville. Fun City is in Burlington Iowa 15 miles west which includes crossing the half mile wide Mississippi. Across the street is the Horse and Buggy Museum and the Allaman Covered Bridge is over by nearby Gladstone. You could head to Oquawka IL (ten miles from Biggsville) where main street actually Schuyler St ends in the Mississippi River. You might think if you drove off into the river you would be the first. As Oquawka has always had a few bars I can assure you you wouldn't be the first. In the winter months bald eagles are in residence especially near Lock and Dam 18.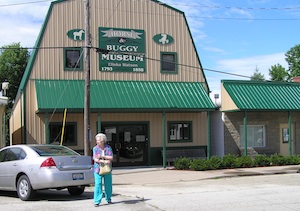 If you are into boating, fishing, golfing, picnicing and just knocking around Hotel Lynn would make a great headquarters. Here are some articles Galesburg Register and Monmouth Review Atlas about Hotel Lynn and Henderson County. If you have questions since I once lived a half mile from Henderson County I would be glad to help. just email: The Steve