Good Family Trips
Gettysburg PA and Sharpsburg MD
Two key battles of the Civil War in the East were fought at Gettysburg PA in 1863 and at Sharpsburg MD in 1862. The two battle fields are about sixty miles apart. The North named the battle Antietam after the stream they fought across; the South refers to the battle as Sharpsburg after the nearby town of Sharpsburg MD. Gettysburg is Gettysburg. Both battles result from the strategy of CSA General Robert E. Lee to move the war to the North after a series of successful encounters in Virginia. Lee's forces had turned George McCellan and the Union Army of the Potomac away from Richmond in the Seven Days Campaign a series of battles from June 25 to July 1, 1862. The results of the Seven Days left McCellan contained along the James River. A new Union army named the Army of Virginia moved into Virginia towards Richmond. Lee's Army of Northern Virginia met this Union force commanded by John Pope at Manassas the same area where the Battle of Bull Run had been fought in July 1861. This area is about thirty miles from Washington D.C. A decisive Confederate victory occurred from the Battle of Second Manassas fought from August 28th through August 30th, 1862.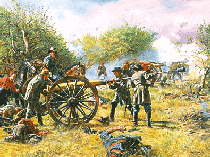 II Corps Commander Longstreet and staff, man battery desperate to hold the center of the Confederate defensive position at Antietam.
Lee wanted to follow up his success and the Army of Northern Virginia crossed the Potomac River and entered Maryland on September 3rd, 1862. As General Lee's army moved out from Frederick MD, they left an unintentional gift for the Federal army. McCellan was put in charge of the reassembled Army of the Potomac ...

Click to Read Next Page