On June 5, 2010 Strawberries turned to Tornados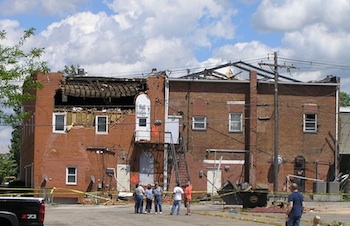 After tornado a new sky light was created
Jon Gallagher who now writes a column for GalesburgPlanet.com, at the time of the tornado in Elmwood was living in the building with the hole. Galesburg Planet is a successor to The Zephyr a now inactive publication since the death of editor Norm Winnick. Jon wrote two columns on the tornado's impact on Elmwood and his life. The first published by the Galesburg Zephyr and now re posted on Galesburg Planet. I was unaware of these when they were originally published. I wanted to make them part of Elmwood Tales. Jon's regular column is entitled Nothing Up My Sleeve.
Jon's Follow Up One Year After, June 2011 One Trip around the Sun
Nothing Up My Sleeve --- June 2010
Jon Gallagher
An overnight rain threatened to disrupt the annual Straw­berry Festival in downtown Elmwood, but by the time the sun was peeking above the treetops, Central Park was abuzz with activity. Orga­nizers went ahead with plans after checking the weather forecast which told them they had a beau­tiful day on the way with no threat of rain till later on in the evening. By then, the 2010 festival would be history.
This Straw­berry Festival was a little different from those in the past. The one day cele­bration is always held on the first Saturday of June in Central Park across from the business district in downtown Elmwood. This would be the first one since straight-line winds stripped the scenic park of 80% of its trees in June of 2009.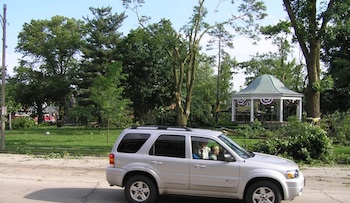 On June 18, 2009, around 4:30 in the morning, a major storm rolled into eastern Knox and western Peoria Counties. The vicious winds, clocked at over 70 mph, did the most damage in the city of Elmwood, uprooting some trees while snapping off others, peeling off roofs, punching massive dents in steel buildings and silos, downing power lines, and leaving the city without power for up to three days.
Mirac­u­lously, no one was injured in the storm leaving resi­dents to count their many blessings as they cleaned their yards of debris.
The storm stripped Central Park of most of its large historic trees. Many that were left standing were later taken down by the city to prevent potential injuries because the trees were listing to one side or had dangling limbs.
Resi­dents managed to recover from the storm of a year ago, and plans had been made to replace the trees in the park. Still, this year's Straw­berry Festival would take place in the near bare park because the land­scaping work had yet to begun.
Because of the threat of rain and the extreme humidity in late afternoon, atten­dance at this year's festival was down from the usual 5000 that it usually draws. Festival goers were still able to sample a wide variety of straw­berry treats including sundaes topped with straw­berries, straw­berry short­cakes, straw­berry pie, and the ever popular (and deli­cious) straw­berry pizza.
The cele­bration, including enter­tainment by area bands and dancers, had wound down by 7PM, and orga­nizers were taking down their stands and tents, congrat­u­lating them­selves on another successful year.
Little did they know that in less than an hour, their worlds were about to change dramatically. * * * Click Link to Finish on GalesburgPlanet.com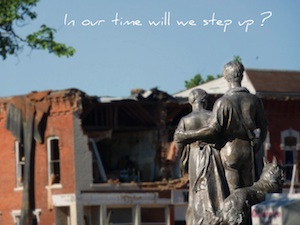 6) Silicon Prairie or They Will Come
7) Connecting our global network
11) An Elmwood Plan
14) Long Time Coming