Marriage and Family
I have been extremely blessed both by the family I grew up in and the marriage I have been priviledged to enjoy with my wife Nancy. Organization has become the biggest challenge on the web site. I decided this index will be the little lessons I write for the marriage encounter group, church, and family related essays. A little family history added in. My two sons Erik and Alex like to call me The Steve, so I often use that appellation. It has also been My Own Steve, Daddy Steve and Sashdamojun-Jebediah at different times in the past. I never demanded proper respect, I always knew I was loved and respected through all their ages and stages.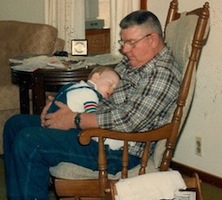 My father and my son both napping in 1986.
A New Life Begins has yet to be finished. There is no schedule as to when I add new articles.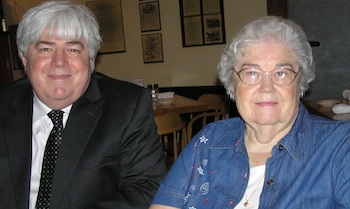 My mother and I in May 2010.
Three audio clips I recorded of a service of fellowship in Smithshire United Methodist Church
The One True Image of Christ is on the South Wall of Smithshire United Methodist Church
Steve Davis | Create Your Badge