Full and By - Sailing Large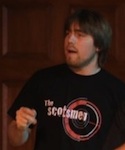 Were you on pitch? Did you match me?
Charting Life's Course in Scattered Words
Reflections on France
Travel Journal 1) The bitter coffee woke me up at least for a while, however, now that we are underway I find myself wondering if my initial apprehensions will come to pass. I am caught between social strata- not really one of the adults, but certainly no child. This comes with my age but is especially intense on this trip given my having taught many of the people closest to my own age. I am sure I will enjoy the trip either way.
The familiar landscape of Illinois passes by at a stately pace. The flat fields, humid air, wind turbines stretching to the sky. The drive is mundane- just like all the other trips to Chicago. I feel like this trip won't become reality until we touch down at Charles de Gaulle Airport. T-minus 10 hours to the City of Lights.

2) We had an uneventful stay at the airport. The in flight meal was fair. More than stereotypes of airplane food suggested. Alcohol was free, regardless of class, but was not plentiful. I had a small glass of Champagne before dinner. Fizzy and fruity with strong hints of citrus. With dinner a run of the mill merlot. Rather dull. Sleep seems doubtful at this time as we are rather cramped.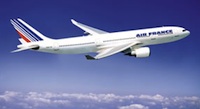 3) After a sleepless night we touch down at Charles de Gaul Airport outside of Paris. On our descent I am struck by the irregularly shaped fields of wheat, small vineyards and gently sloping hills pervading the landscape. One could easily picture our plane landing in Montana instead of Paris.
This illusion is short lived as we bank around on our final approach Paris rises into view and all at once the landscape is transformed from the rural agrarian, so familiar to native Illinites, to a sprawling metropolis. Of course from the air the City of Lights appears no different than the Windy City. We deplane and pass through customs without incident. While waiting for our luggage I observe the austere, modern architecture of the terminal. Very chic and modern, exactly what one would expect in France. We trek across a large swath of the airport to get to our bus, and along the way I note how the architecture changes. As we pass through the airport it is clear that with each addition a new architectural style was chosen without regard for how it fit with what came before or what would come later. This created the impression of a Frankensteinian amalgamation ranging from modern, white, and spotless to stately, old fashioned, richly stained wood paneling.
The first impression I get of the French was contrary to what I had heard. My stereotype of the French was a slow paced society. People who take their time and savor life, but this was nowhere to be seen in the people at the airport. Of course this may be expecting too much of even the most sedate people. Very few people can be expected to relax when worrying about delayed flights. However this was nothing compared to the traffic. The French drivers appear to follow no laws, no rules of the road. Cars zigzag through traffic and change lanes without the slightest warning making even riding in the bus a stressful prospect.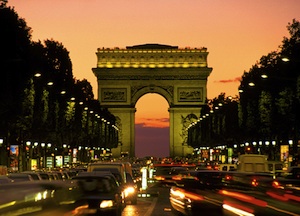 Champs-Élysées looking towards Arc de Triomphe
After arriving in our hotel we drop off our bags and head out to the Arc de Triomphe and then to the Champs Elysees. This was my first experience with the Paris Metro- a labyrinth of winding tunnels crowded with people. This was totally overwhelming. I live in fear of becoming separated from the group and wandering this subterranean maze for years- lost and alone. In the terminal a song reminiscent of carnival music furthered the illusion of a fun house gone mad. However, despite all odds I emerged unscathed.
4) The Arc is the center of Paris with roads radiating from it like rays from the sun or spokes from a wagon wheel. It is much larger than the Roman arches it was built in imitation of, but that suits its purpose as it is commemorative of Napoleon. Each face of the arch is effaced with the names of Napoleon's greatest victories and the commanders of his Grande Armée. Very impressive.
From there we were given our first moments of free time. We were to tour the Champs Elysees. Very reminiscent of Water Tower Place, Elysees is crowded with upscale shops running down both sides if the grand boulevard. I stuck close to the Broadway/Meyers party for two reasons; first, they were bound to eat someplace delicious; and second, I was in no way comfortable navigating a restaurant menu without the assistance of an expert.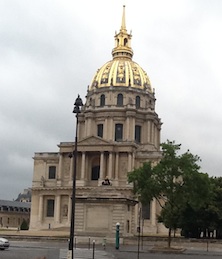 EriK iPad Photo
We walked for a short time, and being hungry stopped at one of the first café's we came across. The Broadway's had dined there before. "Good," I thought, "this is bound to be good." While a little on the pricey side it was reasonable for the location. I had a croquet payan, a distant relative of the grilled cheese, and a salad with water. Note: always specify you want plain tap water because otherwise you will be served bottled mineral water. After paying six and a half Euros (nearly $12) for my Evian mineral water I kept the bottle. The rest of my meal was only nine Euros. The croquet payan was served on 'black' bread, which despite the nomenclature was white. However the bread was amazing- with a very thick, savory crust and a soft center- it was the perfect texture. After dining I was given the okay to wander off by myself, given I was an adult and ostensibly could be trusted to return on time.
After some thought, I determined shopping held little interest for me and set off down the causeway headed for the square at the other end of the street. This square is home to many government buildings and museums such as the "Grand Palace;" sporting the largest glass roof in Europe, the French naval academy; not surprisingly located 200 hundred miles from the nearest body of water; and a golden tipped obelisk marking the location where thousands were guillotined during the French Revolution. At this point I had only 45 minutes to walk there and back. I walked, almost at a jog, for nearly 30 minutes and didn't quite get there before I had to turn back. This suggests the scale of these grand boulevards designed under the reign of the last French Emperor Louis-Napoleon to beautify and modernize the city- and to appease the infamously capricious Parisians.
After quite a strenuous walk I made it back to the meeting point on time. We boarded the metro, which even after the previous exposure was nerve rattling, and returned to the hotel for a much welcome nap.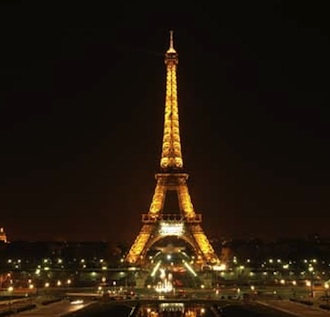 Elmwood French Club trip starts in Paris staying near Eiffel Tower
5) I made it down to the lobby to go to dinner feeling refreshed and famished. We walked a few blocks to an intimate bistro where our group was to eat. Instead of ordering off of a menu at dinner everyone receives the same food and everything, excluding alcohol, is paid for. We were served a traditional, summertime salad of tomatoes, mozzarella cheese, olive oil, and basil. The tomatoes, while not home grown (one of the few things money can't buy), were still surprisingly fresh. The flavors work together perfectly making for a lovely, refreshing ensemble. The salad was accompanied by fresh baguette the ubiquitous, crusty yet chewy French loaf. This was followed by the main course, which was intensely good. It was beef served beneath mashed potatoes with a sprinkling of cheese on top. The beef was tender, juicy and seasoned with garlic and other spices to make zesty and perfectly compliment the more savory flavor of the potatoes. The best part was that we could have seconds! Finally we had a raspberry pastry for dessert. But lest I forget, I also had a very good, yet inexpensive, wine. It was a local variety that I had not had previously called Cot du Rhone. It reminded me of a Pinot Noir- smooth and light and delicious. After returning to the hotel most of the group walked down, only two blocks, to the Eiffel Tower. It was most impressive, quite larger than I had imagined. Underneath the tower is a massive square which is populated by equally massive numbers of tourists and Africans selling miniature Eifel Towers. "Bling, bling! Two euro! Five for one euro!" Unfortunately these street salesmen are as ubiquitous to Paris as charming street corner café's. After walking along the Seine and watching the sunset (at almost 10:30) we went back to the hotel. Finally I would get some much needed sleep.
6) Wake up call was set for 7am... Far too early. However it is Paris and you can sleep at home. Or at least that is what I tell myself when I am tired during the day. Morale is great and most people have gelled into groups- often people span several. Everyone is getting along, fitting in somewhere and having a great time.
7) This morning we are to take a bus tour of the city. Highlighting the many architectural wonders, artists' masterpieces, and historical sites throughout the city.
Our tour guide, Fredique or Fred, was wonderful. She was extremely well informed and never let the ride drag. Always filling the inevitable stops for traffic with interesting information, a personal story, or a song.
We stop at several places for pictures, but the tour left me feeling depressed. There is no way to see even a small portion of the things I want to see. The tour ended at Notre Dame which ironically is rife with pickpockets. The cathedral is immense and wonderful to see from the outside, but was disappointing overall. Inside it is very dark, and while there are dozens of amazing paintings- none are labeled.
After my trip through the church I went to eat at the Café Quasimodo. I had another croque moussieur with salad and fries- and this time I remembered to ask for tap water. The meal was good and the conversation engaging. After we finished eating we rushed back to the bus to head to the palace at Versailles.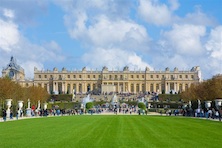 8) Versailles is amazing. The grounds and buildings are remarkable for their level of opulence. Each room in the enormous palace is festooned with priceless works of art, gold filigree, and ancient furniture. It only serves to make Versailles even more impressive when one takes into account that the many of the palaces most impressive and outrageous features were vandalized or pillaged during the French Revolution. Louis XIV moved the court out of Paris after seeing the magnificent gardens of another of the European monarchs- the Sun King was not one to be out done. Versailles exists today as a symbol of the excesses of monarchy, and especially of Louis XIV. However, no one approached Louis the XIV's grandson Louis XVI along the lines of excess. It was hard to believe all the things I heard about the excesses of Louis XVI. For instance, one of his favorite past times was eating until he puked. An average dinner for him was astonishing to hear about with gallons of wine, an endless progression of courses, and hundreds of side dishes. After a walking tour of the palace we took a biking tour of the grounds.
I was quite worried about how effectively I would be able to ride a bike. It has been many, many moons since I last rode any significant distance on a bicycle. I used to be an avid bicyclist, and channeling those feelings I started to carefully select my bike. I was amongst the first group to pick, and while I was examining the tire pressure, the height of the seat, etc the purveyor of the bikes was becoming rather impatient. He encouraged me to, "Just pick one!"
Now in my defense, I was a bit frazzled by the whole experience so I bumbled my way out of the bike paddock onto the trail. While trying to juggle my backpack, hoodie, and various other accoutrements I contrived to send the bike tumbling onto Liz- luckily she managed to evade the worst of it. While Liz held my bike I managed to secure everything and I was ready to depart. My bike didn't have any gears, but even so it seemed rather hard to peddle. I was lamenting how out of shape I was when Liz pointed out my kick stand was still down. So I hopped off the bike kicked the kick stand and once again I was off like a herd of turtles. Liz, Emma, Jess, the Meyers, and I were riding along at a leisurely pace when we came upon a crossroads. I stopped my bike to wait for everyone to catch up so we could decide which way to go. I was looking back at everyone, but everyone else seemed to be yelling something at me. I couldn't quite make it out, and just when comprehension was starting to dawn on me I heard the squeal of a car horn. Oh my, I had stopped right in the middle of one of the few driving paths at Versailles, and a car was waiting patiently for me to remove myself and my conveyance from the path. To be fair the car and me sitting on a bike were roughly the same size, so I would have likely come away from an accident without injury. I quickly peddled out of the way, and to my surprise everyone else found this whole series of events quite amusing.
Despite the rather inauspicious start, I found the experience to be very enjoyable. Riding a bike came back to me just like- well just like one would expect given the axiom. And soon I was riding like an old pro, and found I still enjoyed it tremendously. The grounds are expansive immaculately cultivated and landscaped to geometric perfection. Riding along the various trails and never coming near the edge of the grounds drove home just how large these gardens truly were. ---
Steve Note: Erik said he would finish later -- au revoir for now. Erik says there are many photos of the trip on Facebook. Erik is not my Facebook friend, my sons refuse parents, if you have photos from the trip and send them to me I will inset them.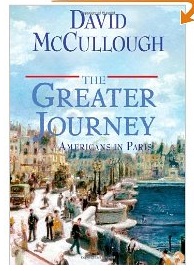 Amazing 19th Century Americans have life changing experiences in Paris.
If you are fascinated by early Americans in Paris, you will enjoy this new book by David McCullough.