Our Minister was gone and I, as one of the local lay speakers, was asked to fill in. After three Sundays discussing families and the book The Three Big Questions for a Frantic Family I wanted to followup with thoughts on making a fulfilling family while acknowledging it will be frantic at times. I used Luke 2 v 41:52 as my scripture base.

Turning the Frantic Family into A Fulfilling Family
I wanted to follow along with Mark's topic of the last three weeks about frantic families. So what is the goal after identifying your uniqueness, discussing your rallying cry, and holding your feet to the fire? It is after your children are grown and you are left looking at the old photos, the left behind school mementos, wondering what you are going to do tonight since you really have nothing to do or anywhere to go -- It is at that point in your life you will feel fulfilled. It needs to have been worth it, because it certainly is a lot of work, it is frantic, and it will all be over too soon.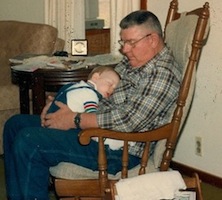 Possibly it helps to control the frantic family syndrome, if you start out life with a family that is more relaxed.

Click to Read Next Page