Info During Recovery
May 9, 2013 7:40 AM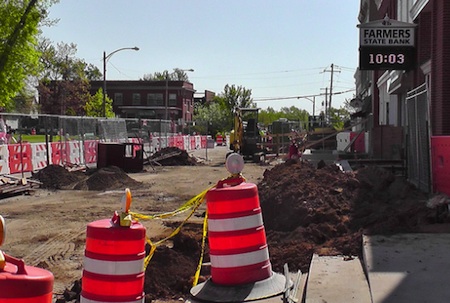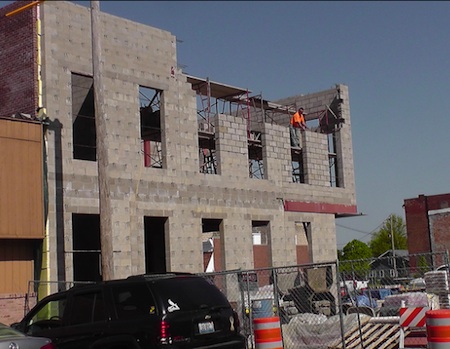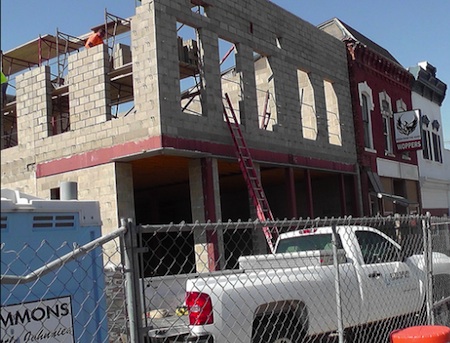 Thursday, May 9, 2013 7:47 AM
New Year's and New Construction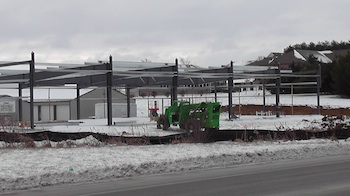 Dollar General across from Caseys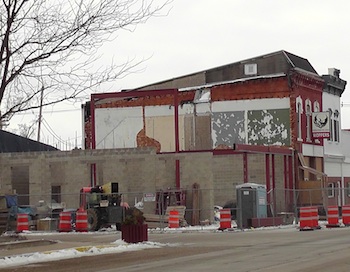 Whitney Building going up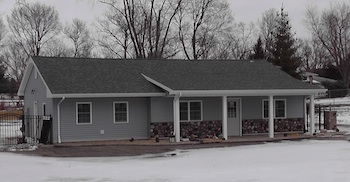 Former Geppetto's soon to be a landscaping and garden center
----
Peoria Magazine Features True Value
Whitney Block Progress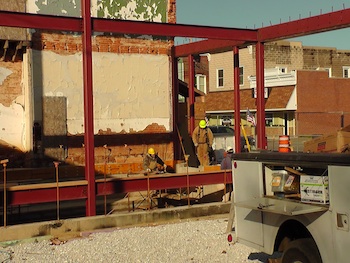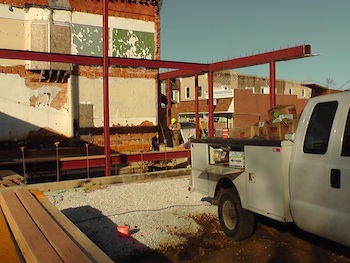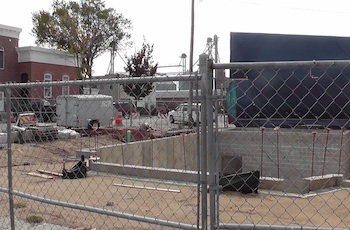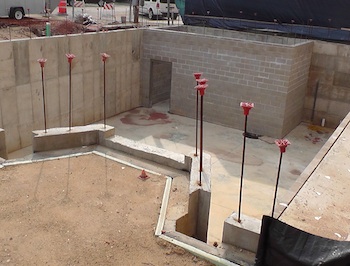 ----------
Elmwood and Al Howerton
Featured in Trusted Choice Commercial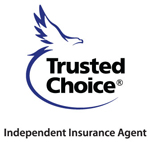 Stuff Happening Around Town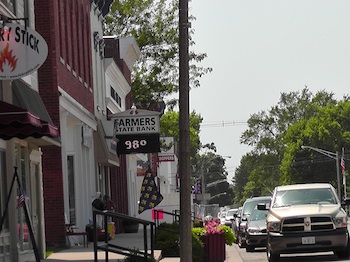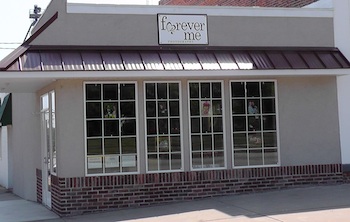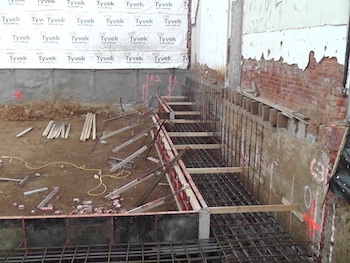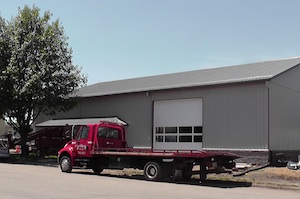 PJ Star -- Steve Tarter
Two years after tornado
This article appeared in the Journal Star, making note of the progress made since tornado. Elmwood is Coming Back You will enjoy reading it.
Jon Gallagher's Account life ater tornado
Update on Elmwood CIProud
New Garden Center -- Sarah's True Value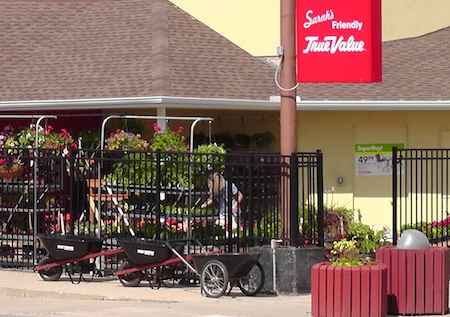 Elmwood in the Peorian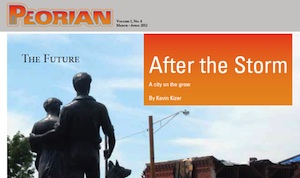 Elmwood is the subject of an article in the current issue of Peorian Magazine. Link to Flip Book Page
Here is a PDF of the Elmwood article written by Kevin Kizer -- After the Storm
Peorian Magazine in Print and Online
Stuff Happening Around Town
Rehab of the last standing tornado damaged building continues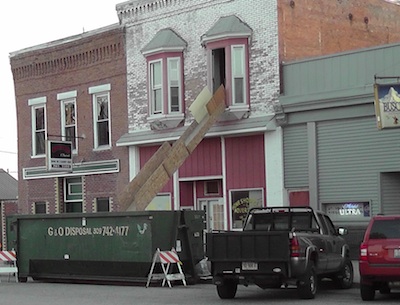 Whitney Lot a fence and a porta potty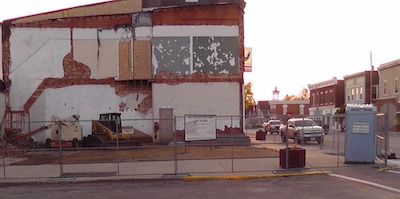 The corner lot a little landscaping and beautification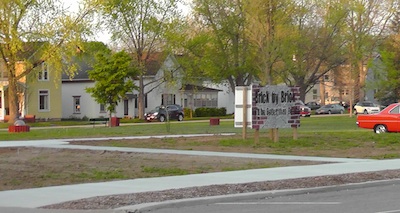 Jordans looking forward to using new space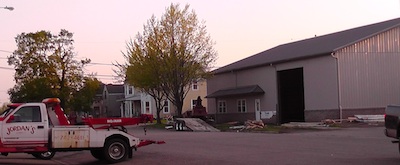 The extraordinary warm spring makes people think of plants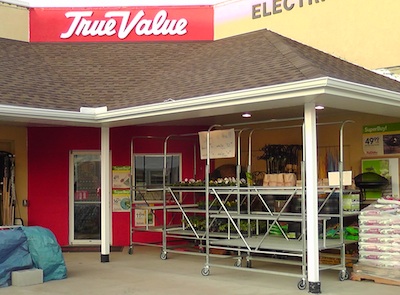 Presbyterian Church taking shape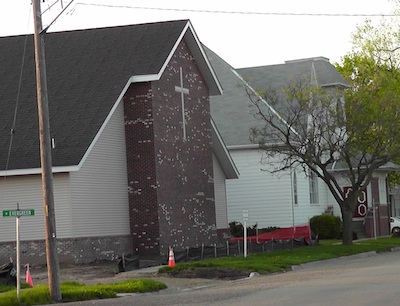 Grand Opening in Newly Remodeled Location, Saturday March 24th at 110 E Main ST, Elmwood IL. Beginning at 10 AM.
Amy Perry Davis takes some wonderful photos, she caught images of the new store and other Elmwood sites. Check them out
Every Little Thing Open
in new location
Every Little Thing opened in November, but their planned storefront was not ready. They have been on the corner of Rose and Main. They are now open in their new location at 110 East Main, former Fuego and florist shop location before remodel. Stop in to see the remodeling and the store's children's merchandise.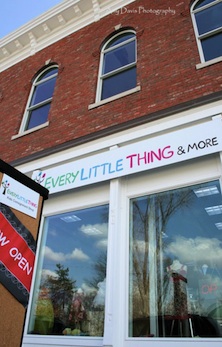 Sarah's Friendly True Value -- Now Open

The former Basil Harvest, Dairy Station, and Cisel Gas Station ( I am relying on third hand information for that one) is now Elmwood's Hardware store. It is operated by the same family who runs Ron's True Value in Princeville. It looks like it has a great inventory. It will be open weekdays from 8:30 AM to 6:00 PM and on Saturday from 8:00 AM to 4:00 PM. This week there is a special opening week sale from Wednesday through Saturday. Details will be in the Shopper or drop in and look around. Sarah's Friendly True Value at 119 West Main Street, Elmwood IL 61529 phone number 309 742-8100. Sarah is a graduate of Brimfield High School and is looking forward to getting her family more involved in her home community. Her brother ran cross country before the E/B coop and practiced with the Elmwood team. We had a discussion about the advantages of our current sports coop.
The hardware store intends to have bedding plants in the spring, so gardeners can start planning. Facebook Page
Sarah's Friendly True Value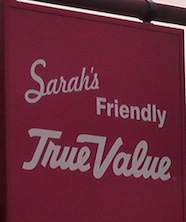 Beginning to look a lot like a hardware store, Sarah's True Value opening soon. Inventory being stocked, the exterior looking completed; open doors should soon follow.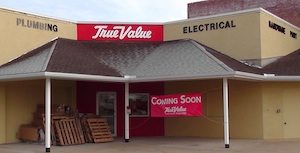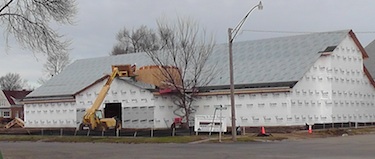 The mild weather is a boon to continuing construction this Fall and now Winter. The Presbyterian church continues apace. A Winter of heavy frosts at least until the New Year. It could then change and rather quickly.
Main Street Diner
Remodeling to improve looks and insulation.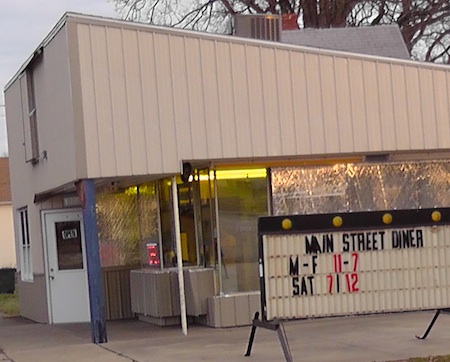 Elmwood UMC Addition Coming Along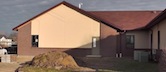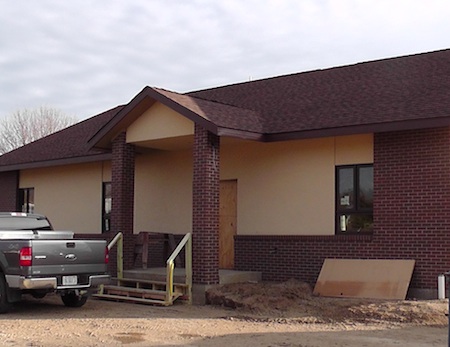 Inside work progressing as the exterior of the new structure mostly complete.
City of Elmwood
Governor's Hometown Award
Illinois Governor Pat Quinn
Division II 1501 to 5000 population
Project Winner: Beautification and Sustainibility, Post Tornado Disaster Recovery Effort

Another Repair Complete

Elmwood Community Center had Open House on Nov. 5th
Amidst the football playoff and cross country state meet hoopla on Saturday, the Community Center had an open house. Get the months of November and December included in a 2012 membership. contact Kathy Shoop -- (678 - 7146) If you had that burning desire to burn fat, on hold for two years or twenty; now would be the time to get back in the game. Wednesday, November 9, 2011 9:04 AM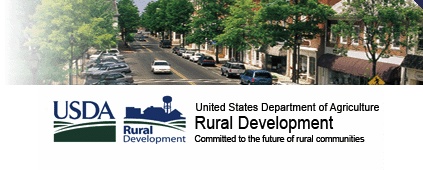 Small Business Start Up Loan Fund Created
A revolving loan fund is being established in Elmwood. PJ Star Article - Colleen Callahan, state director for USDA Rural Development, brought a check to Elmwood Friday that the city is using to establish a revolving loan fund. The fund started by a check for $99,000 made available through the federal agency's Rural Business Enterprise Grant (RBEG) program.
Start-up businesses will be able to apply for loans of up to $25,000 at a reduced interest rate. The fund will be administered by the city with the advice and consent of an advisory committee made up of local leaders. The city council will be the final arbiter of all lending decisions. Loan funds can be used for building construction or reconstruction as well as repairs, equipment and working capital.
Links of Involved Partners with Elmwood Recovery
Economic Development Council of Central Illinois
Il Department of Commerce and Economic Opportunity
Tri-County Regional Planning Commission
Monday, October 17, 2011 10:09 AM
Week -- HOI News Clip
Elmwood Receives Grant
Friday, September 30, 2011 10:13 AM
------------
New Store to Open Soon
In the location where Fuego was located on 110 East Main ST a store called Every Little Thing will open soon. Facebook Page Children's items will be their focus. Monday, September 26, 2011 11:12 AM
Whitney and Potts Returns to Offices
After 2010 tornado the law office had to be extensively remodeled. This forced a move to Elm Haven on East Main and Rose. Whitney and Potts Law Offices are back in their longtime home at 116 W Main ST. Almost all businesses still operating have returned to their original storefronts or new permanent locations. The Home Shopper operating across from Elmwood Foods on Hawthrone is the one I am unsure as to whether they are still planning an eventual return.
Crusens Opened During Fall Festival
I started a little restaurant review, if you would like to send a comment or review, email me (steve@elmwoodil.org).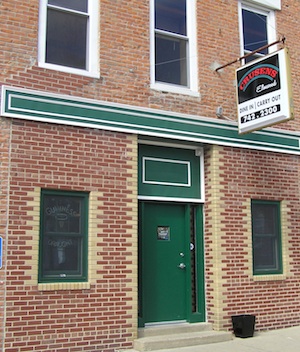 Mon. - Sat 11 AM - 2 AM --- Sun. 11 AM - 12 AM
Kitchen Closes One Hour Before Closing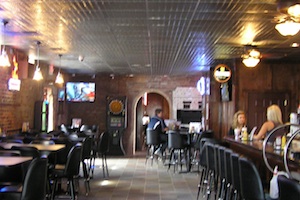 118 South Magnolia ST ---- 309 742-2100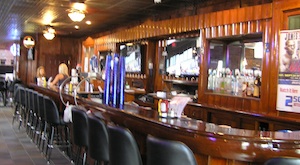 Sandwiches, Wraps, Pizza, Salads -- Specials
---------------------
Uptown Cafe In Full Blown Trojan Mode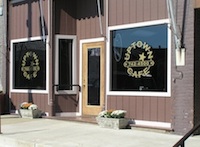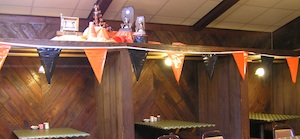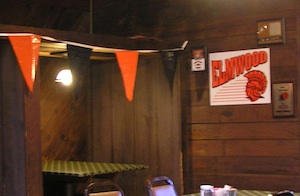 Sunday, September 18, 2011 9:45 PM
Uptown Cafe now Open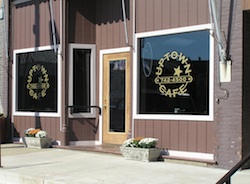 Opens at 6 AM in the morning for those looking for an early morning destination. The Uptown Cafe was formerly the J & G Cafe.
Main Street Diner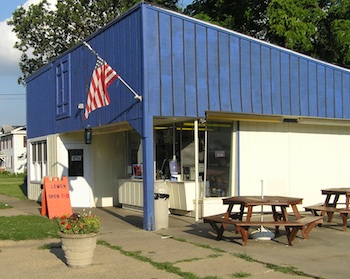 Open Monday through Saturday 11 AM to 8 PM
Serving homemade: tenderloins, onion rings, and hoagie rolls, plus ice cream.
Palace Theater Reopen
July 29th
PJ Star Article -- pub. July 22nd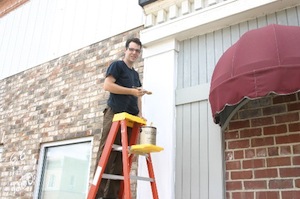 Bill Seipel painting front of Palace.
---
A CNN Post
rebuilding a tornado devastated town
Friday, May 27, 2011 10:07 AM
Elmwood Emporium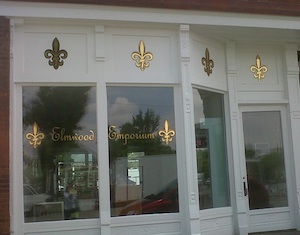 Adorned with Fleur-de-Lis Design
Elmwood Economic Development Meeting
Meeting was held in the restored Parkview, still being restored, but mostly done. Here are some photos: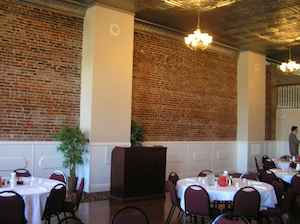 Looks very nice upstairs in banquet room.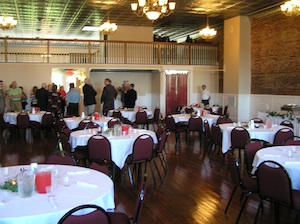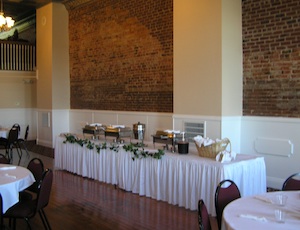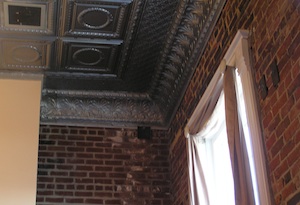 This was corner torn open by tornado
What is a Parkview without photos of the park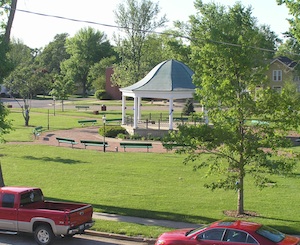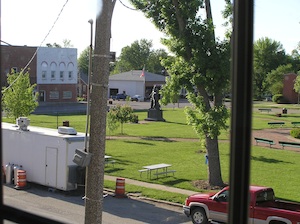 Beautiful evening downtown
Tuesday May 17, 2011 8:49 PM
City Hall Looking Fancy
Work on the facade is progressing
Monday, May 2, 2011 6:00 PM
Returning Businesses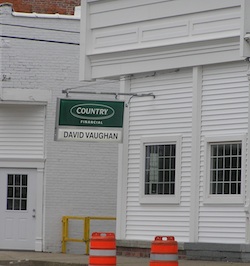 Country Financial -- David Vaughan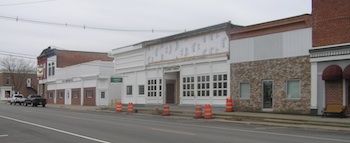 Repairs continue and businesses return to the 100 block of West Main Street. Looking east at the south side of the street. Law offices of Whitney and Potts and Reynolds Theater repairs in process. Thursday, April 28, 2011 9:37 AM
Crusens Elmwood moves along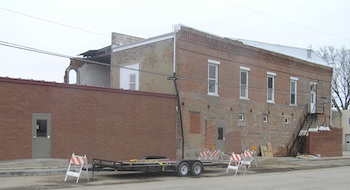 Ghost wall painting of Gold Medal Flour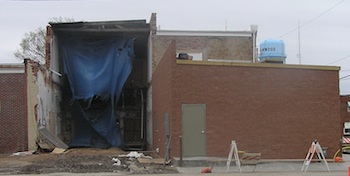 looking east Thursday, April 28, 2011
TV 25 News Update on Elmwood Recovery
A news update on Elmwood recovery. Click here to story and Video
Rebuilding Business in Elmwood
Friday, March 25, 2011 11:16 AM
Mapping Future in Kewanee
Article in Kewanee Star-Courier
Guided by representatives of the Illinois Institute for Rural Affairs, the community MAPPING process is a participant-driven strategic visioning and planning process whereby local leaders and citizen volunteers create a long-range vision for issues like economic development and a plan for action for achieving it.
A series of five three-hour sessions will be held:
Session 1 - "Where are we now?", April 7.
Session 2 - "Where do we want to be?", April 14.
Session 3 - "How are we going to get there?", April 28.
Session 4 - "How do we make it happen?", May 5.
Session 5 - "How do we make it happen and maintain momentum?", May 12.
All sessions will be from 5:30-8:30 p.m. in the East-West Conference Room at Kewanee Hospital.
Elmwood has a need for a similar approach.
Thursday, March 17, 2011 1:37 PM
Dr. Baylor's Open House
Saturday Feb. 5, from 10 AM to 1 PM. Celebrate the re-opening!
Business Development Association
There will be a meeting of the newly created Elmwood Development Association at 6 PM, Jan. 12th, Wednesday at Maple Lane Country Club everyone interested is invited.
January Recovery Meeting
A meeting was held at the auditorium at Elmwood Schools. at 7 PM. A report was given on recovery progress. A request for ideas and comments was solicited. I will make other more detailed reports.
Seats removed from Palace
Along with several others I helped remove seats from the Palace Theater on Saturday. The seats were disassembled and stored. Being so out of shape I was very sore afterwards. The holiday season is a great time to help doante towards renovation as the Palace sits empty.
A few Photos of the Week End, not many they made me work not stand around and take pictures.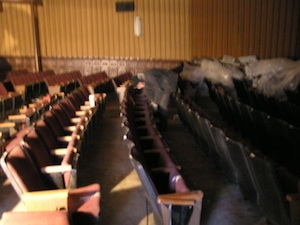 Read Homeless for the Holidays
Share it and spread the word.
Monday, December 13, 2010 1:42 PM
Lowe's Helps Elmwood at West Park
Lowes has helped in the project of fixing the shelter house at West Park, with materials and volunteers. Lowes has helped at Camp Big Sky in a similar outreach of generosity. If you drop into Lowes say thank you.
Laundromat Reopens Oct 30th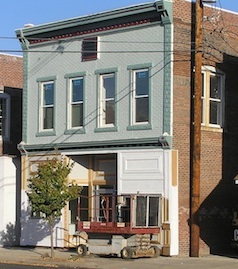 Should be quiet many in town will be at football playoffs or cross country meet. Remodeled and improved much more colorful on the outside.
I had lunch at J & G Cafe yesterday. It was my first visit since reopening. I was impressed. It is so much as before, yet so nicely redecorated. The new hard wood floor in the back is a nice touch. Another good thing the food is that down home, country cafe perfect as it was before. Follow Facebook J&G Country Cafe for updates.
Bees and Blooms now Open. Bees and Blooms is located on the north side of West Main ST.
Photos of Cafe and Bees and Blooms
Daley Insurance Temporary Home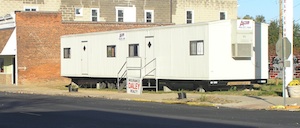 Daley Insurance has a new home. This trailer will house the operations while the office is repaired and remodeled. It is at the corner of Main and Magnolia if you do not recognize the the location. Tuesday, October 19, 2010 5:48 PM
Donnie's Elmwood Tap is Open
Elmwood laundromat and Bees and Blooms should open this month. Library repair should not close library. Friday, October 1, 2010 2:51 PM
Community Center Update
Elmwood Community Center is still under construction. Roof reconstruction should begin within the next two weeks with completion, hopefully in a couple of months. The current members will get their mebership extended for six months due to tornado. If you have questions or suggestions, contact number is 742-8378 Wednesday, September 15, 2010 9:22 AM
City Hall Rebuild
The plans to rebuild City Hall have been submitted the City Council passed a motion to put the overall supervision of the project under the City of Elmwood's recovery administrator and appropriate city employees. Wednesday, September 8, 2010 1:43 PM
John Hamann appointed by Peoria County
He will be the disaster liaison for Elmwood's recovery. Peoria County Disaster Coordinator Hamann served as a firefighter with the Pekin Fire Department for 22 years; eight years as Fire Chief. He also served as a senior fire science instructor at Illinois Central College and supervised the Tazewell County Hazardous Materials Response Team. Upon retiring from the Pekin Fire Department in 2002, Hamann became an enforcement and inspections officer for the McLean County Zoning Department. Most recently, Hamann served as Zoning Administrator of the Building & Zoning Department for Woodford County.
Grocery Store Open
and the Post Office is operating normally as well. Downtown was very busy today with repairs ongoing on many buildings. Elmwood Foods opened today, I will do a profile on some of the newest members of our business community. They were certainly not graciously welcomed by the June storm. Go in and buy something the best welcoming gift you could give. Wednesday, August 4, 2010 3:45 PM
Post Office
I read this on Facebook, which is similar to saying I was talking to a guy in the bar, who said. Post Office in Elmwood may be open on July 29th. I am sure all those with PO Boxes will be greatly relieved.
Home Shopper and Tri-County News
The Shopper and associated enterprises are moving to the old lumber yard. OK you may not know where that is; not everyone grew up in Elmwood. It is across from the grocery store, which will hopefully open soon. Lynn Tannocks hair salon is adjacent to the Home Shopper's new location on Hawthrone beside the City of Elmwood buildings. Tuesday, July 27, 2010 6:05 AM
J and G Cafe
From J and G Cafe Facebook Page: "We finally have power at the Cafe but we lost a lot of equipment, including our walk in freezer" I am sure the family and workers are facing a stressful and overwhelming task in clean up and remodeling. Reach out and some people will be glad to help, maybe the United Methodist's could assemble some of their famous flood buckets. Sunday, July 25, 2010
Whitney and Potts Relocate
During repairs to their building Whitney and Potts has relocated to Elm Haven. Repair estimate two to three months. Elm Haven is located at 101 N Rose, just east of Central Park. They should be able to run efficiently from the new location. The moving out and back in will probably be the most disruptive part of the whole crisis for the law firm. Thursday, July 22, 2010 11:26 AM
Update on Meetings
Attended business owners meeting last night. On Thursday July 22nd a special meeting of the Peoria County Board. Topic Elmwood Recovery Plan fourth floor Peoria County Courthouse at 7:30 PM. Peoria County Web Site
On Tuesday a grant hearing held at the temporary City Hall by DCEO Department of Commerce and Economic Opportunity,Tuesday July 27th at 5 PM.
Wednesday, July 21, 2010 2:06 PM
Some Barriers Removed
It got a little easier to move around the downtown as some of the barriers have been removed or repositioned. Still caution and patience is the best approach to driving downtown, I usually walk.
Save the Palace at Woppers
Have a great time, listen to two great bands, plus a DJ, a great Saturday Night on July 24th. Help build up a restoration fund for the Palace theater, Save The Palace Starting at 5 PM so even the old folks can attend, if not stay until midnight as it ends. I am not young and do not close down the bars, so I may not be there at midnight. Come show your support even if you leave early. Wednesday, July 14, 2010 10:29 AM
Online ways to follow a Business
during recovery. Fuego has a Facebook Page, Save the Palace has a web site, etc. I have put links on the business list page, so you can know what's happening. Find a Business Saturday, July 10, 2010 11:24 AM
Keep up with J&G Cafe
on facebook J & G Cafe this link goes to the page. Updates on purchase of Tastee Freeze; I think there will still be ice cream. Tuesday, July 6, 2010 10:02 PM
Five Priorities of Economic Renewal
I have developed five priorities of economic renewal for Elmwood. Please read and enter a discusssion on a Better Elmwood Facebook group or email and I will post on this web site.
Click Here to read the five priorities
Monday, July 5, 2010 1:37 AM
Demolition of buildings Tuesday
after that a new phase will begin. How and what to rebuild in the downtown. Sunday, July 4, 2010 7:22 PM
-----------
Need Clean Up Help
I have heard cafe and grocery store will need a major clean up. A cleaning service gave me information this week. Contact them if you are in need of such a service. MediClean they can handle refuse hauling, restoration or really anything needed to clean up, is how they phrased it. Call 309 540-8061 ask for Jerry. Sunday, July 4, 2010 7:22 PM
Update in PJ Star
Saturday, July 3, 2010 11:59 AM
Wednesday Update
No change at grocery store, no buildings demolished today, weather is helping repairs continue unabated. Plan developed in conjunction with Peoria County available tomorrow. Wednesday, June 30, 2010 6:03 PM
Broadfield Farm Clean Up
Clean up groups will continue on Tuesday June 29th and Wednesday the 30th at 4 PM, weather wise one of the best days to be outside. On Wednesday meet at Elmwood High School parking lot at 3:45 to car pool to farm. It may be the parent, in me, but I feel compelled to caution volunteers to wear long pants, regular shoes (no flip flops), and bring gloves. Boards, nails, pieces of roofing, etc. have sharp edges. Monday, June 28, 2010 4:52 PM
If you have watched many of the you tube videos of the tornado, you have seen it go north of Yates City directly through a farm. The farm it went through was the Broadfield farm (map); there is still a lot of debris scattered in the fields. Also, you may have noticed it has rained frequently since the tornado, so the fields have been wet. It is hoped tomorrow will be dry and volunteers will be able to help clear debris. Volunteers are to assemble at the farm about 10:30 AM, I would suggest gloves and old shoes. Your help would be greatly appreciated. Sunday, June 27, 2010 6:19 PM
Roofing continues when not raining
Shortly after I ran around taking a few photos, an angry storm blew up. A tornado warning went out for Roseville, old home of my office, I don't think there were any touch downs. Elmwood got more heavy downpours as it rained all over the area. We simply do not need more rain at this time, but when it's a rainy season; it just rains easy. Roof repairs were moving on grocery store and other buildings. Storm came through late in afternoon. Here are a couple of more photos. Thursday, June 24, 2010 1:50 PM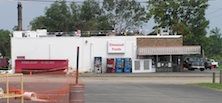 Elmwood Foods Repair

Masonic Bidg Post Office and J&G Cafe Home
Volunteers for the Palace Theater
on Saturday at 9:30AM to help clean up. Gloves and work attire, be careful be safe. Volunteers may assemble at Mobil Station in the morning and then proceed as directed. Thursday, June 17, 2010 11:18 PM
Library will be open
from 1:00-5:00 PM. Reading, Game & Program Time will be held from 9:00-11:00 AM on Friday, June 18th. The 4H Nutrition Class will be held from 11:15 AM-12:15 PM. Thursday, June 17, 2010 11:18 PM
Library will be closed
again Thursday. A good day for roof repairs, yesterday. Thursday has forecast of rain. I have heard it is very dry on Western Slope in Colorado, maybe we could mail them some rain. No, we can't no Post Office in Elmwood. Thursday, June 17, 2010 4:34 AM
Recycling Trailer

has been moved to Sweet Water. Wednesday, June 16, 2010 2:50 PM
Business Group will continue
to meet on Tuesday night at 6 PM in the high school cafeteria. Wednesday, June 16, 2010 8:06 AM
Save the Palace has a Web Site
The movement to save the Palace Theater is going strong. It now has a web site.
The Facebook Group -- The Palace Theatre Lives On
A play the American Way is donating show proceeds to Palace Restoration contact Micki McCarthy for additional details.
Facebook Photo Album of Palace
-------------
Business Group Meeting on Tuesday
June 15th Richard Taylor the City of Elmwood's Project Coordinator for PRIDE (planning recovery in downtown Elmwood) will meet with the business group at 6 pm in the High School Cafeteria. Who should attend? All business group members.
ECF Meeting Thursday at 8 PM
June 17th a meeting at the Elmwood United Methodist Church. Richard Taylor the City of Elmwood's Project Coordinator for PRIDE (planning recovery in downtown Elmwood) will outline a plan to move the project forward. Who should attend? All Elmwood Community Foundation members. This is for ECF members only on Thursday.
Quick Tips on Recovery in Elmwood
Elmwood Pharmacy will be glad to arrange a prescription delivery to your home between 2 and 4 PM, if you are 65 years old or over or have disability making steps difficult. Entrance to temporary location has steps. East of Farmers State Bank drive through.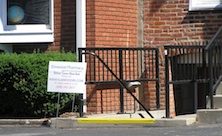 No churches in Elmwood were hurt, so no excuse for skipping Sunday School.
Along with topic of skipping church Maple Lane Country Club is open.
Sweetwater Baseball games continue.
Paths are being created to direct people to open businesses, be patient but you will find a way.
Peoria County Survey Please Return
Many volunteers walked Elmwood this morning trying to get all residents to fill out a survey for PeoriaCounty. It will be used by the planning commission. A good response number will help us in grant applications. If you did not get you can open and print this pdf. It must be turned into Jordan's Mobil by Monday AM. There will be survey collectors at Elmwood churches on Sunday. Click for Survey Saturday 06/12/2010 2:32 PM
I am starting a new page called IS IT or Isn't IT?
The page will be list of events being held and those postponed or cancelled. New Listing Page On or Cancelled
The Community Picnic planned for Central Park at noon this Sunday is postponed.
Meeting Thursday at 6 PM as businesses and other parties try to agree on plan of partnership.
Donated items are available at Elmwood UMC. Anyone wanting to come in and find items they may need please do. The donated items are free and here to help anyone. So please drop by the Elmwood UMC.
I am trying to create summaries of the two informational meetings held today. Until I do, I will put links to my live blogs. Remember I don't type well and Dreamweaver doesn't do automatic spell checking.
10 AM Meeting on Building Access
7 PM ECF Meeting to Plan Elmwood Future
The business community is trying to operate facing severe impediments to continue providing services for us. Many are operating from alternate locations. I am creating a link to a page of information on business operations.
You can no longer take debris to Sweet Water; it must go to County Dump.
City is not picking up residential refuse.
Whitney and Potts is handling waivers for building entry. Here are the rules. The owner must first obtain a waiver. The owner can then allow tenants and workers to obtain a waiver. Waivers must be notarized; driver license required. Before entering a property you must report to fire department; when done you must return and report you have left property. Waivers are specific to a property. Whitney and Potts is open at their office on West Main, although operating without electricity today.
There is a Dusk to Dawn curfew on buildings designated as uninhabitable. This is sensible since the most heavily damaged are with out electricity.
Elmwood UMC is a donation center for relief items, remember most damage in Elmwood was to business not residential property. Very few residents actually lost personal property.
Red Cross has ability to earmark money donations for Elmwood. Red Cross for Elmwood Illinois
A fund at Farmers State Bank for City of Elmwood is being set up.
All business owners and those interested will meet at Elmwood Elementary School at 6 PM Tuesday. This group formed because of meeting Monday night.