Year Two in Fitness
First Year Recap "Success in Process"
The Journey has been more than physical "Walk in Darkness; Run in Light"
I thought I should do a quick update. A reader of my year in fitness is likely to wonder how is it going. I have continued the gym routine and I have made great improvement in every aspect except weight. I was rather proud of the first year's weight loss. I was ready to celebrate. Celebration is a bad attitude especially on a vacation. I had less food discipline; I started to gradually gain back weight. My body wants to put on fat in the Fall. I do think I have bear DNA, as my body prepares for hibernation. The combination of celebration, great Fall food festivals, and the grizzly in me led to higher weights. The scales started showing 220 not 210. People still kept telling me how I was looking fitter. Year two is a paradox: greater fitness, better body build, no weight loss.
I still do not have a beach body, but I do have a great Tee shirt July 2014
I decided in the Fall that continuing the random setting on elliptical for 60 minutes at 18 was a mistake. I could not get back to my pace; I was slogging through it. I wasn't getting the heart rate elevation; I had always been able to maintain. I signed up for the 12 week gym challenge in January. (Tee shirt) It was time to become more intentional about reaching new goals. The challenge got me to the gym more, but the winter encouraged me to to stay home too often. I started an ab routine. Abs did improve but require great stick to of ness. I decided to adjust my elliptical session. I began my current interval approach; I call this my 4 X 15 routine with a little upper body in the breaks. I begin with 15 minutes (1000 steps) on the stair stepper. I walk a lap, do rowing machine 5 minutes, next move to 15 minutes on elliptical at 15, repeat sequence 3 times as we notate on the worship song sheets. I have increased my cardio level and am building upper body strength. A body transformation is beginning to take shape. My butt is getting smaller, it was never a big issue with me, still tighter buns. My thighs are very well muscled I am becoming a regular Suzanne Sommers. My chest, shoulders, and arm muscles are growing and strengthening. My abdominal fat is retreating at a glacial pace. I have this summer regained my very intentional attitude towards diet and weight loss, it is beginning to trend continually in the good direction, down.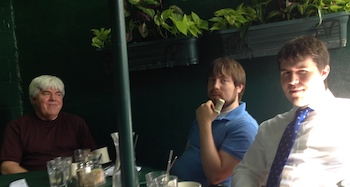 Steve Davis with Erik and Alex on Father's Day at Galesburg's Landmark 2014
Going to the gym: I have moved from embarrassment to feeling it is a refuge. I do my thing, occasionally thrown into some new exercise by my wife or trainer to prove I still lack coordination. Accepting the challenge although not producing astounding results did produce a course correction and rededication to finish this project. A specific weight is not so important as achieving a certain look and feel. Apple often has hit a design that is intuitively right. I have come to seek that space with myself. As I improve my upper body with the rowing machine it helps me reach my space. I have avoided actual weight lifting. I was not ready. I was not fit and trim enough. I want my midsection to not pooch out. I look enough like a body builder just naturally. I do not want people to see a weight lifter gone to fat. I can stay up on the top deck at Gold's and do my circuit. It seems to be going well. I am re-finding my youthful body starting with my toes and working up. I suppose getting the brown hair back would be the final stage. Every one needs to create at least one impossible goal as we strive to improve. A goal but not one to actually believe you can achieve. A goal that reminds you how far from perfection, and how there is always more to the journey. A person can regain many things but not youth itself.
A real beach body? It looks like if I stay in the groove, possibly by the end of year three. I suppose that is about the right ratio; thirty years of getting flabby requires three years of dedicated fitness. Dedicated is the key, going to the gym is a priority. Scheduling in the visit is more important than any other demand on my time. I would like not to mention or think about the food discipline, but it will be the most important factor. This toes up approach has succeeded as far as my butt, so to make it all the way to my wilderness of gray/white hair will require both disciplines, diet and exercise. My expectation is, if I continue muscle tone and body redefinition when I reach 200 or just below, it will be a good weight. I think this is going to be my space of intuitive look and feel.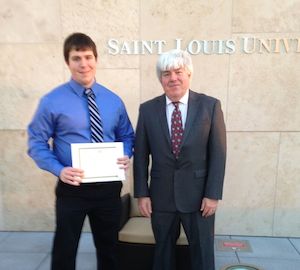 Fitness no guarantee of a long life, but it allows you to enjoy the great events __ April 2014
Now that year two is history, tally the positives, recognize the negatives. I have stayed with intentional fitness. I have gone from being embarrassed to be seen in the gym to taking pride in my effort, sweat, and consistency, even if not quite so proud of my body shape. My love handles have become love nubs, but there is still belly fat. When I look at myself in a mirror, I wonder where I put all the weight I had before. Shake my head, and think finish the goal. No celebration before crossing the goal line. I have never lifted weights or done body building; I did lift many hay bales. I head into year three: the fitness has brought up my good cholesterol, when giving blood the other day my resting pulse was 64, blood pressure 120 not pushing 140 as before. Yes there have been measurable gains, not just how I feel. I told my trainer ML I really had reached cardio fitness or the health goal. Pushing to my next level is not greatly going to improve my data point on health statistics, just continuing would accomplish being in the good statistical range. It is now for looks and for the pride of accomplishment. Year three, it will be a new journey - best undertaken without trail mix.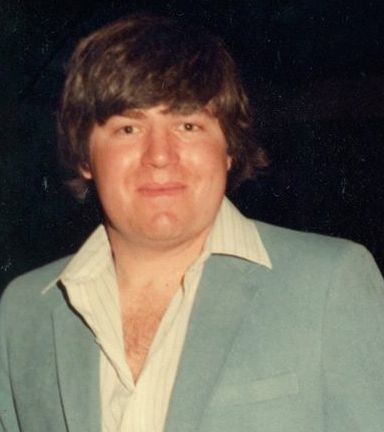 1984 brown hair as unrealistic a hope as getting taller, still I continue the sweat meditations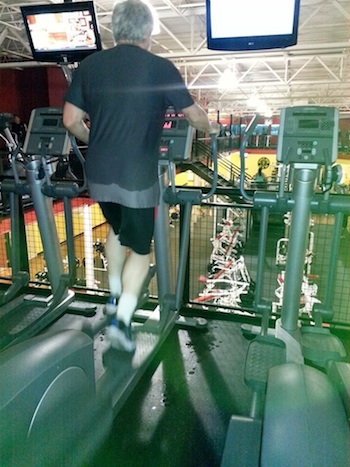 Steve Davis at Gold's in Peoria IL --- February 2013