Angel of Death
A Tale from the Shire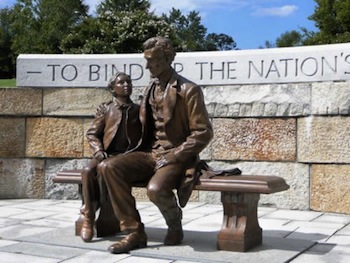 Abe and Tad statue at Tredegar Iron Works
"Mr. President, the supreme commander requests I accompany you, I am to help arrange your future travel."
A tired man, looked down to see the speaker, a young Lieutenant, standing respectfully near the door. "Thought Grant would be too busy chasing General Lee. Richmond, a risk, but I had to. The freed people made all this seem almost worth it. " He gestured back to the hospital. "Lieutenant, who?"
"Hurd sir, from Illinois."
"A Western man, where'd you hail?"
"Ellison sir, Warren County"
"Ellison, a tornado back in 58, several died, read about it. I was writing that speech for the statehouse. Didn't know how divided our house was, we've been through a country sized whirlwind, nearly over now. I first traipsed your country being chased by savages, them skeeters nearly bled me out." The tall man laughed, straightened up, moved on.
"I will be near when you need me, sir" the Lieutenant assured.
The President left the hospital, paused for a moment speaking seemingly to no one. He finished in a chuckle. Crook came to his side to hear "yes we did not know war, not then, not till this." They left that night for Washington on the River Queen.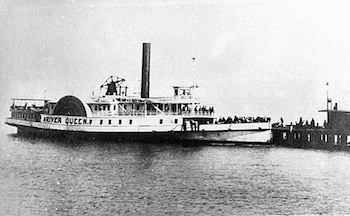 William Crook, bodyguard of the President on his grand adventure, possibly fool's errand. The chaos of fallen Richmond had seemed to provide its own veil of protection, not Crook. The President was more likely to be smothered by the darkies than attacked. Rebs with any fight left had gone with the army or the so-called government. It had been an experience he would never forget; masses of worshipping darkies, President Lincoln telling them to kneel to God, not to him, to thank God, he was but God's humble instrument.
President Lincoln came up on deck and stood beside Lt. Hurd. Washington was visible. The capital seemed to be even more frenzied than normal; during the last four years continual upheaval had come to be normal in Washington. "I had a strange dream - you were in it Lieutenant. There was great grief in the East Room, I asked who was dead? You turned and answered 'the President.' "
Lt. Hurd quietly spoke "General Lee has surrendered."
The President smiled his shoulders eased. "Well every furrow has its end. I must tell Ma"
Crook watched as the potentates met the Lincolns at the dock. There was a charge in the air as everyone adjusted to the unbelievable. The Army of Northern Virginia was gone. A week of good news rolled like building thunder, even General Grant returned. The President confided to Crook that he would not go to the theater Friday night, but it had been advertised.
President Lincoln settled into his box, his party had been late. After playing "Hail to the Chief" the comedy resumed. He listened as a great laugh line approached "… I know enough to turn you inside out, old gal — you sockdologizing old man-trap."
"Hurd, what, why?" "Where?"
"Not where you were, we have stepped beyond your time, anytime."
"Am I dead?"
"Soon enough, Mr. President, soon enough, all will become apparent. You have been God's instrument and now I can be the same. Time must take its course. You have suffered. I will relieve your next moments. A great reunion awaits us. A tornado kept Benjamin Hurd from the great test of his time, but I have this last chance to serve as your angel of death."
A moment's flicker, a conscious soul awakens, a loud shot rings out.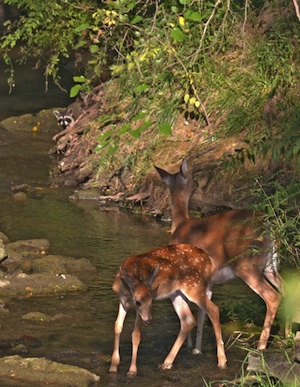 James Keefe Great Wildlife Shot
Short story entered in NPR's three minute story (600 words or less) Link to NPR Contest
This a creative work based on my readings of history. Time line accurate for the last week of President Lincoln's life. Story starts with Lincoln ending a visit to a Petersburg VA hospital. William Crook was the president's bodyguard, the references to Richmond are based on his account of Lincoln's trip to fallen Richmond.
Ellison was nearly destroyed by a tornado in 1858. Lincoln did come near Ellison in the Black Hawk War, on the journey from Rushville to Oquawka. Ellison was not a place then, first settler in Ellison came in 1836. By 1858 Ellison was a growing little town, among Ellison's deaths was a family named Hurd. Ellison finally winked out as Lincoln would phrase it by 1900 what little remained of a town moved to nearby Smithshire depot on the Santa Fe railroad. The Santa Fe was built in the late 1880's.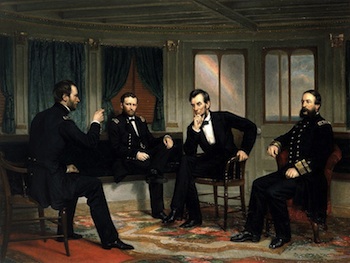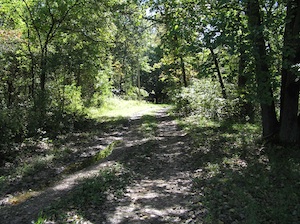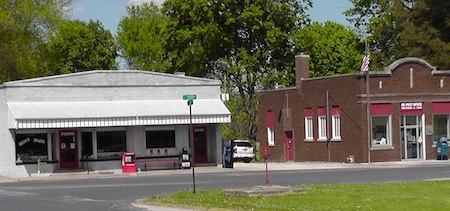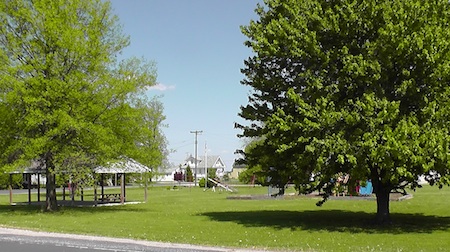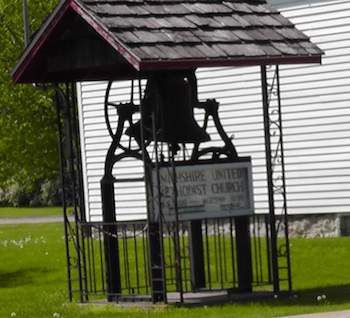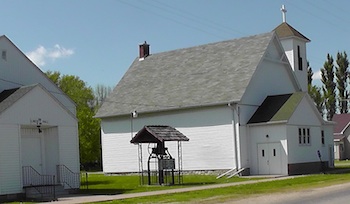 Liberty Hall and Smithshire United Methodist Church in Smithshire IL