Monday, August 13, 2012 10:31 PM
Football is starting. It is like Spring after a long Winter, or Thanksgiving, which is a doubly good holiday with food and football. I am anticipating so many football things this season, a quick listing. In my family we are all Green Bay fans, yes I brain washed my sons early on. So Aaron Rodgers, Donald Driver, Greg Jennings, Jermichael Finley, James Jones, and Jordy Nelson, I cannot wait, start the NFL season. College football on every cable spot from major powers to what team from where? Not to forget high school football, the usual subject of these columns, done with two-a-days, getting ready for that first Friday night. My hometown E/B Trojans coming off a 9 and 0 regular season in the Prairieland Conference, 10 and 1 overall record. My son coaching at West Central for another year and likely his last year before going to law school. Yesterday, Alex informed me he has West Central Heat gear for me to wear, as I am scheduled to be a stat keeper. Will I never get away from booster shirts? The only thing better would be if they let me rename the West Central Heat to the Henderson County Hawks and design some cool raptor images in black and gold. The weather has cooled down making it seem time to forget the drought and start planning the road trips. So I am already to go, but I have some reservations.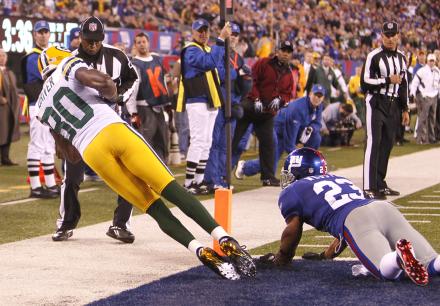 Driver makes a controlled catch for a TD
I am trying to reach out to a narrow audience here, so a few test questions. Have you just endured two weeks of the Olympics to humor other family members? Why are people watching, race walking like it is important, and what were all those PE class games being telecasted? Is your practicality and frugality the only obstacle between a new TV and NFL season pass? Maybe, you are like me. I don't get very enthusiastic about other sports, I just wait until the real games begin. I am writing this for those of us who love football. The people who will be most involved in the programs. IHSA football starts on August 24th, so go out and see the local boys. (I do love my 1959 White Sox cap, so I can be diverse.)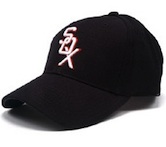 In 1959 helmets were not common in baseball
The other day after a work out I had the feeling, I might get in shape in another year. I am thinking why would I do this for another year, I am too old to play football. The follow up thought, even crazier, so if I get in really good condition, why is 60 too old to play football? I immediately thought of several reasons. Still we scream at the TV like we could go out there and demonstrate how to tackle. Memories are fun, maybe a little faded like that old school jacket in your closet.
I only played football in high school, in a long ago era. I admit it was nothing like the sport today, no structured weight programs. There were thousands of bales of hay, but the coaches and schools weren't involved. Still almost none of us ever tackled a back weighing 235 pounds and running a sub 4.5 forty. How many 300 pound fit, hard, and fast linemen did you go head to head with? Look at some of the storied pros, I loved watching them play. They were not the physical specimens of today. No 1960's team, not the Bears, Packers, Giants, or Cowboys, were matches for today's size, speed, and strength. The upstart AFL wasn't either. From JFL to high school to college to pros, every time a player moves up a level, everyone is faster, bigger, and more fit. It is really simple physics, mass times velocity equals crunch. The sport of my memory no longer exists, so the old standby response of "it wasn't necessary when I played" argument, just doesn't hold water. Speaking of water our coaches had the crazy idea that drinking water during two-a-days demonstrated a lack of toughness. Their practice of intentionally trying to restrict water during practice is unimaginable today.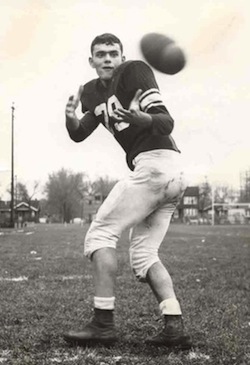 1960 High School Star -- love the shoes
Times change and new questions must be asked. The evidence is mounting that playing football endangers the players, it always has. Rules to protect players have evolved since the 19th Century. The emphasis on hydration, monitoring practices for heat stress is all good. Soccer results in as many lower body injuries as real Football. A young man died at practice in Spring Valley the other morning, it was during agility drills. It was probably an undiagnosed flaw in his heart, sometimes young people have collapsed from exertion. Little can be done to prevent this, it wasn't heat, lack of water, or over-rigorous drills. No sport is free of occasional risks and occasional tragedy. Football has risks all sports do, this is the new part; football concussions. The suicides of Dave Duerson and Junior Seau have catalyzed the conversation. It is the concussions that must be the focus. Many are starting studies; the NFL, Big Ten, and many universities, but some things are known now.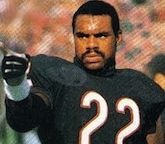 -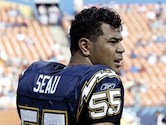 Duerson a Presidential Discussion and the 1985 Chicago Bears the most dominate defense I ever saw play.
A concussion discussion in the after math of Junior Seau's suicide, Slate Daniel Enber.
I think every program needs a discussion on concussions. As any doctor will tell you, it is the patient who knows their own body. I think a concussions program needs to involve educating the players. A designated coach or trainer on each team must become knowledgable about concussions. At a game medical personnel should be available who are specially trained, even if not doctors. It is unrealistic that a doctor can be involved at all times, but many EMT's, trainers, and coaches could study the symptoms and recommendations.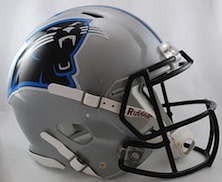 Helmet Research ESPN Article 2011
Concussions were once the fodder for humor, stories that teams told about a player who was playing but did not know where he was. Players have related playing a game, but not remembering it. Watching films as if they were watching a new movie, not an event they had been involved in. We now know these are not humorous anecdotes, but potentially dangerous situations. The greatest danger is from a second concussion, so detecting concussions and keeping a player out until healed is important. It is not something to be ignored or diminished.
Studies show different results for different helmet models in protecting against concussion. When purchases are made concussion ratings should be a key determinate in the decision. Strictly enforced concussion policies should be adopted by each team. Players should return based on medical tests, that can clearly monitor healing from injury. Returning too soon has been shown to be very dangerous, so don't take chances with your son's life.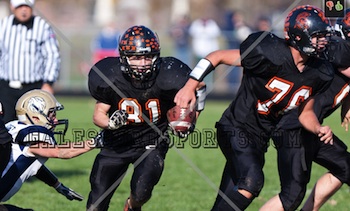 E/B Trojans - Mercer County Golden Eagles 2011 Playoffs
The touchdowns are not worth a death, so we get back to risks, rewards, and choices. The required medical exams before going out for a sport should not be diminished. No exam catches everything that can happen, listening to your children, encouraging them to learn their own responses, help them separate the required toughness from being reckless. Keep it real, not hysterical. Be prepared by conditioning, technique, proper equipment, and priorities. I've seen JFL players with a visible injury encouraged to play by family, I mean come on. If a high school state championship is on the line and the injury is a bruised elbow, knee, or rib, it may be the time for being tough to play for another thirty minutes. If it is a bruised brain, it is a different story.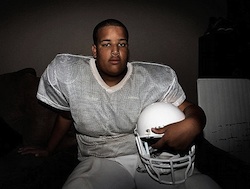 12 year old weighs 297, Pee Wee League says he is too big.
It doesn't seem likely players are getting smaller, as evidenced by the 297 pound twelve year old in today's news. I think it is unfair to the young man, but honestly he might be better off in the long run playing basketball for a year or two. Bad habits can develop when you are playing out of your league. He is from Texas, we all know everyone in Texas knows how to keep football in it's proper perspective.
As an example of everyone in Texas approaching football with a grain of salt. Click photo for video of actual footage of the completed Allen Texas High School stadium as highlighted by Rachel Maddow.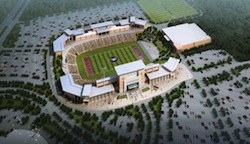 This was the feature list for the proposed high school stadium:
Video Scoreboard
Two level press box with film deck and observation deck
Home side reserved seating with seat backs
1,5000 additional parking spaces with 4,500 total parking spaces
18,000 seat Stadium with upper deck seating including:
5,000 reserved seating, 2,700 General Admission
4,000 Students 5,300 Visitor 1,000 Band
So no, I won't be foolish enough to try football, even after two more years of conditioning. My sons are adults; it is not their safety in question. I want to know the sport can be enjoyed by future generations. I want football to be an acceptable risk, that I can enjoy watching at any level. I don't want such great people as Duerson and Seau, continue to feel they have to take drastic measures, just to get the attention of the NFL, the fans, and the kids. When someone asks me what about the injuries, will football be good for my child? I want to be more sure than I am now, the preparation to prevent, diagnose, and treat a concussion are in place. It is time to be proactive, encourage every program to take a serious look at their preparedness. Enjoy the 2012 season.