----
The Illinois Observer
A New Concept in Community
Information, Advice, and Fun
An initiative of Elmnwoodil.org

Schools are Publishing Registration Schedules and Fees
Links to school web sites on main page.
Elmwood and Brimfield
both offer fall sports for Junior High and High School that include:
Cross Country
Baseball
Football
Volleyball
Golf
First Home Game Aug. 29th
Saturday at 4 PM due to light repairs
Elmwood/Brimfield Trojans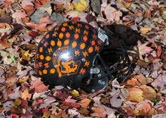 Drive for Easter Seals
(turn in at school by September 11th, Friday)
T Shirt Wearers Get Free Admission
This event started last season at the E/B versus AlWood/ROWVA game. Over 800 shirts were sold, raising around $5000 for Easter Seals as part of the Trojans' overall fundraising campaign that raised $14,000 for the year. This season 19 schools are signed up (and that number is growing), including nearly the entire Mid-Illini Conference. I don't think it is unreasonable to hope for a combined Blackout total of $100,000+. High school football in central Illinois will help change the lives of young people (and old) both inside and outside of the sport.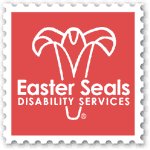 "Blacking out Friday night" to help raise money and awareness for Easter Seals will be held in Elmwood on September 25 at the E/B Trojans versus Mercer County Golden Eagles (Aledo Westmer Consolidation).
A list of participating teams appeared in the Journal Star recently. It can be found here
Donations also collected at home games by JV football team.

Princeville Elmwood Game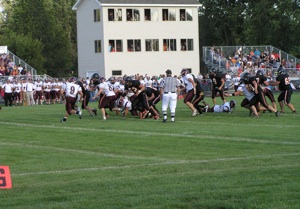 Whitney Field
Home of the Trojans
is getting some updates. The press box is being rebuilt and new bleachers are being installed. The new bleachers will be a great improvement.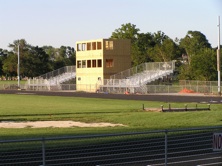 Bleachers are raised before 1st row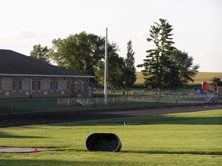 new light poles going up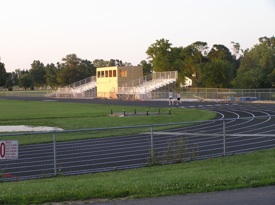 The June storm caused some damage and as a result the fix will make it better than before.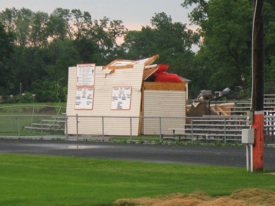 Press Box Blown Apart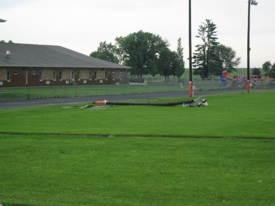 Light Pole Blown Over
Photos Courtesy of Nick Paige