Bringing the Punch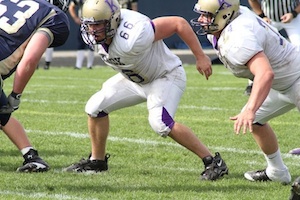 Weeks without football are like a barren wasteland.
A Review of Football by Alex Davis
Packers Win 31 - 25
Raucous Joy erupted, Cat hid, Cheese never more celebrated, Packers Win; as an Illinois kid rooting for the Packers since 1959 this is a good moment.
So this is it for 2010-2011 season, as we head into the soul less season of sports, we can only hope that the greed of the NFL owners will find some limits. The players take all the risks to mind and body, they live with bodies constantly sore, careers are short,and the business rolls on. Some players are ungrateful, selfish, and brutish, but NFL players are also wonderful average people who survive in the fake and fickle world of celebrity. We need more teams like the Packers. Once again title town holds the title, small city Green Bay will go back to ice fishing and wait for next year. Hopefully, it will be after a fair agreement.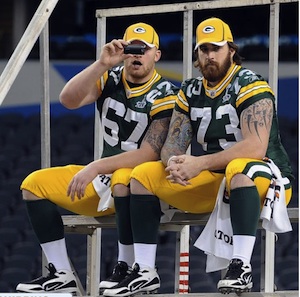 media day Nick McDonald & Dan Colledge O Line
Alex was sick this week so between illness & snow closure no Super Bowl article. Alex is picking Green Bay 20 to 17, I am picking Green Bay 21 to 17 independently derived. We are both Packer fans. Here are some links to articles written about players and team.
Truly the people's team Green Bay Packers
NFL Players also great people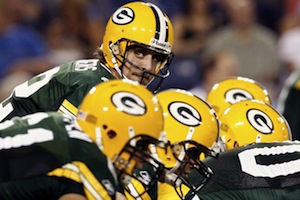 Sunday, February 6, 2011 2:51 PM
Playoff Edition
Divisional Round
Saturday Games

Baltimore Ravens at Pittsburgh Steelers. 4:30 Eastern on CBS

This game features two great defenses, and two less than spectacular offenses in what should be a low-scoring slugfest. This game may more closely resemble a 70's dead ball era game than a modern pass happy contest. These teams are division rivals, and play a remarkably similar type of football. Both defenses strength is in the front seven, and both teams have strong armed QB's who have no compunction about slinging the ball downfield. Running the ball will be very important for both teams, but both defenses are among the NFL's best at stopping the run. The Ravens rely on massive DT Haloti Ngata to soak up double teams, and disrupt opposing offenses by getting penetration into the backfield, which allows future Hall of Famer Ray Lewis to shoot in and deliver big hits on ball carriers while DE/OLB Terrell Suggs rushes the passer.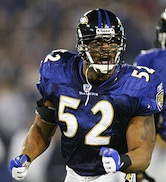 Ray Lewis all star Linebacker with Ravens
The Steelers veteran front three of NT Casey Hampton, DE Ziggy Hood, and DE Brett Keisel do not often show up on the stat sheet but they take on blocks expertly and clear the way for the LB's such as ILB James Farrior, ILB Lawrence Timmons to make tackles on opposing runners while OLB's James Harrison, and LaMarr Woodley are able to rush the passer. The Ravens and Steelers rely on their front seven to get pressure and force the opposing QB's into making poor throws that their ball-hawking safeties Pittsburgh's Troy Polomalu, and Baltimore's Ed Reed can intercept. However, the other DB's on both teams, the outside corners, can be vulnerable if the pass rush does not get home.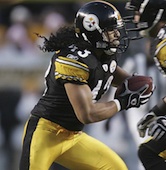 Polomalu Famous for hair and great defense

Despite their similarities on defense, the two teams have some key differences on offense. The Steelers have an advantage at QB because Ben Roethlisberger uses his massive size and surprising mobility to evade the pass rush and make throws downfield, Ravens QB Joe Flacco has a great arm, but has yet to prove himself to be as adept at dealing with pressure as his Steelers counterpart. When Roethlisberger drops back to pass he will have the advantage of throwing to the best big play receiver in the league in Mike Wallace. Wallace has 1257 yards and 10 touchdowns all while averaging a remarkable 21 yards a catch. Wallace will certainly be the fastest man on the field on Saturday. The Ravens however have a much better offensive line than the Steelers. This should give the Ravens a better chance to get a running game going with RB Ray Rice, as well as giving Flacco more time in the pocket. The Ravens will look to hit short quick passes to wily veteran WR's Anquan Boldin, and Derrick Mason and TE Todd Heap, in order to keep the Steelers' pass rush from teeing off on Flacco.
The Steelers are a very good at some areas, but their offensive line is abslolutley terrible, thus I predict that the Raven's will win. The Ravens will put too much pressure on Roethlisberger who will be forced into some costly mistakes that put the game out of reach. I think the Ravens win in a close game 20-17.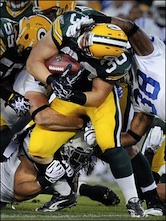 John Kuhn has been called a folk hero, he asks what's a folk hero?

Green Bay Packers at Atlanta Falcons 8:00 Eastern on FOX

This year the Falcons won the regular season contest between these two teams 20-17. However, this week I am predicting a Green Bay victory. One of the main reasons is the Packer's recent discovery of a running game. RB James Starks ran for 123 yards last week vs. Philadelphia, and with a competent running game, the Packers explosive passing offense will become even harder to stop. The Falcons run defense has declined as the year has gone on, so Starks could be primed to have a big day. The Falcons premier pass rusher John Abraham is banged up, and questionable to play Saturday. This will negate one of the biggest advantages Atlanta has, as Green Bay's Offensive Line has proven itself vulnerable to elite pass rushers such as Abraham.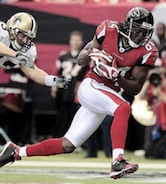 Roddy White has had a great season in 2010
Also, Atlanta WR Roddy White who led the NFL in receiving yards this year, is questionable to play as well with a knee injury, if he is unable to go, or not at 100% then the Packers will be able to utilize single coverage on the outside and bring their full array of blitzes and stunts to put pressure on Falcons QB Matt Ryan. If my prediction is to come true, the Packers must do a better job of stopping Falcons RB Michael Turner than they did in their first meeting. The Falcons offense struggles when Turner is unable to run successfully, and he will be even more important with a gimpy Roddy White. The Falcons will look to exploit one of the few weaknesses in the Packers defense, their poor coverage of Tight Ends, with future hall of famer TE Tony Gonzalez, look for Gonzalez to be targeted frequently on Saturday, especially in the red zone.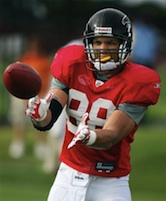 Long time a Kansas City Chief Gonzalez has loved Atlanta in 2010
Finally, the Packers are on a hot streak, having had to play for their playoff lives for the past 4 weeks. The Falcons on the other hand have played few meaningful games in the last month, and may well be rusty after a two week layoff. I am picking yet another road upset and I expect the Packers to prevail 27-20.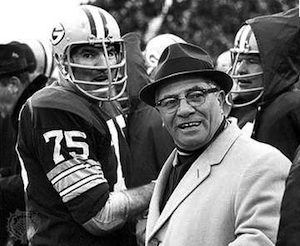 Packers Coach Lombardi, OT Gregg and OG Kramer in shot.
Read when Pride Still Mattered or watch current HBO special Lombardi This Packers team will rely on Rodgers passing not the Packer sweep. Lombardi is even the subject of a play now being produced on broadway. Called Lombardi what else.